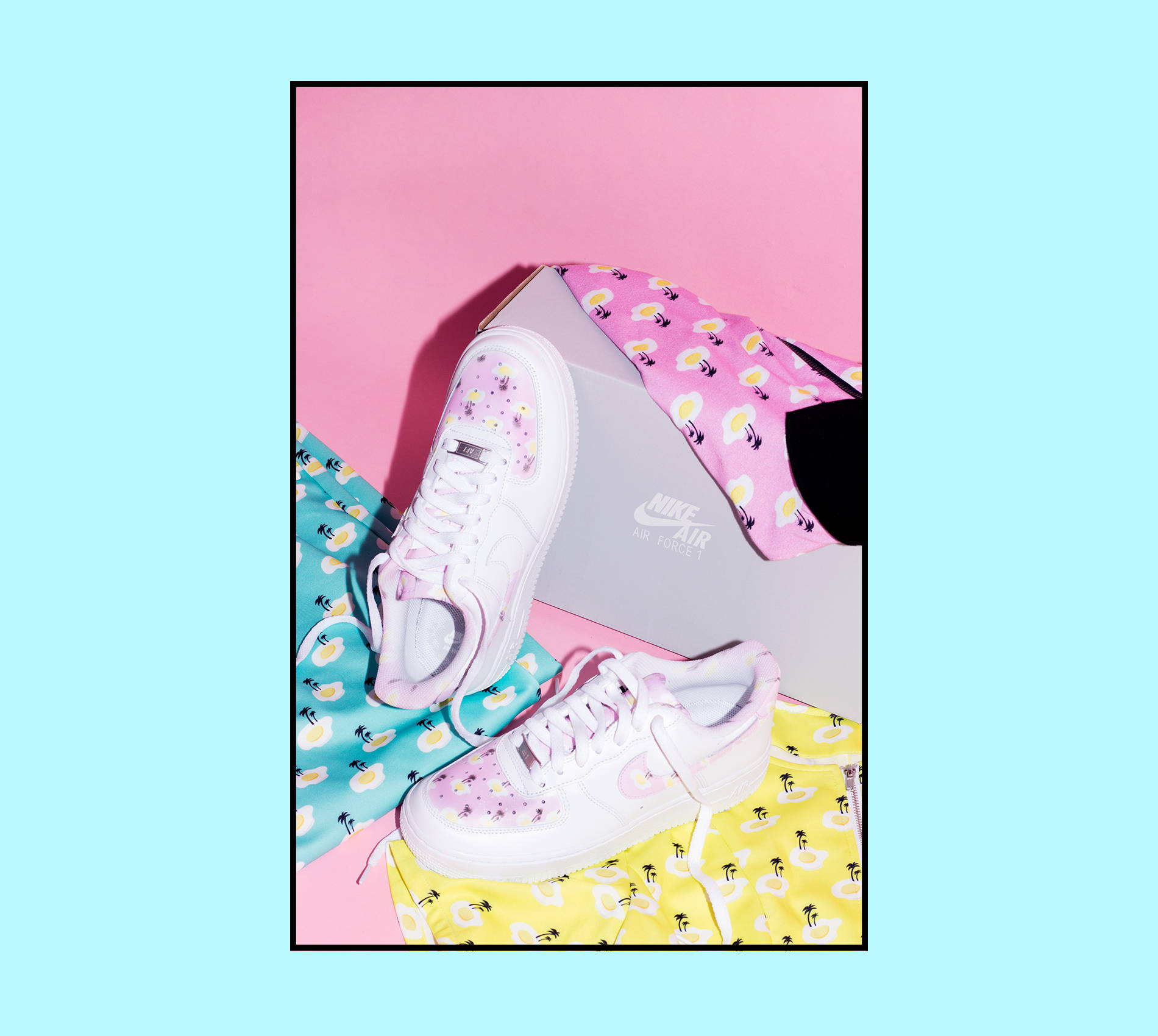 CUSTOMIZED AF1'S FOR
CLAM DUNK SRUF CLUB S/S 2019 TORONTO FASHION WEEK
Our friends at Nike Toronto helped us customize the iconic Air Force 1 in prints from our S/S '19 collection and our capsule collaboration with Get Fresh Company. They were hydro-dipped exclusively for the runway, strategically matching or clashing with the collection looks and anchoring our designs with a classic Nike silhouette. Aside from custom AF1s, models stepped lightly in Nike Sportswear and Running silhouettes hand-selected by Hayley.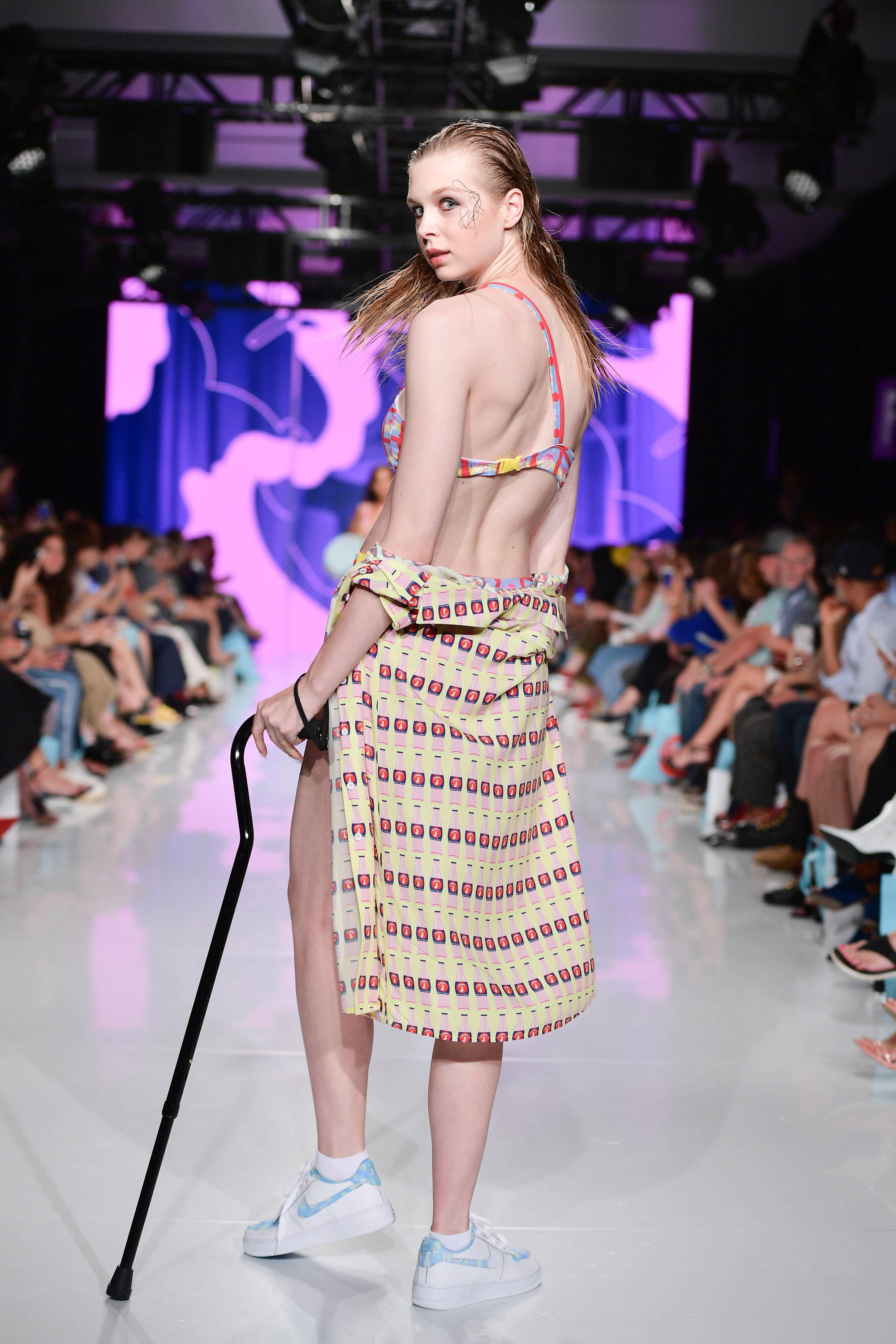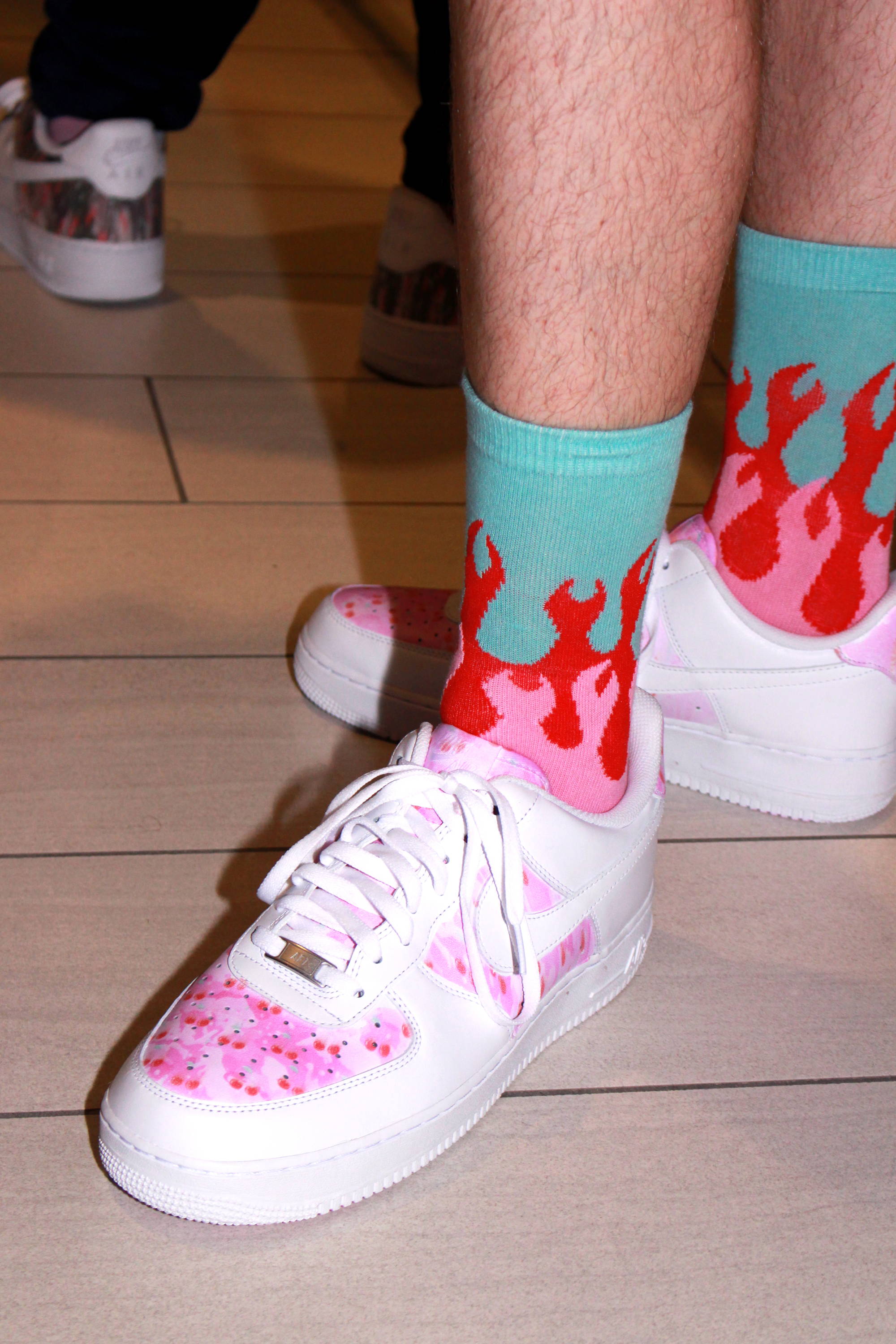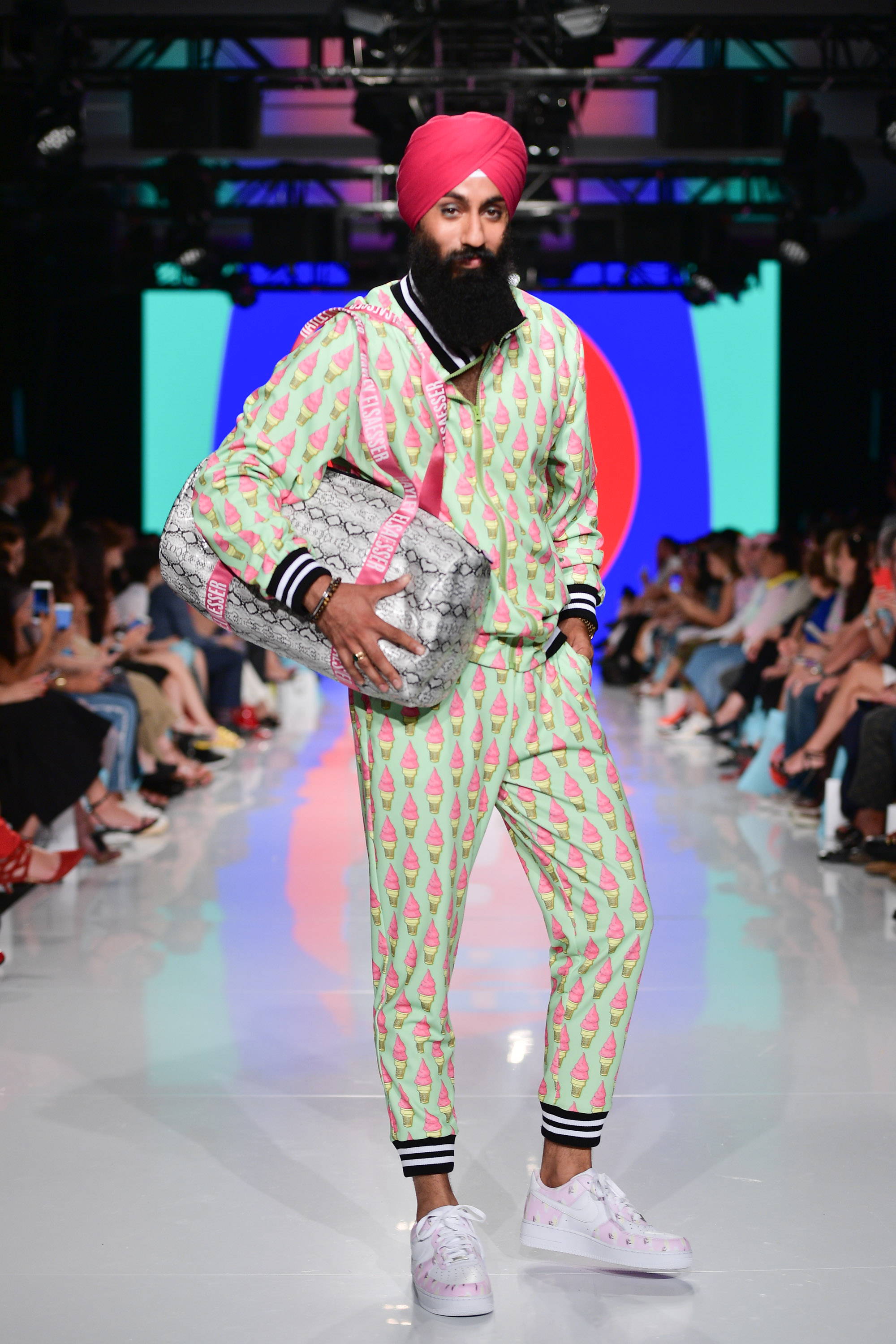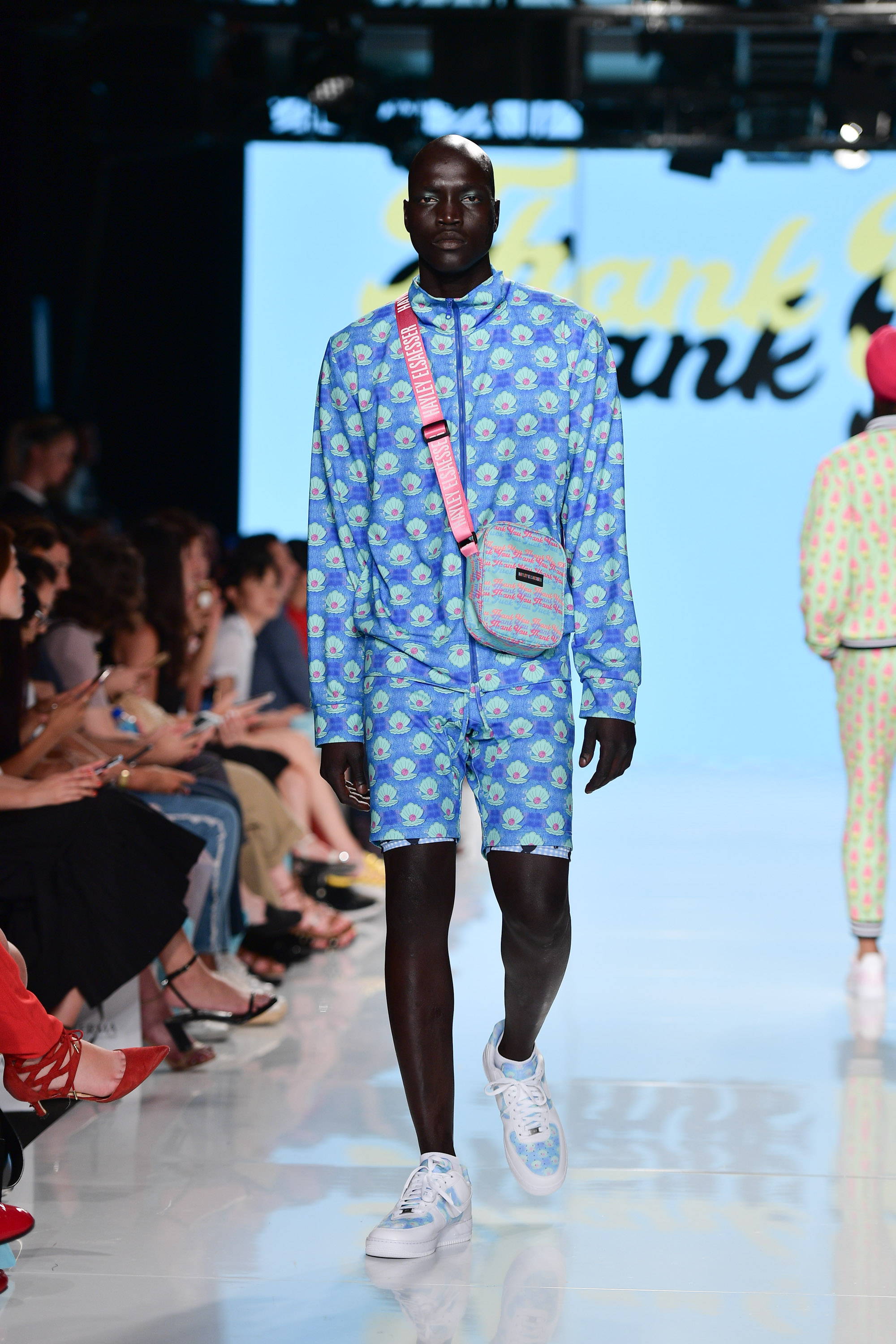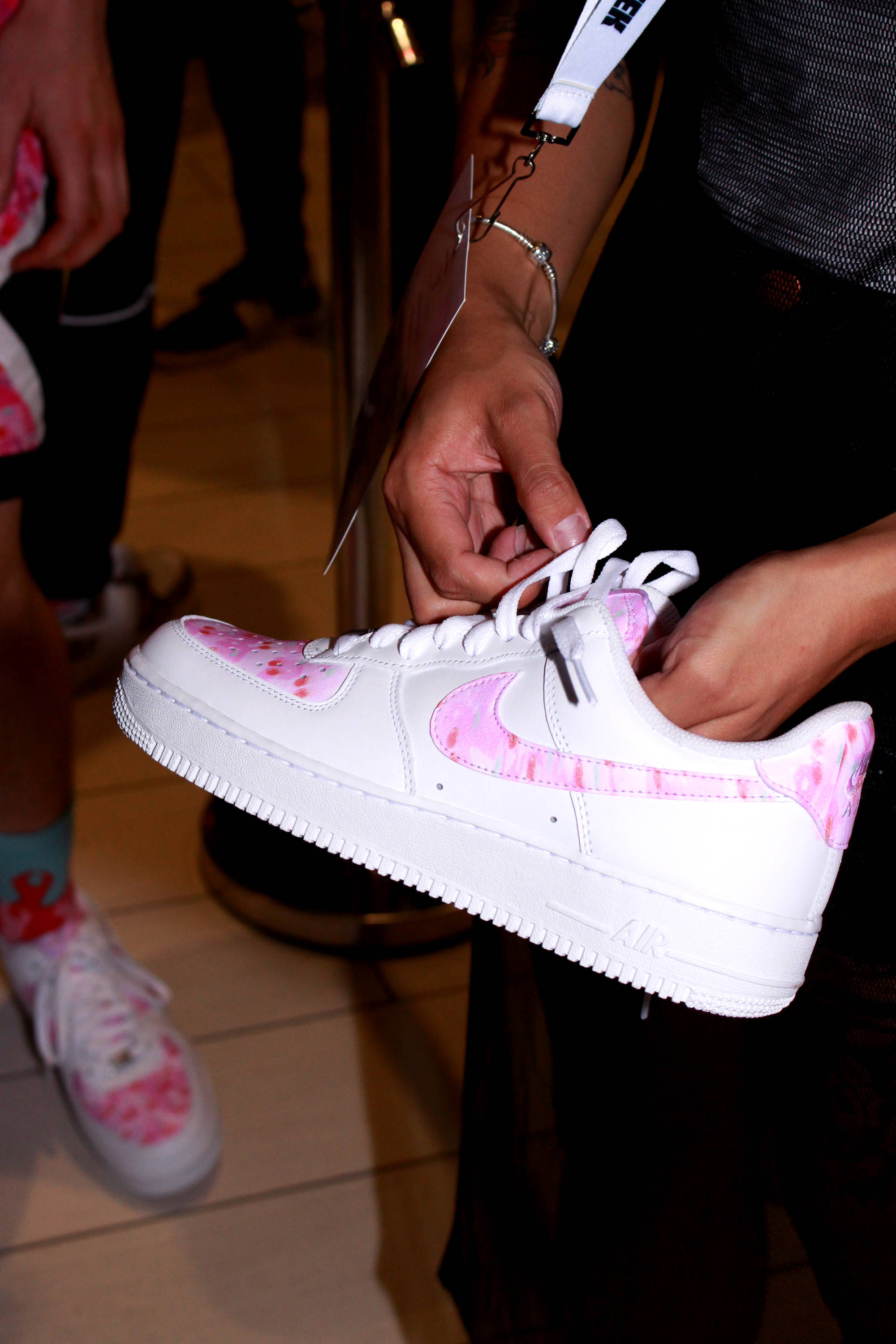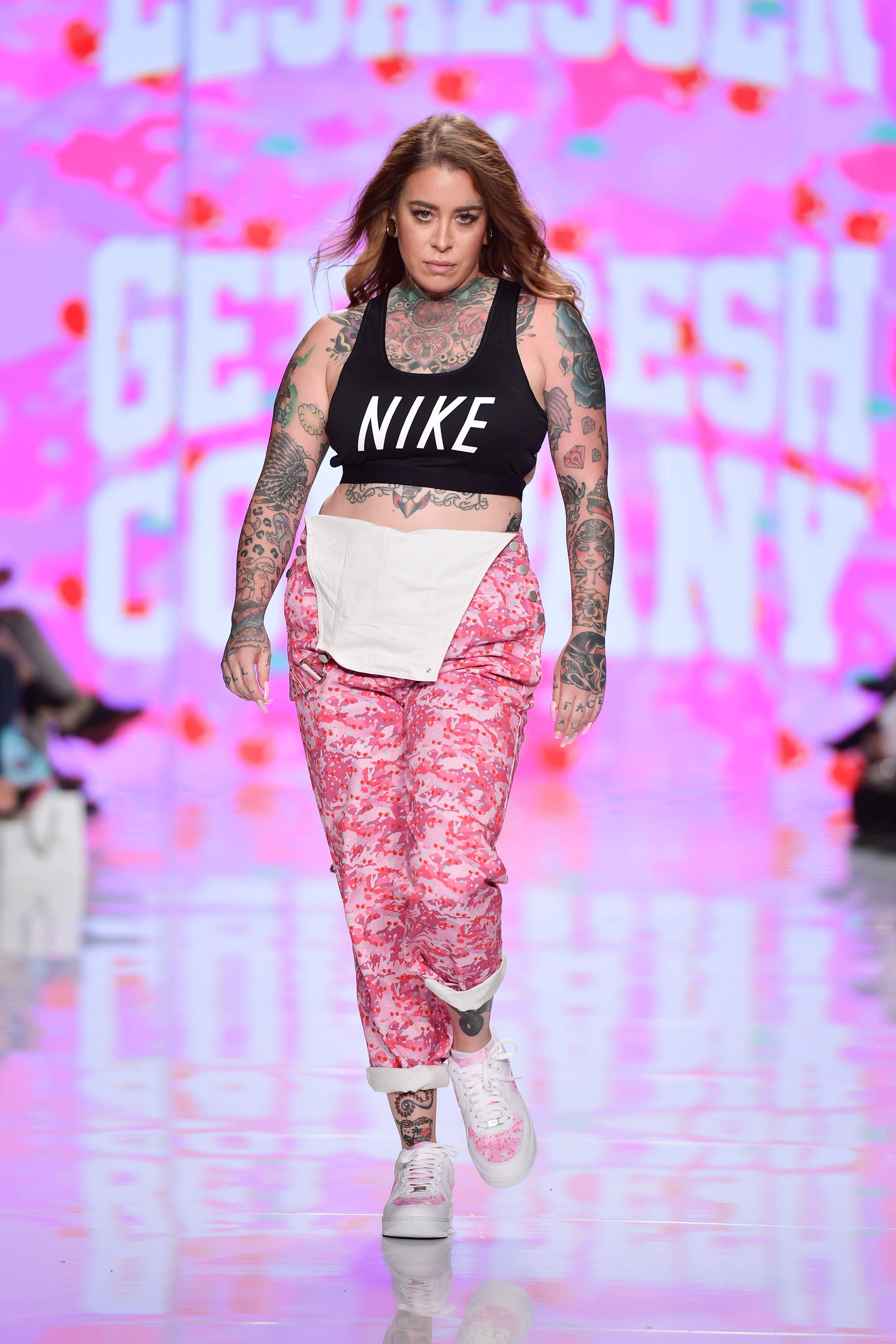 Celebrating the release of the Matcha Pink colourway of the Epic React Flyknit silhouette, Nike Toronto created an immersive experience where runners and style mavens alike could experience a 'runner's high' in the bubblegum pink confines of a concept space they dubbed 'The Dispensary.' Conspicuously coinciding with 420 celebrations on April 20th, the space played on the idea that it is easier to purchase marijuana in the city of Toronto than to cop the most sought after Nike silhouettes. Bill Nye was even on hand to explain the very real science behind the euphoric feeling of a runner's high that can be earned through physical exertion.
Hayley designed some exclusive co-branded Nike merch which was available for sale for a limited time at The Dispensary. For her designs Hayley played with the dispensary theme and designed a dime-bag motif available on t-shirts and totes as well as a pager t-shirt complete with a psychedelic skeleton hand inspired by classic stoner paraphernalia.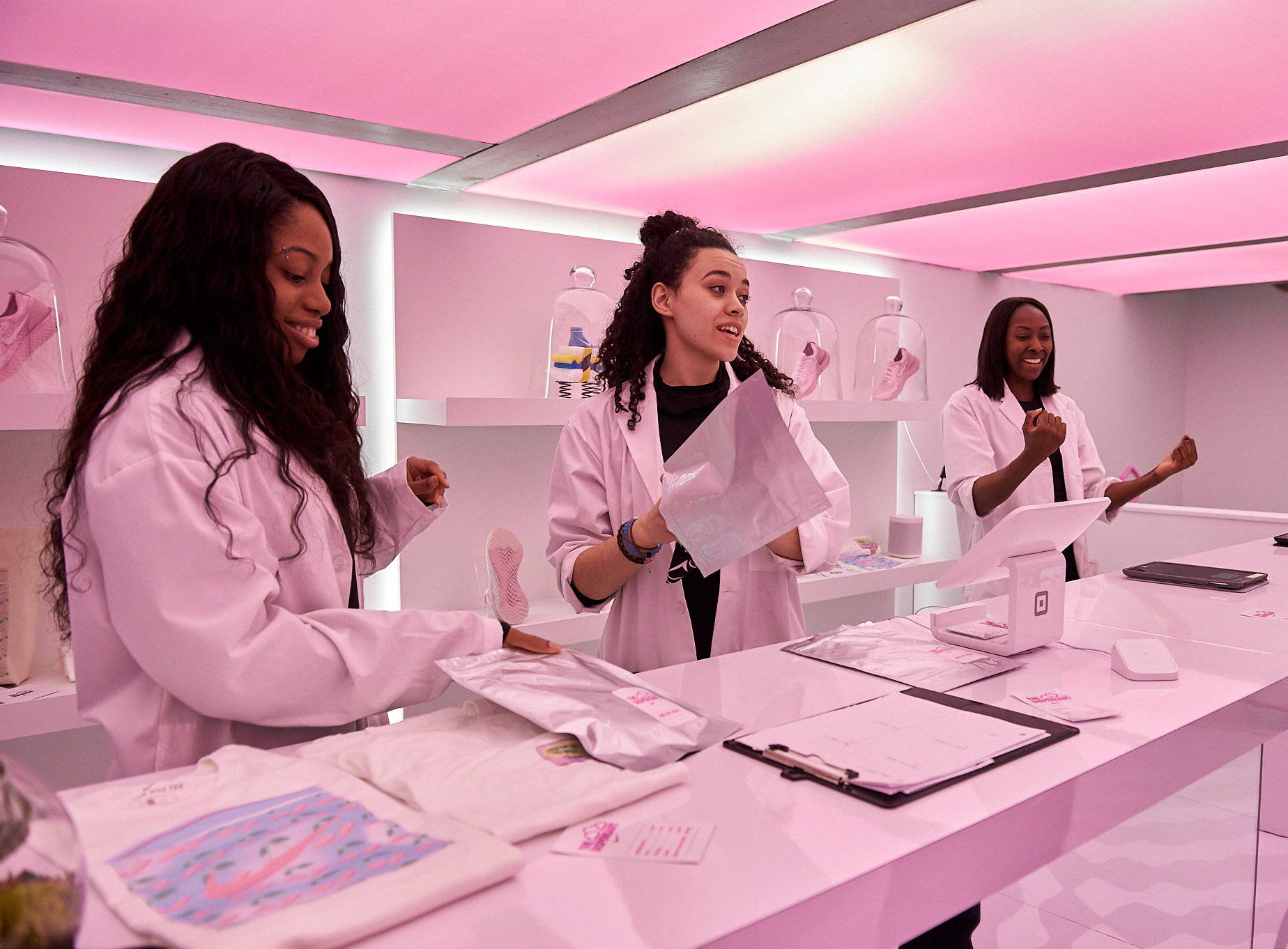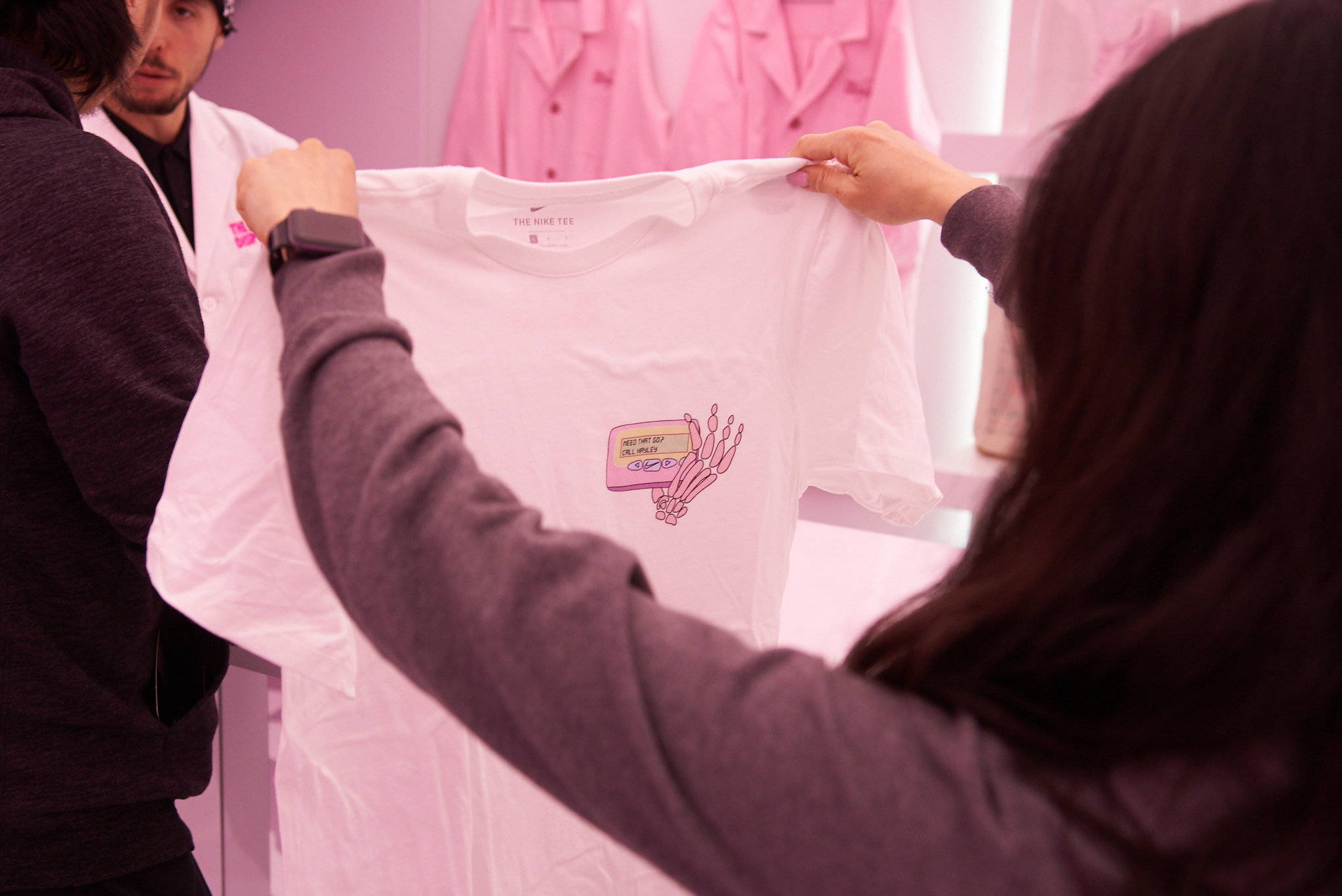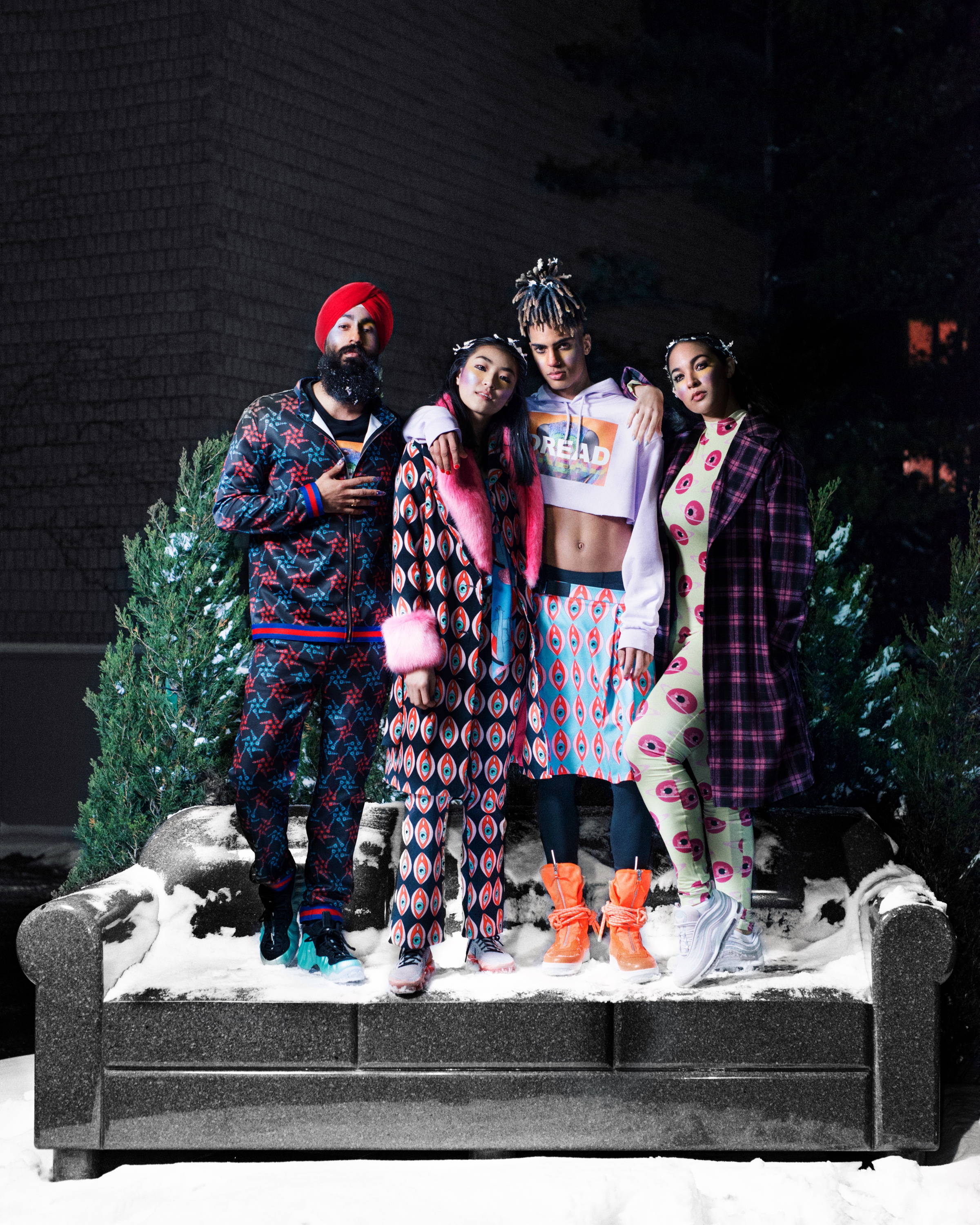 TORONTO FASHION WEEK F/W 2018
COSMIC DREAD

In the deep recesses of the human psyche lies the vastness of human consciousness. The brain limits our perception of time and space as a safety mechanism to protect us from our true potential. Despite this, interstellar travel and contact with alien life are an inevitability. Spiraling ever closer to the convergence of robotic perfection and maximum biological evolution we cannot escape one thing: Cosmic Dread.
For FW18 HE once again partnered with NIKE who provided the runway footwear. Combining running silhouettes, classic sportswear staples and over-the-top colourways, NIKE's pieces provided the perfect anchor for the collection.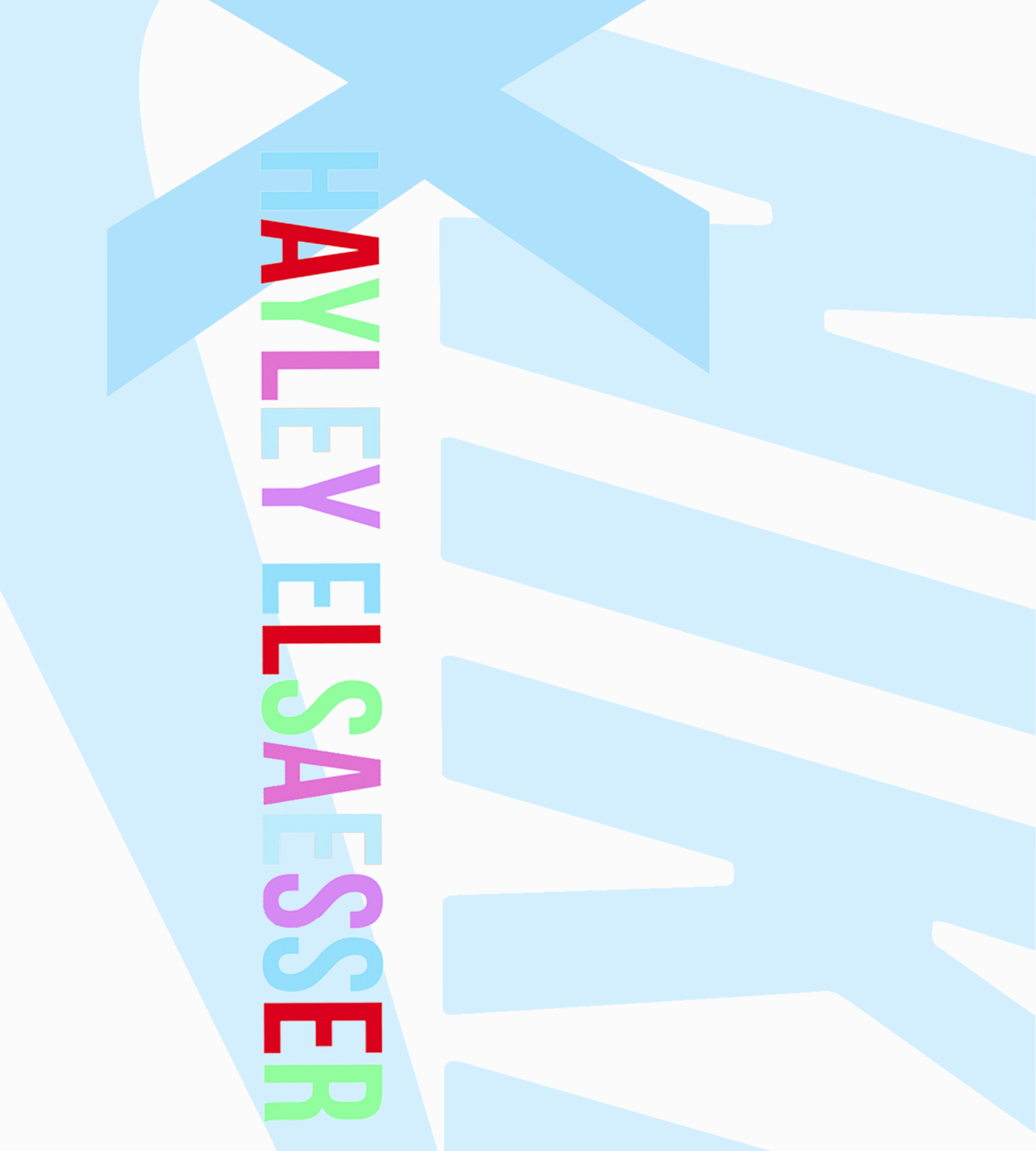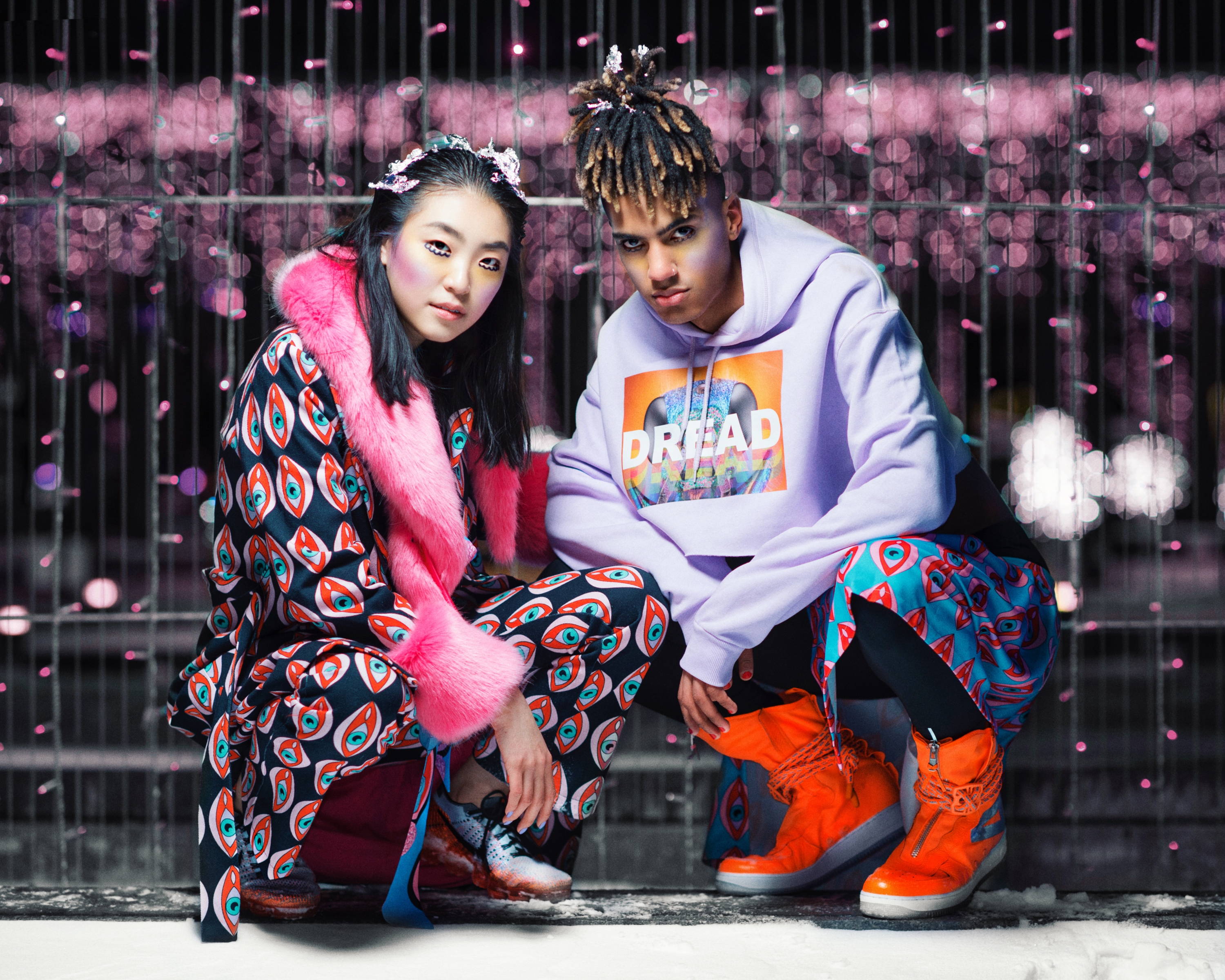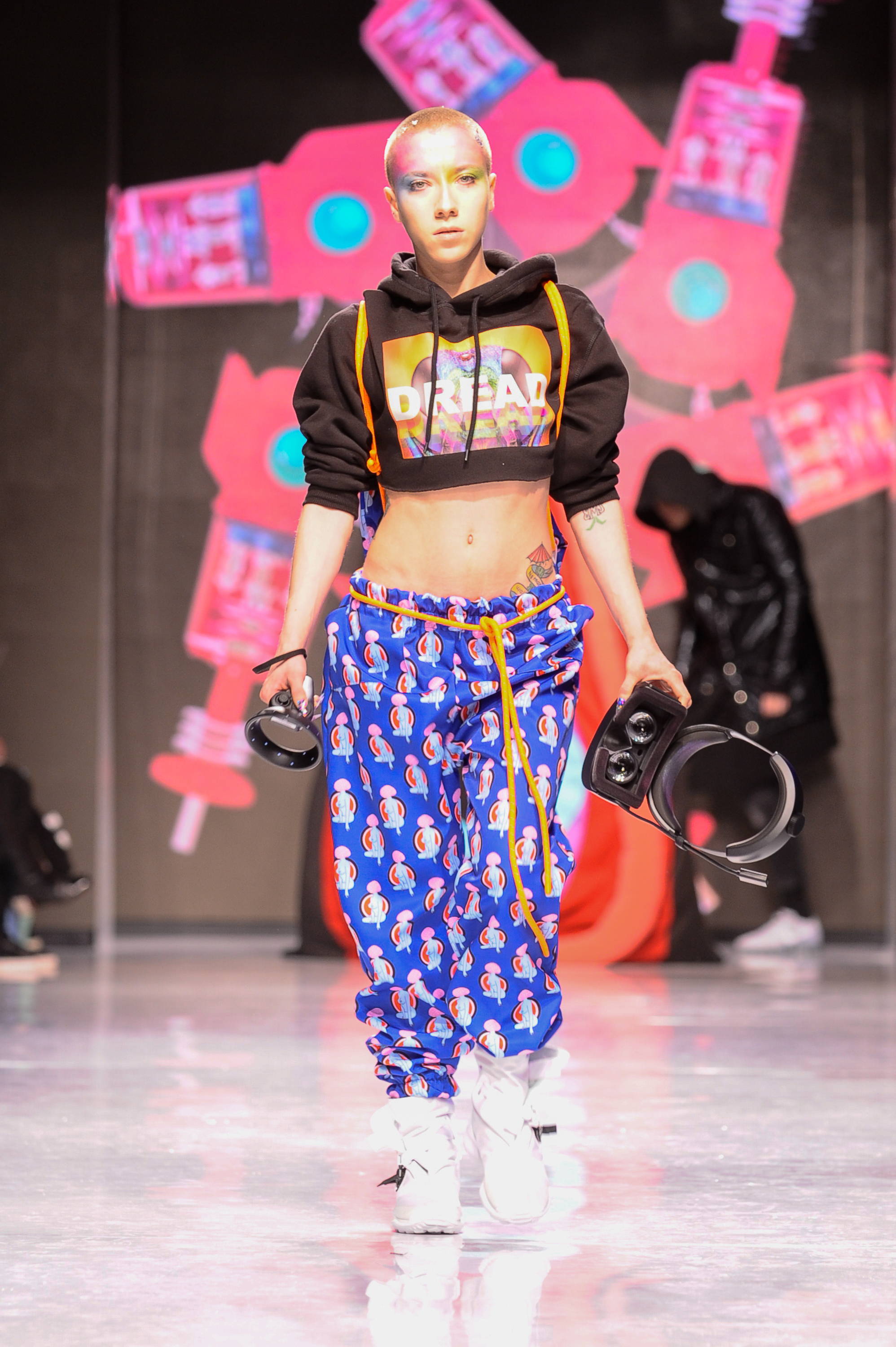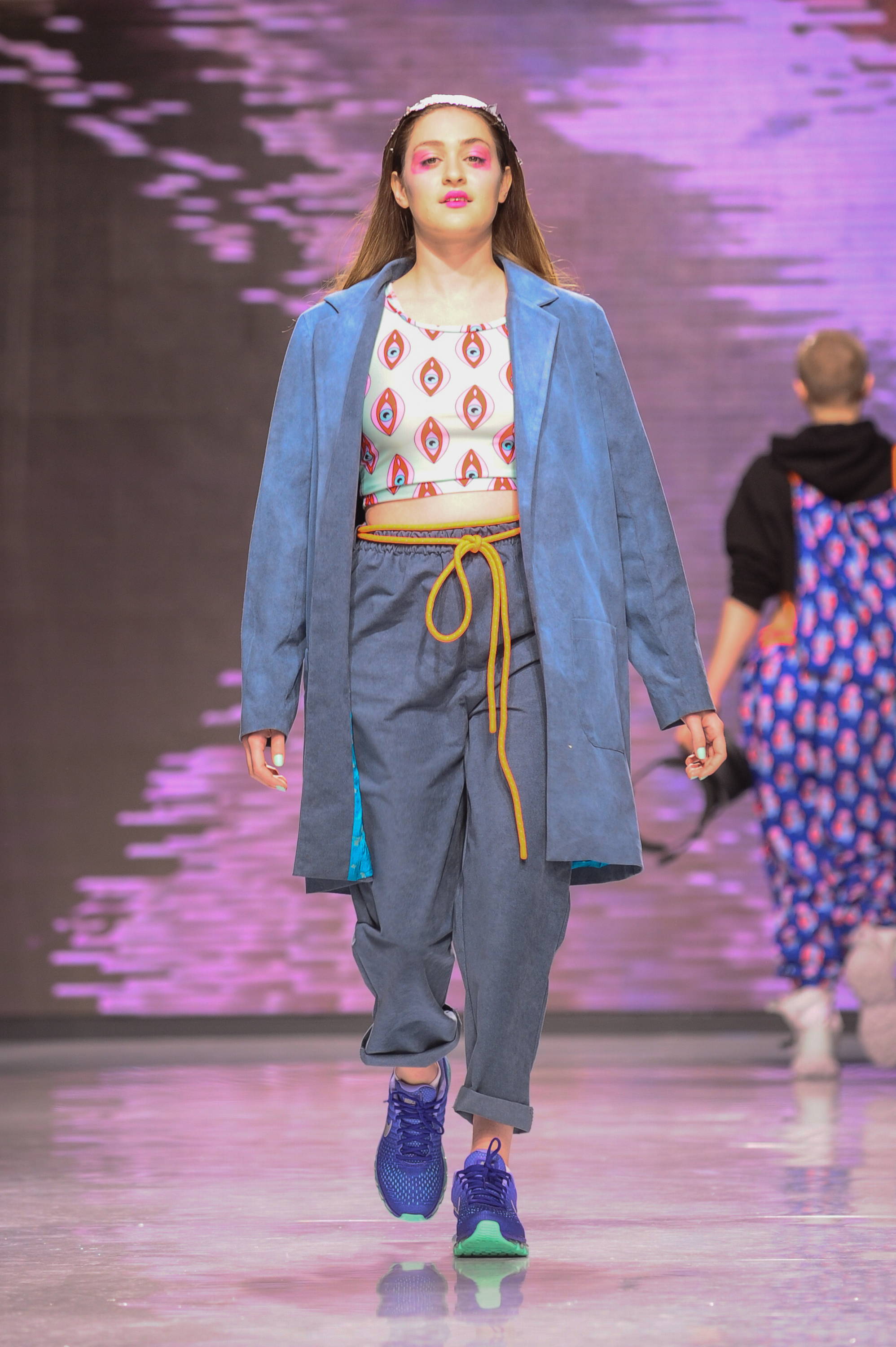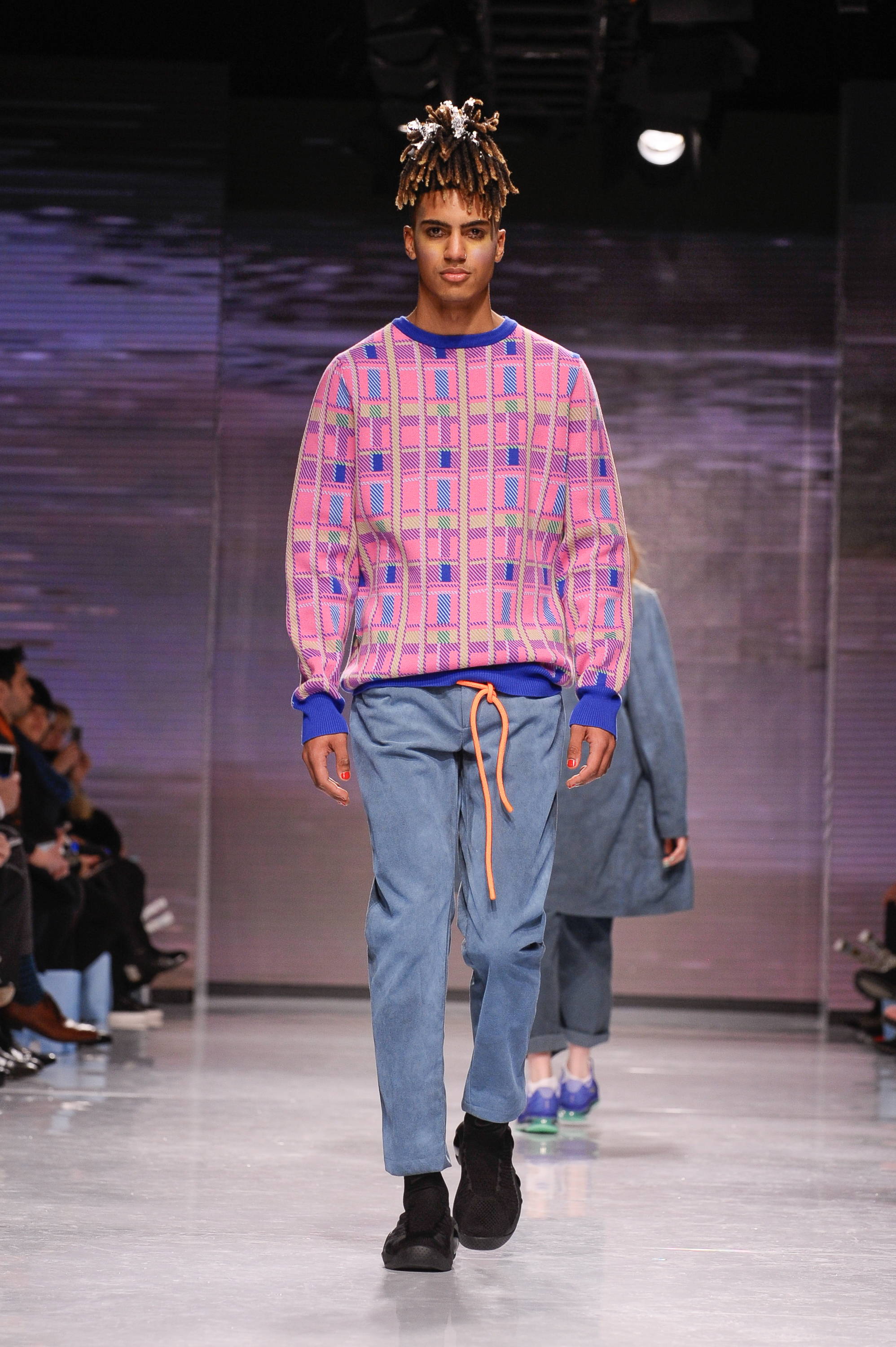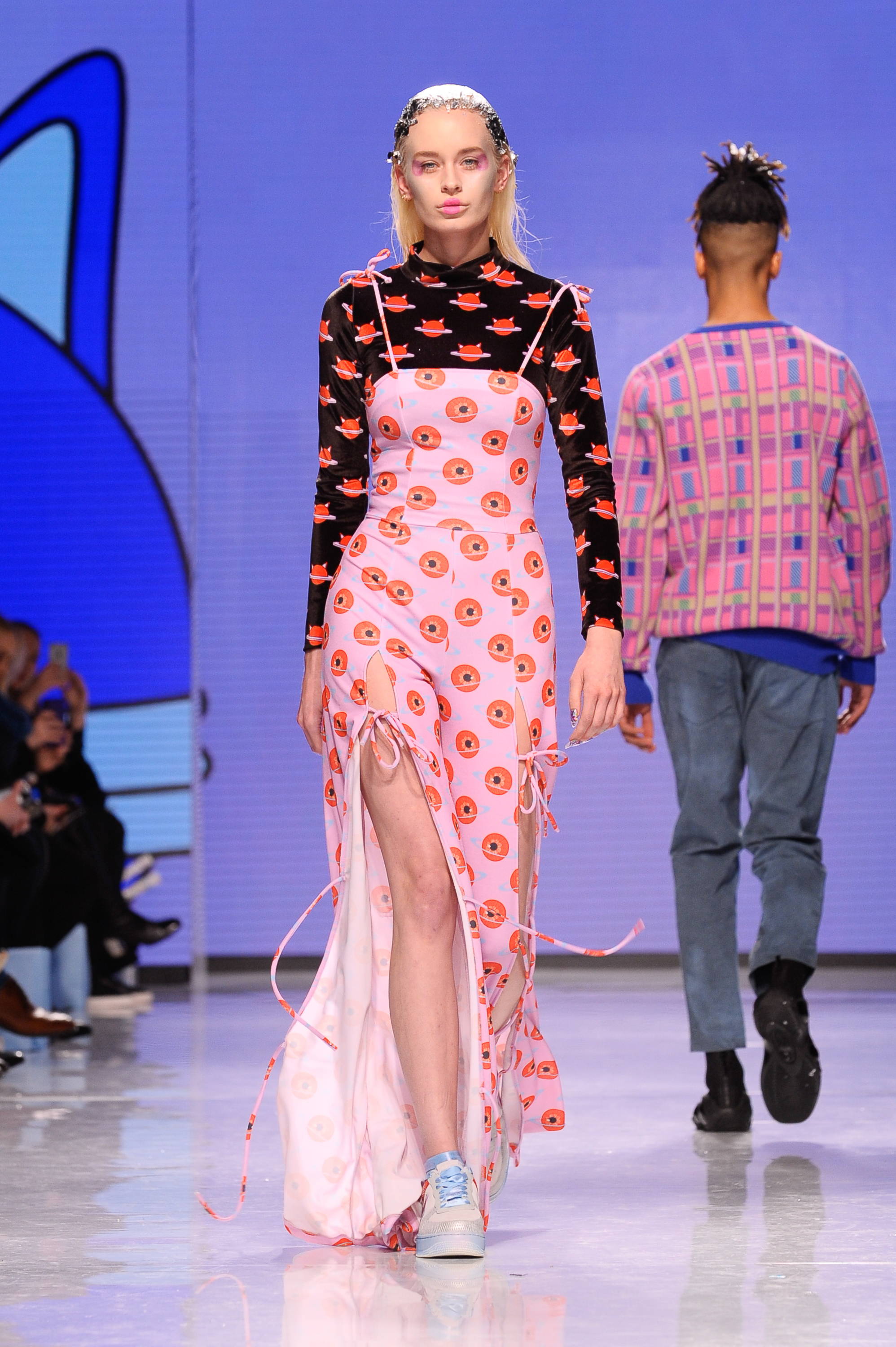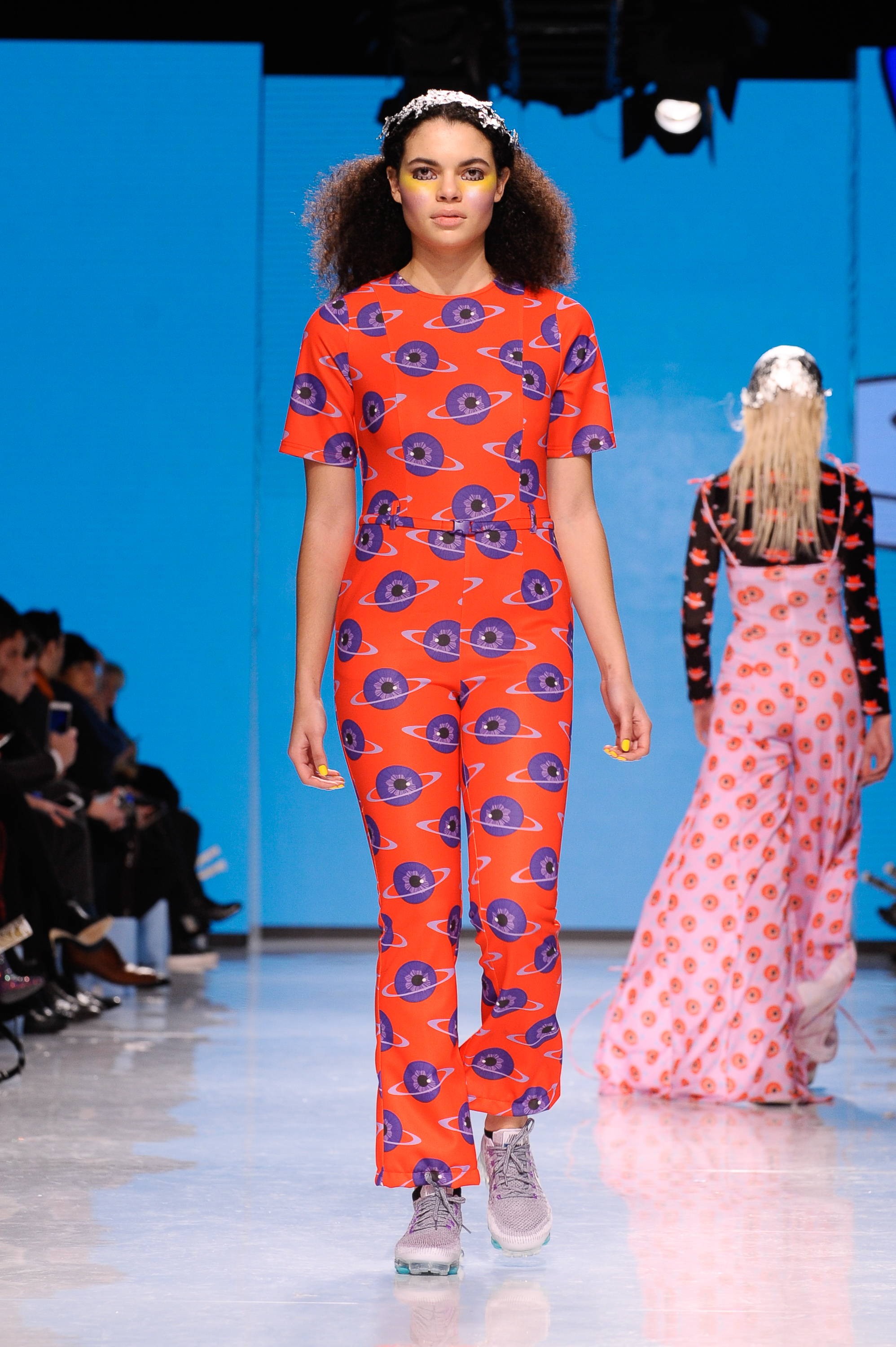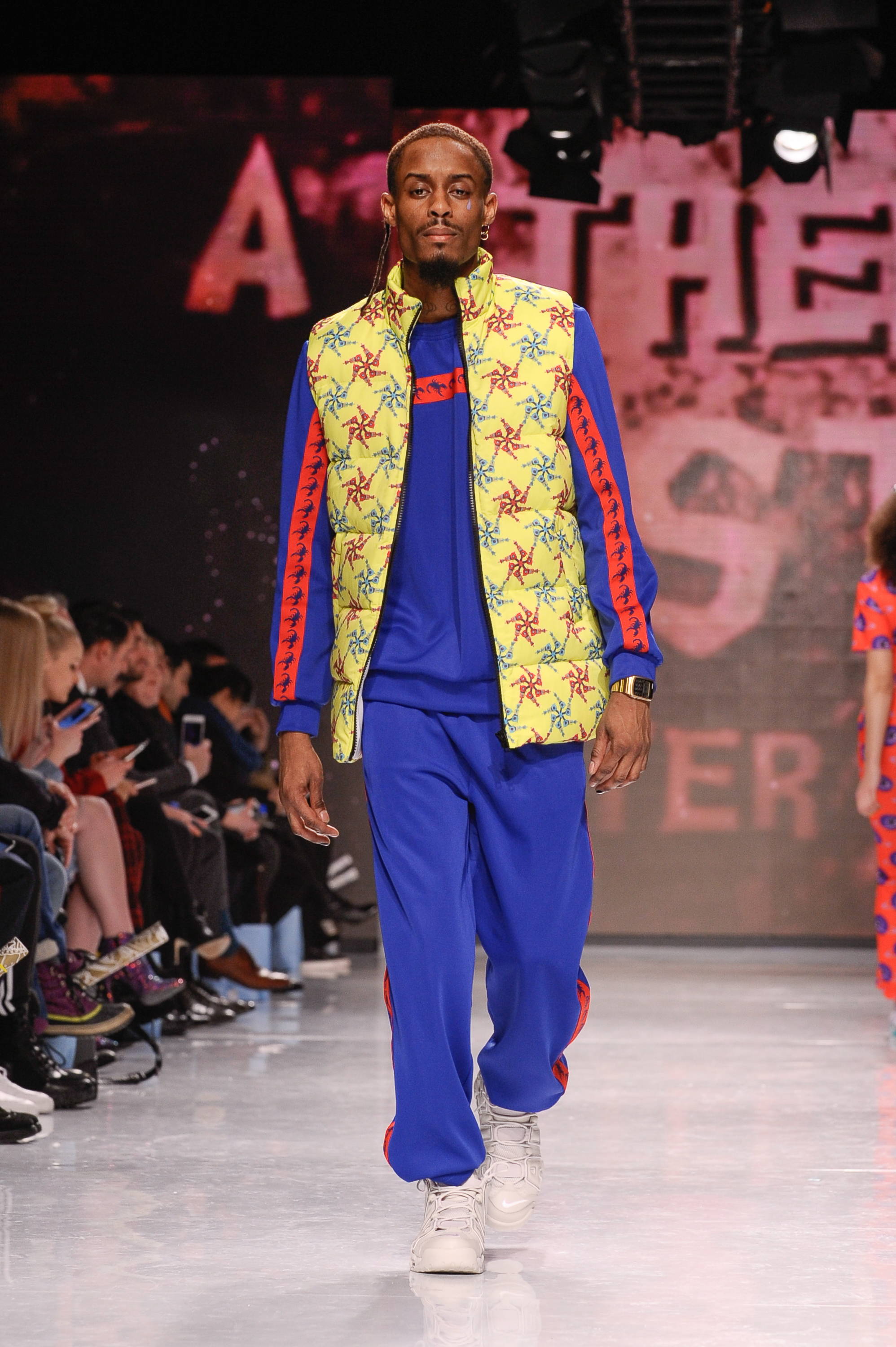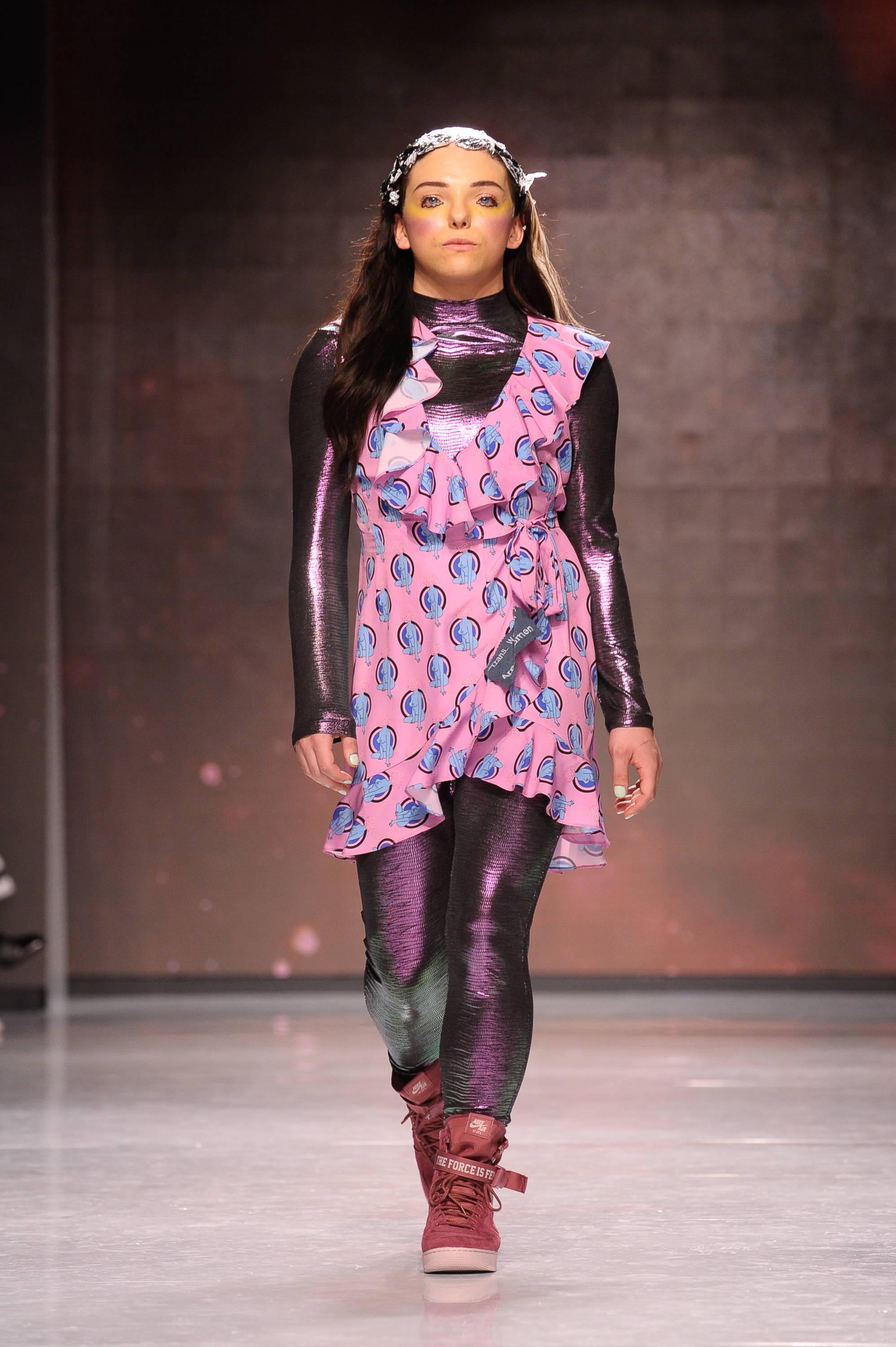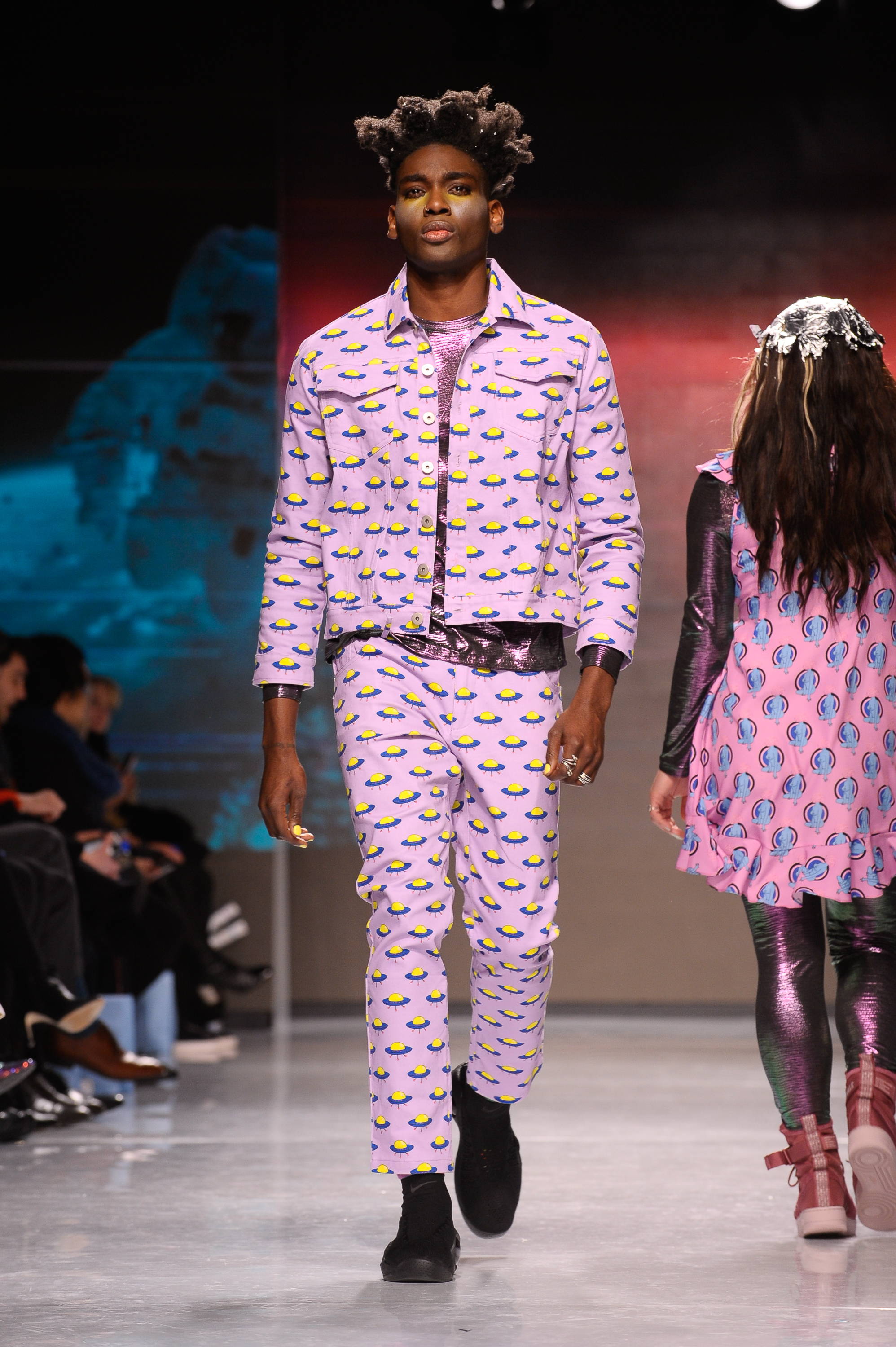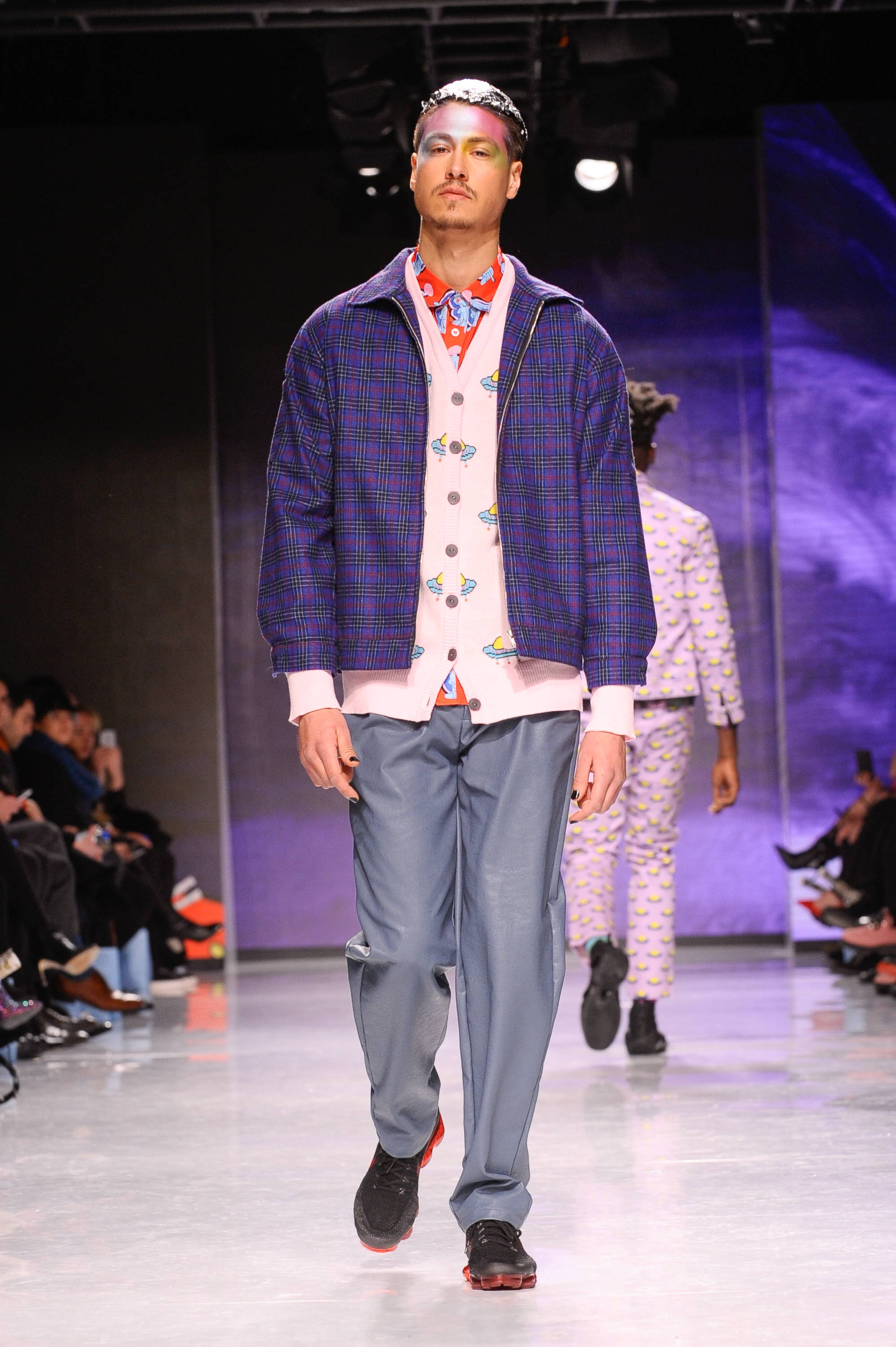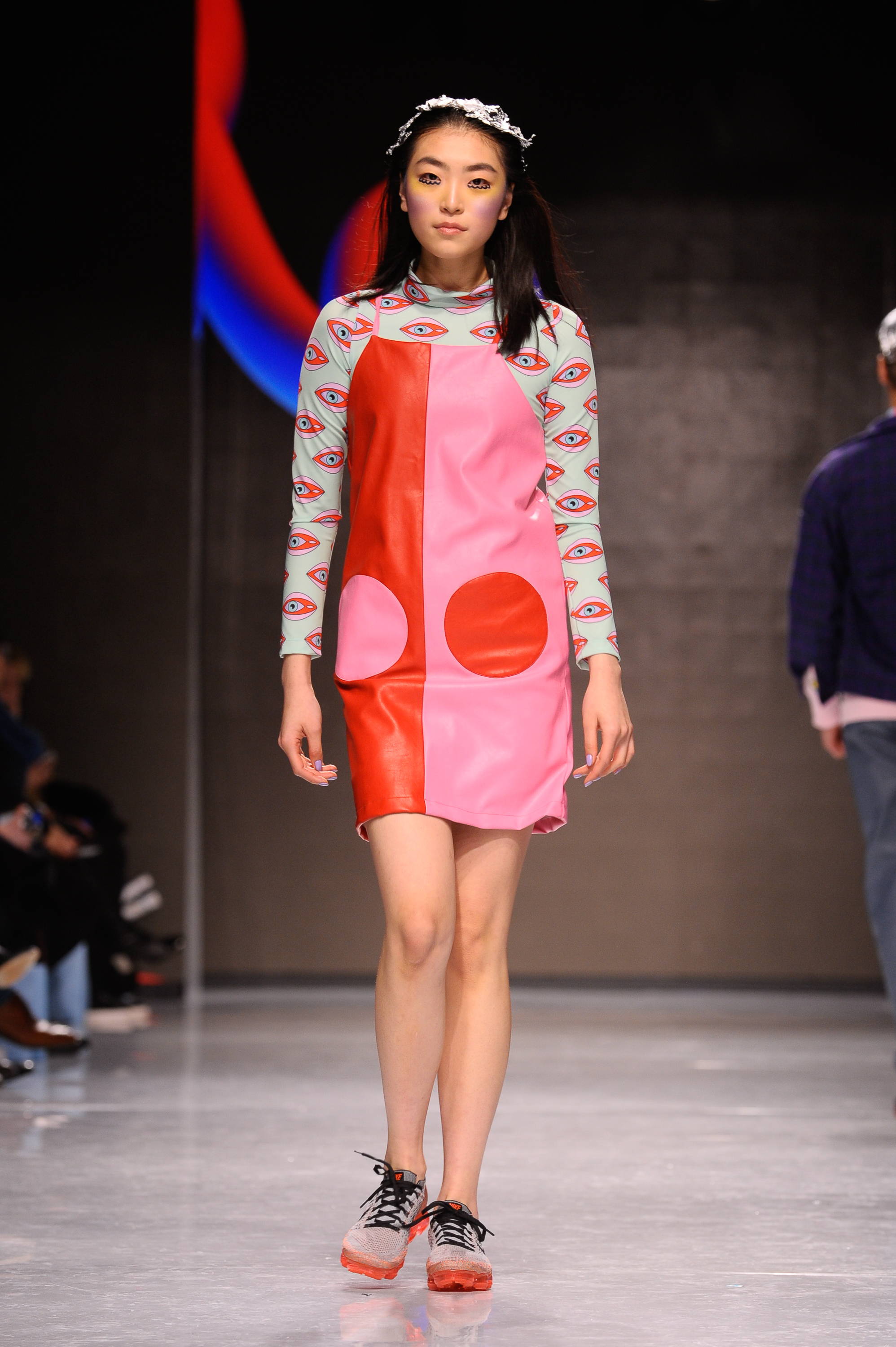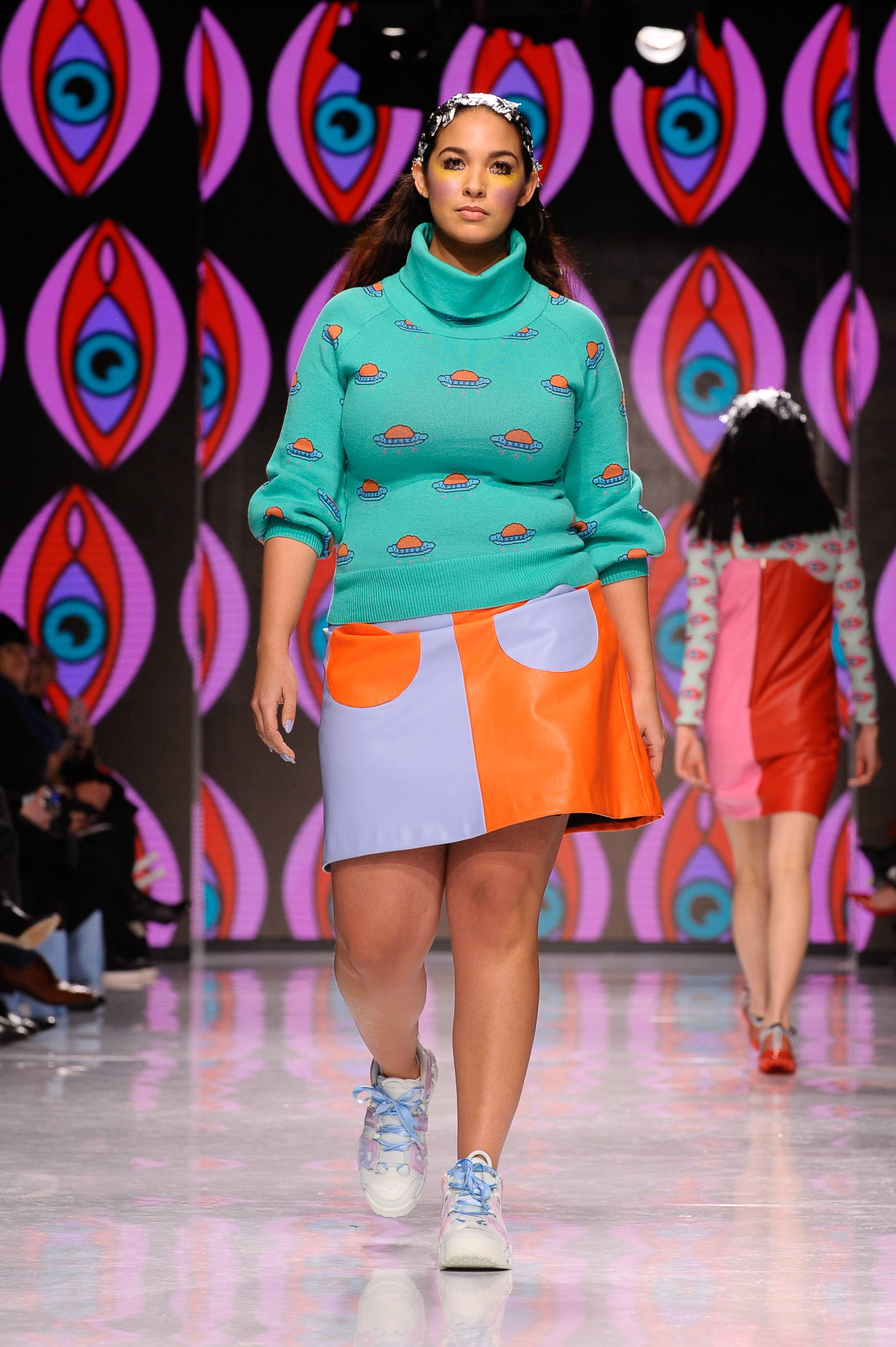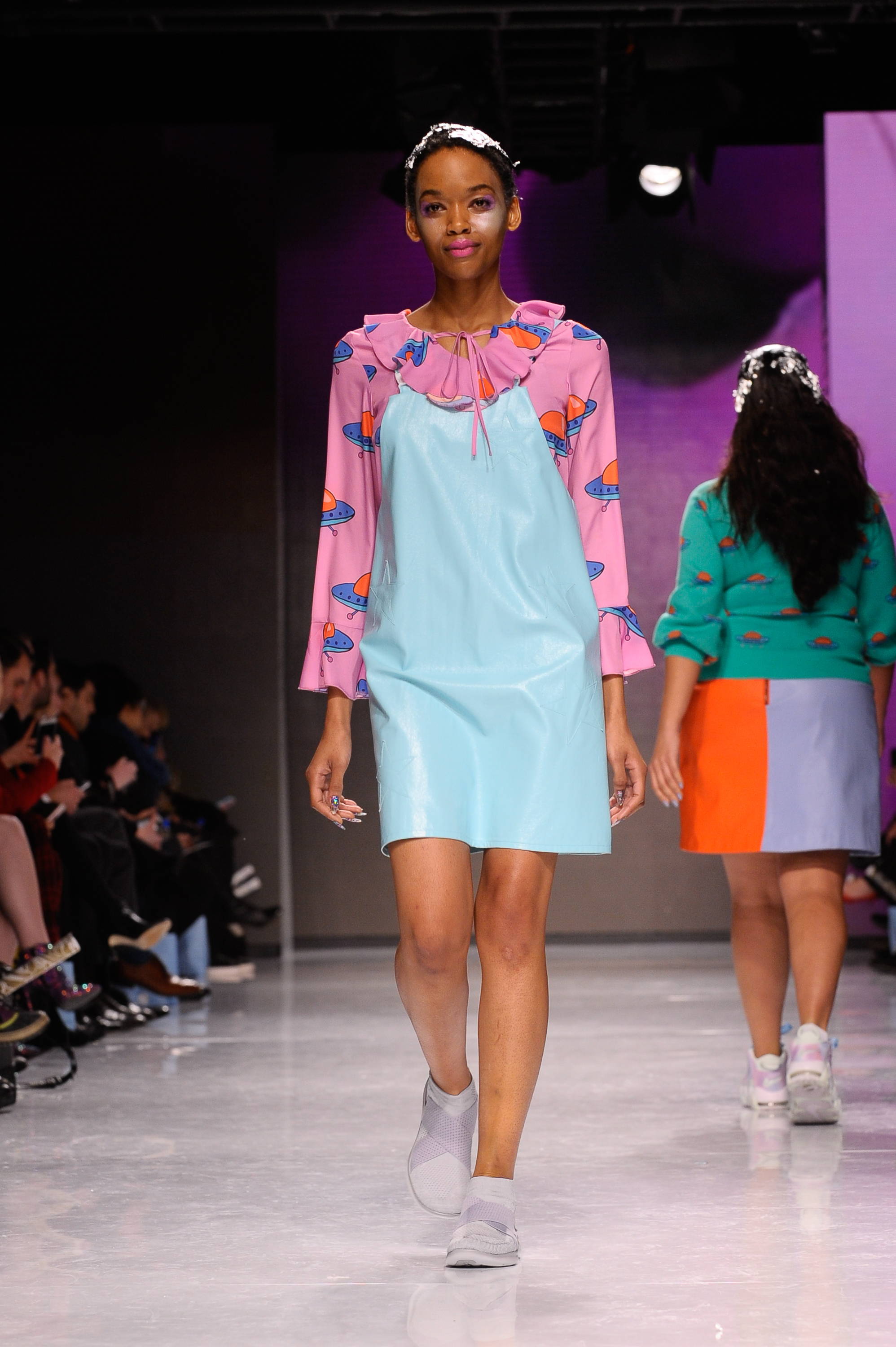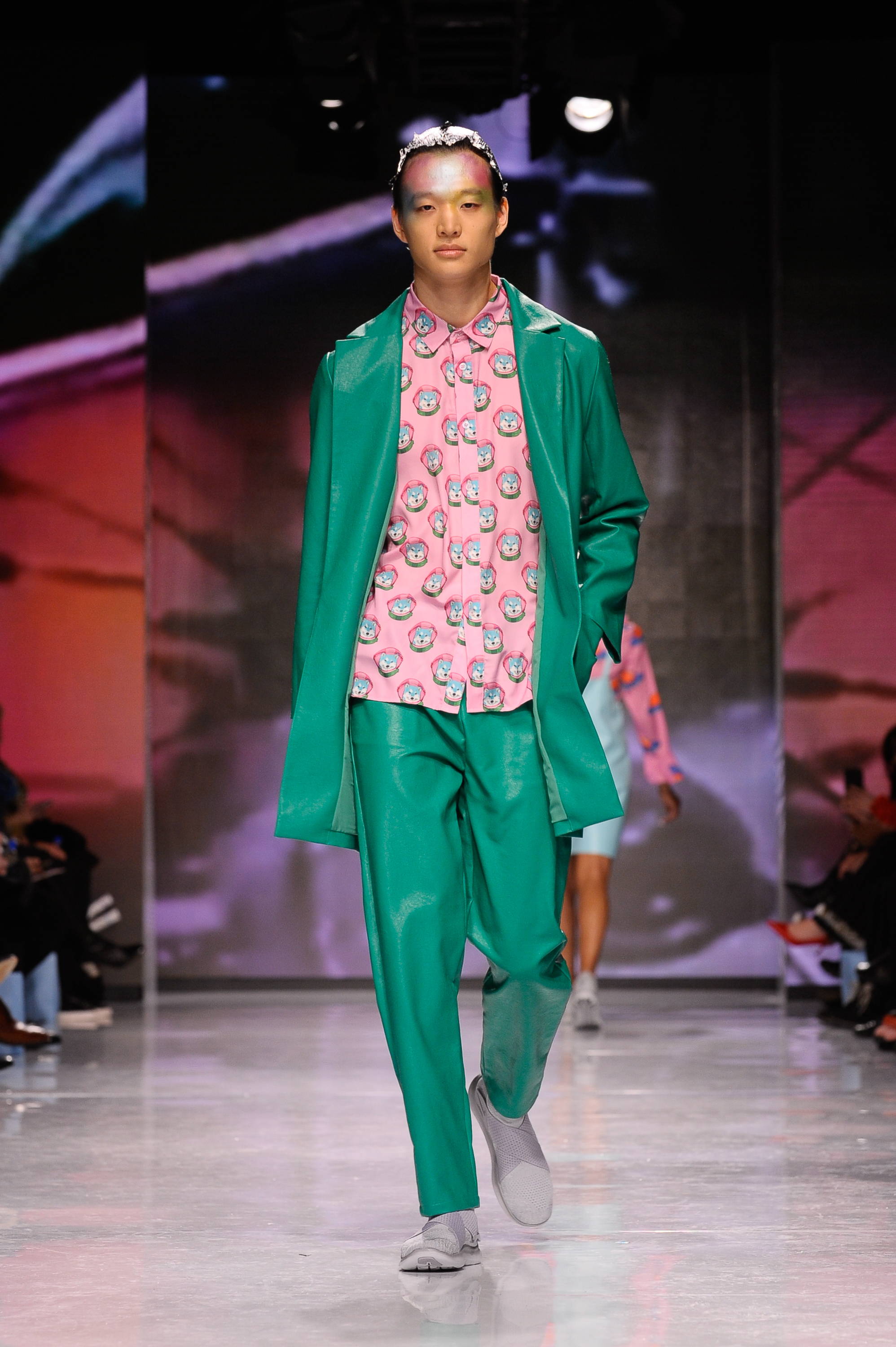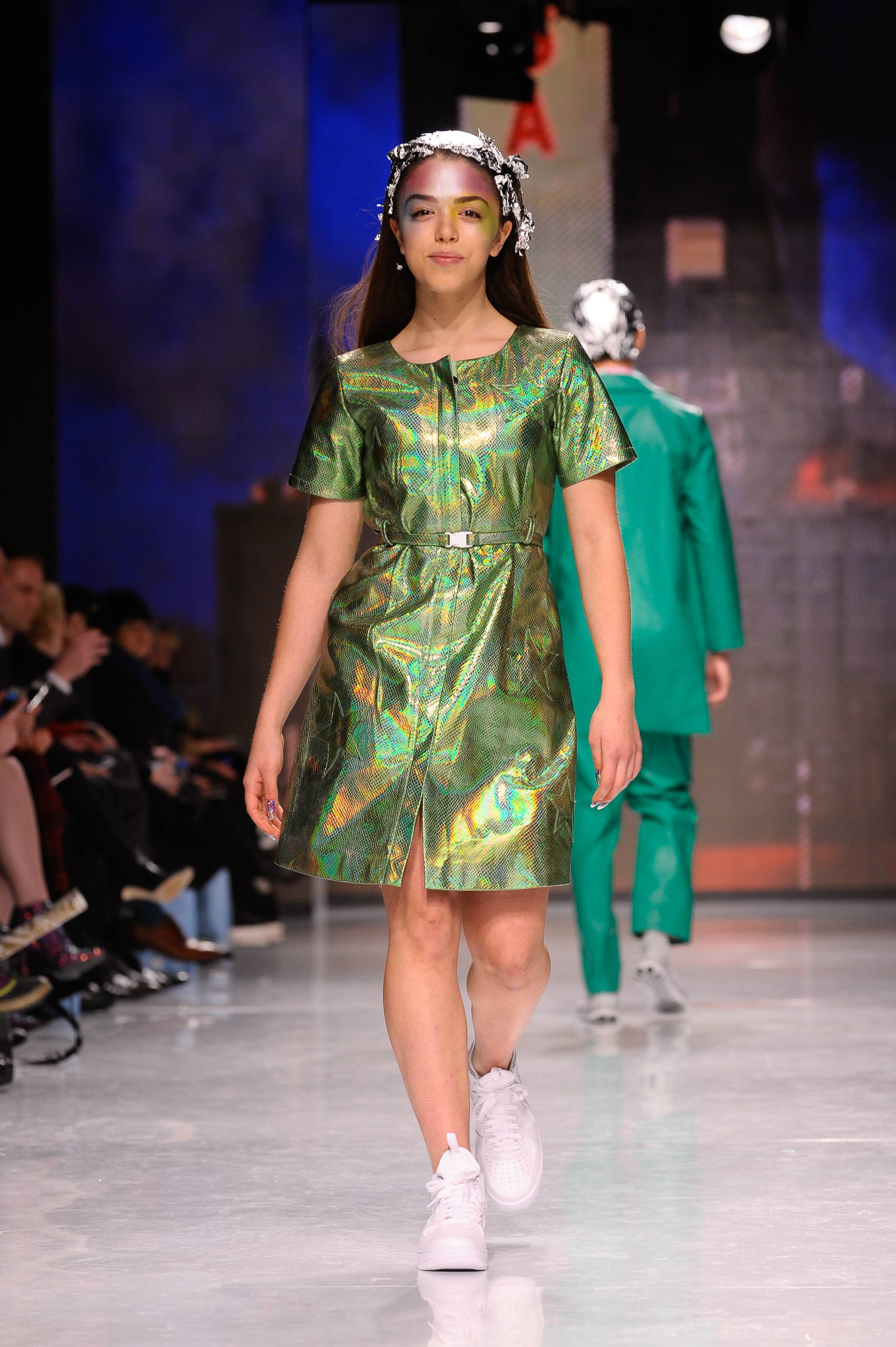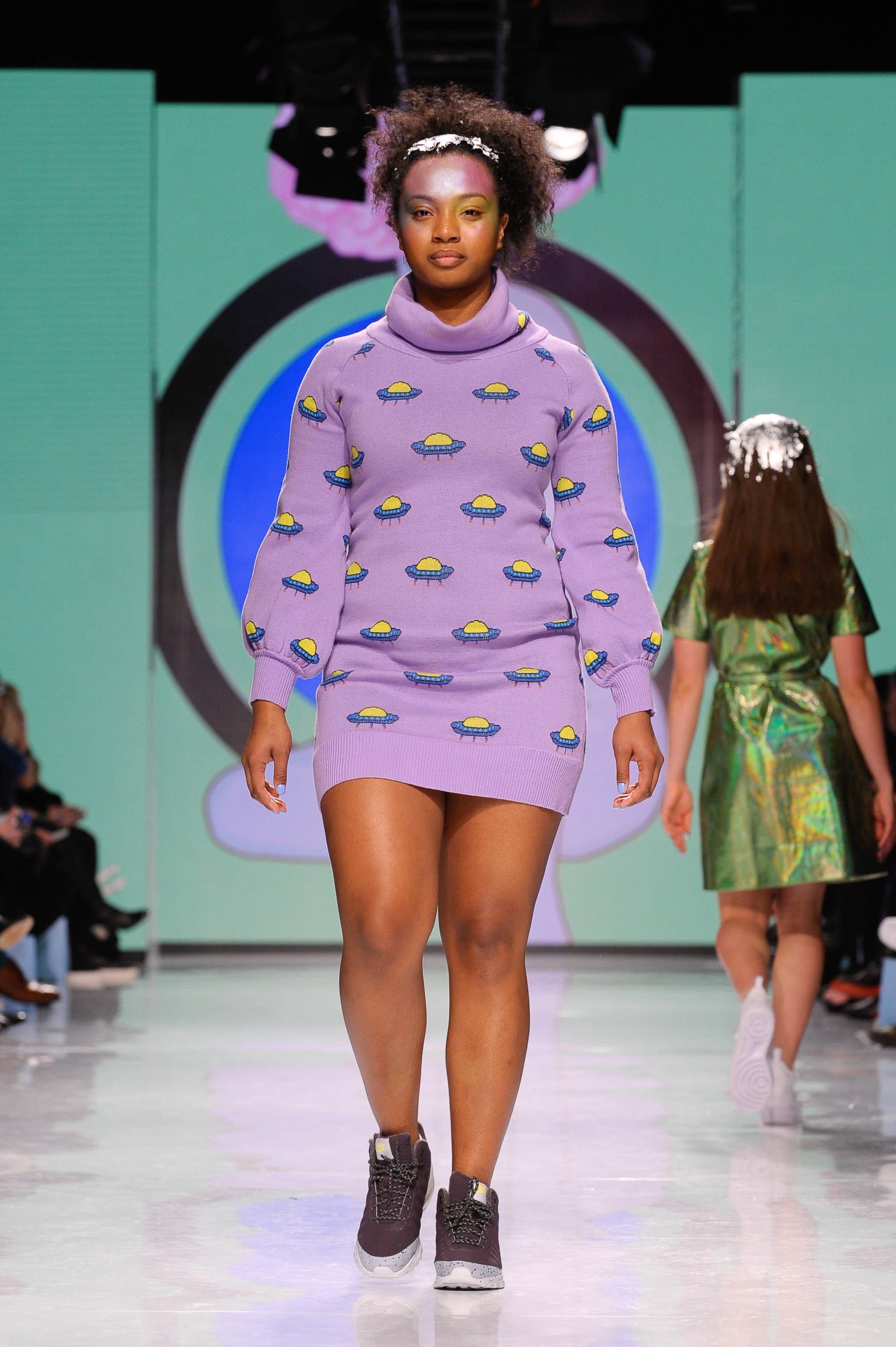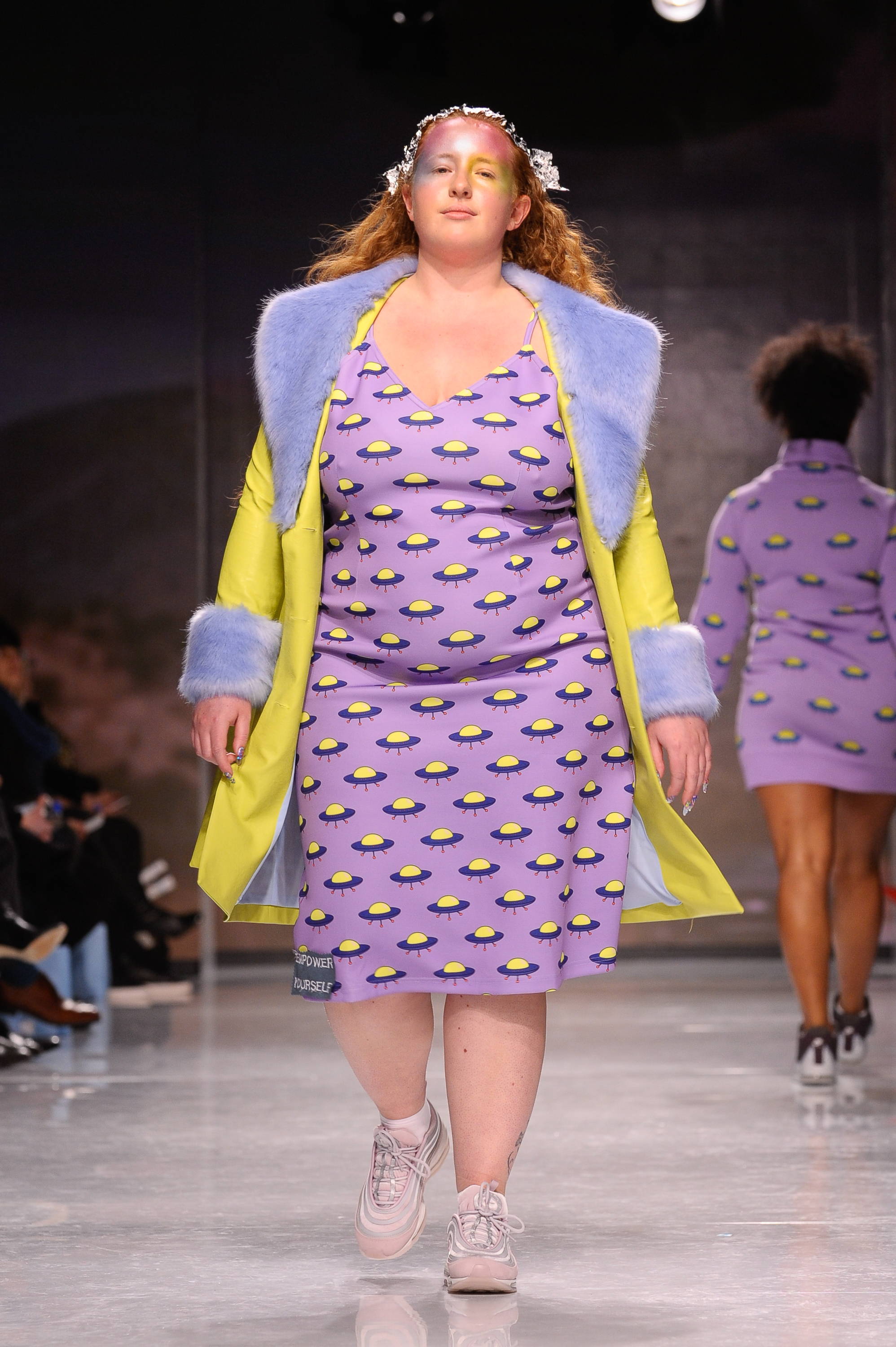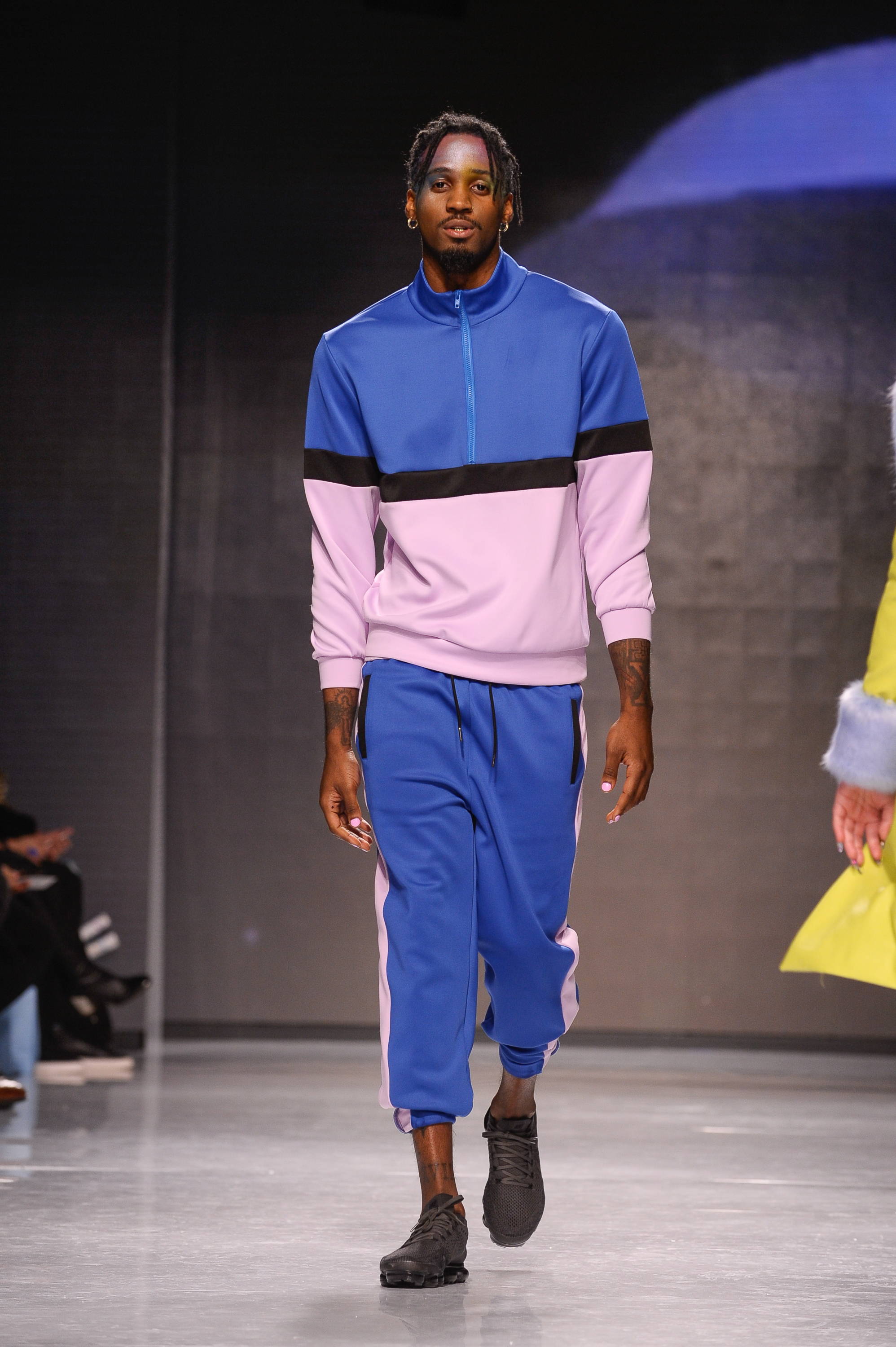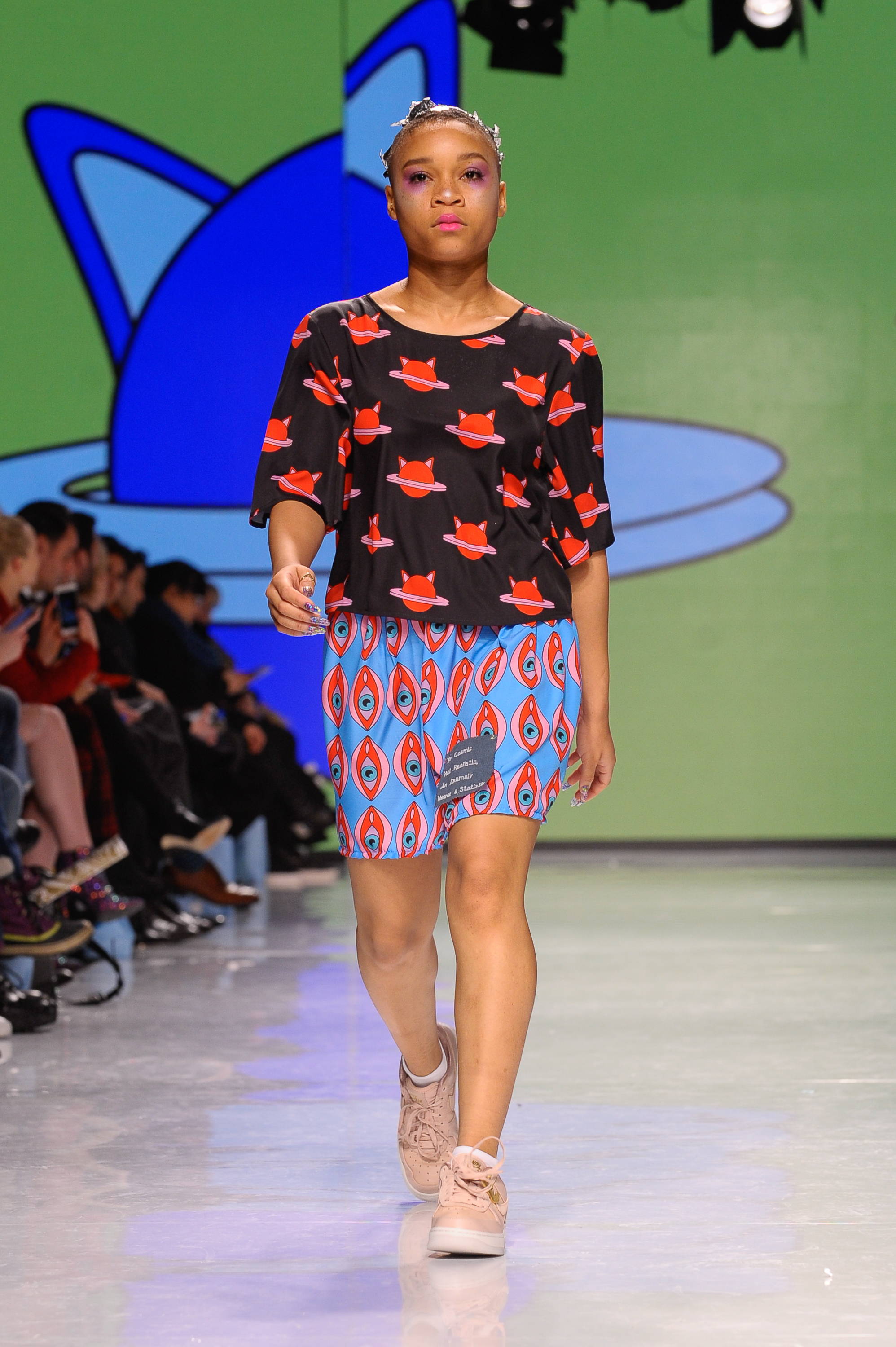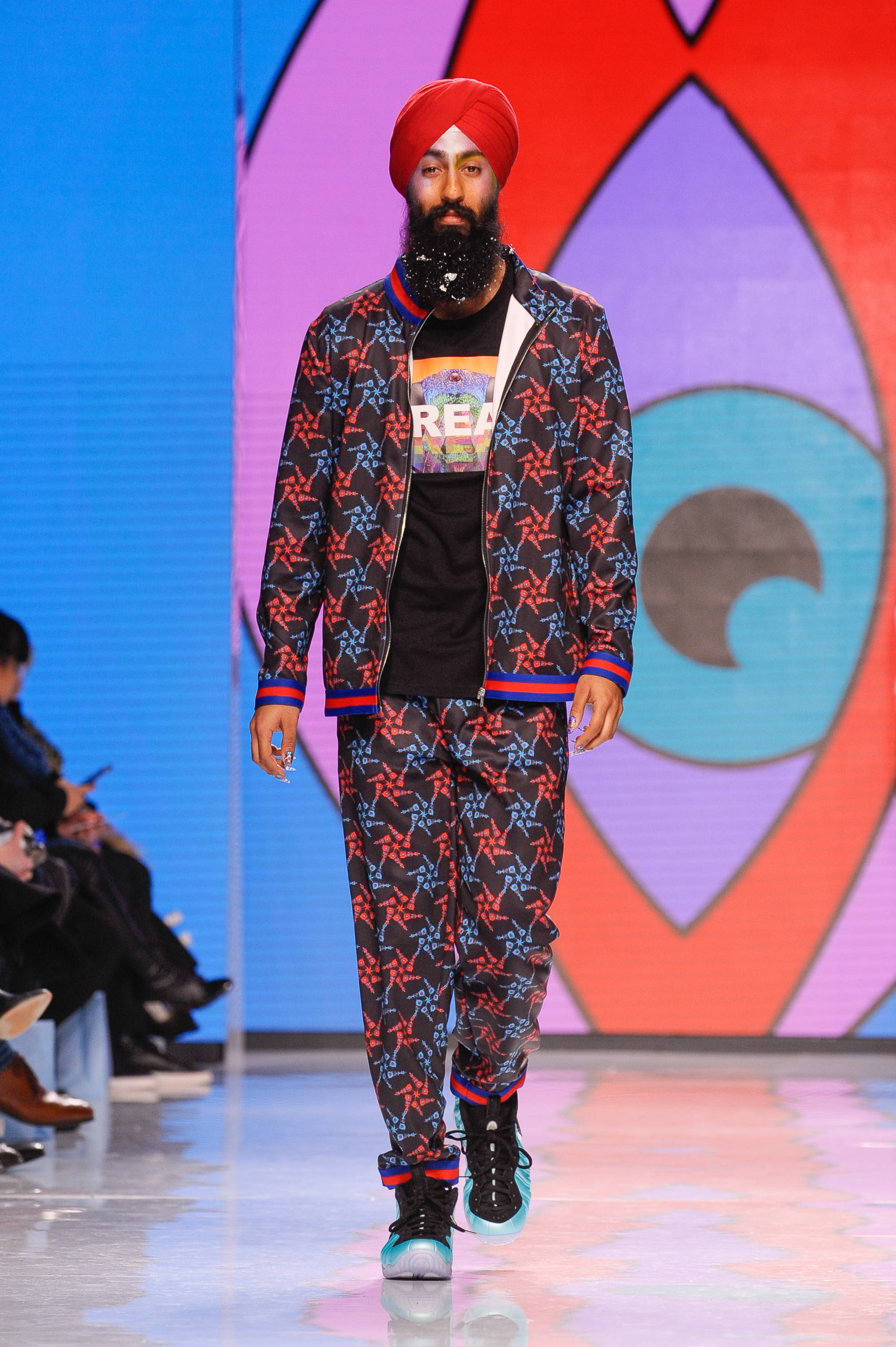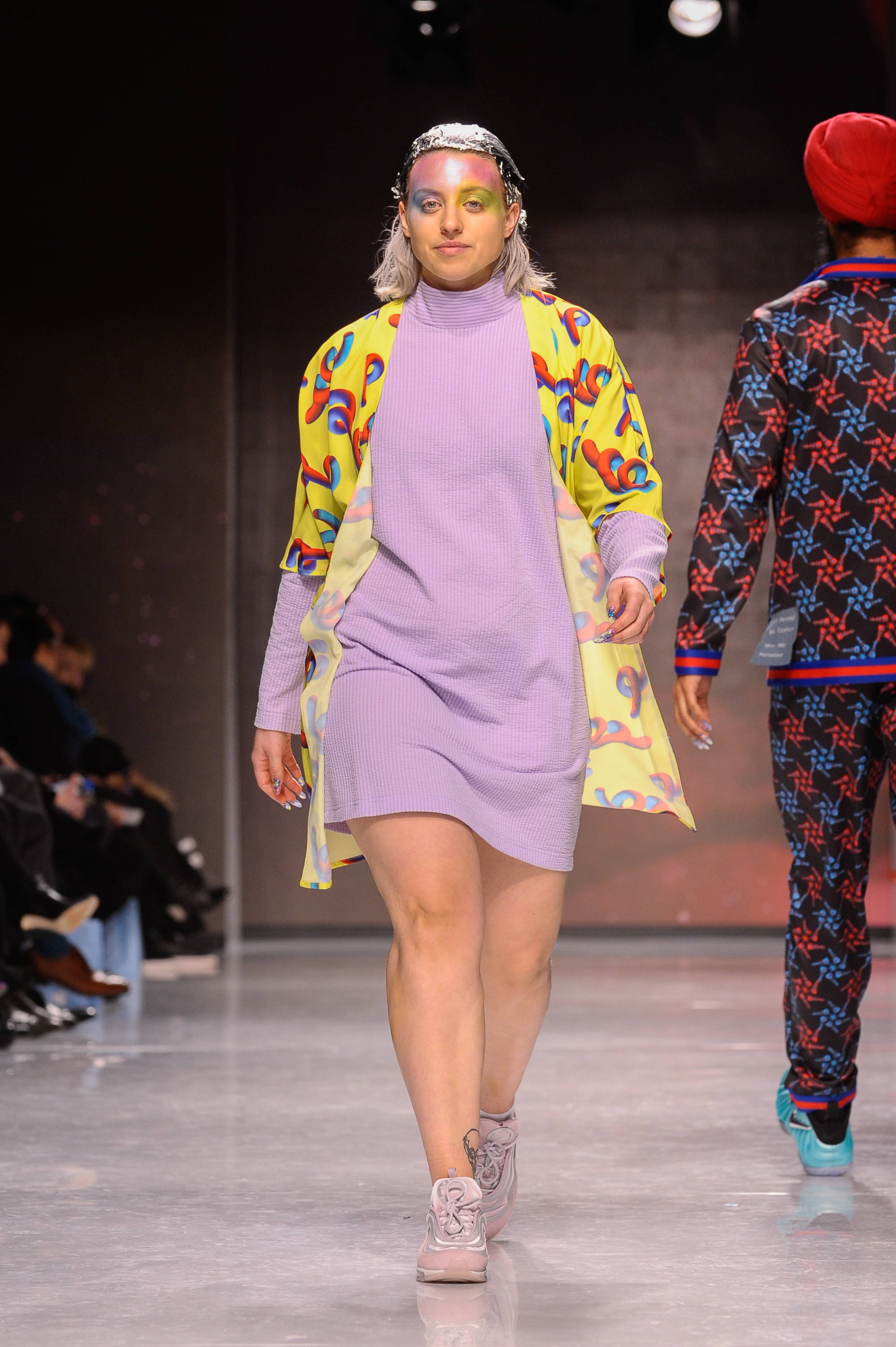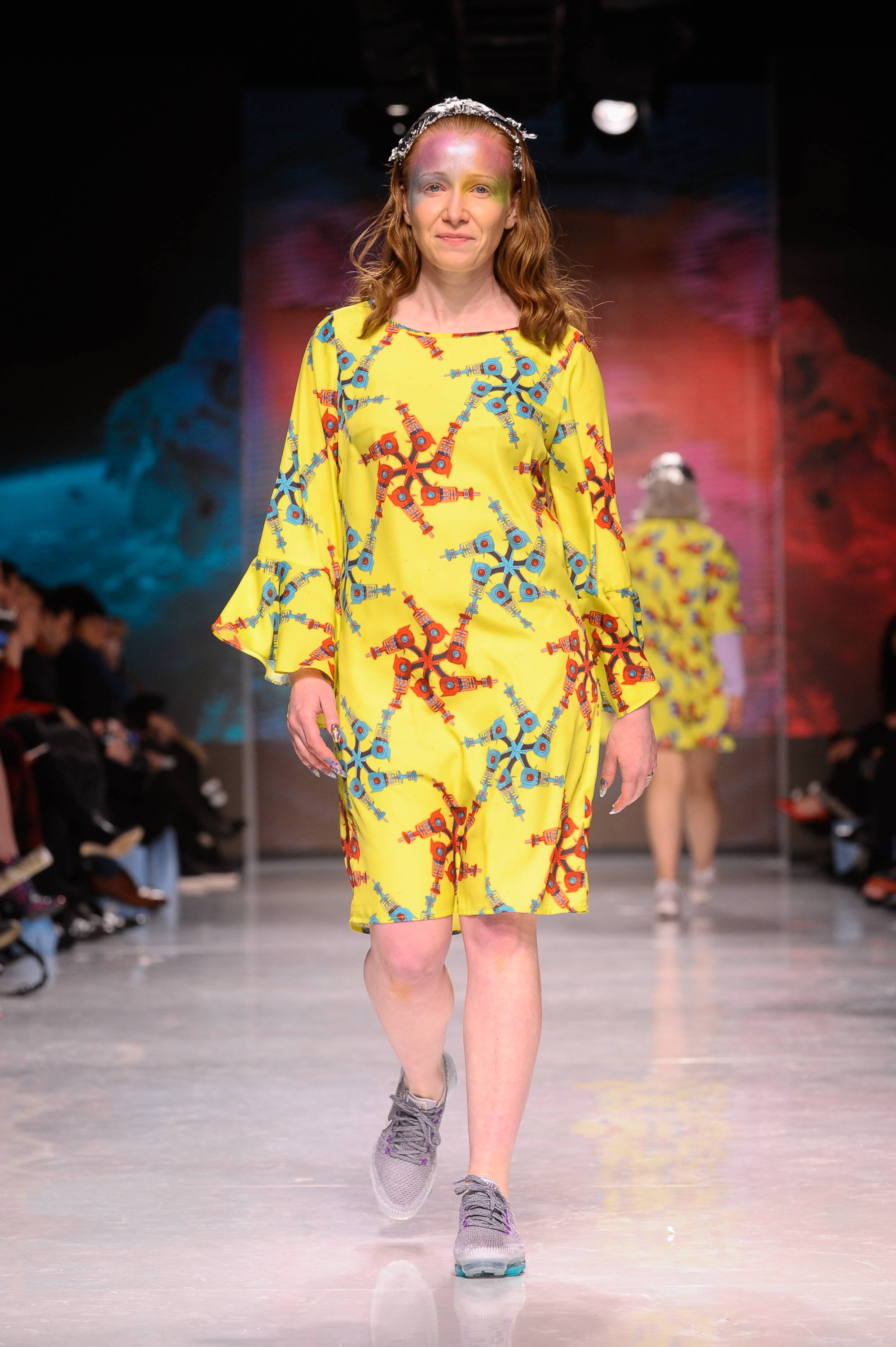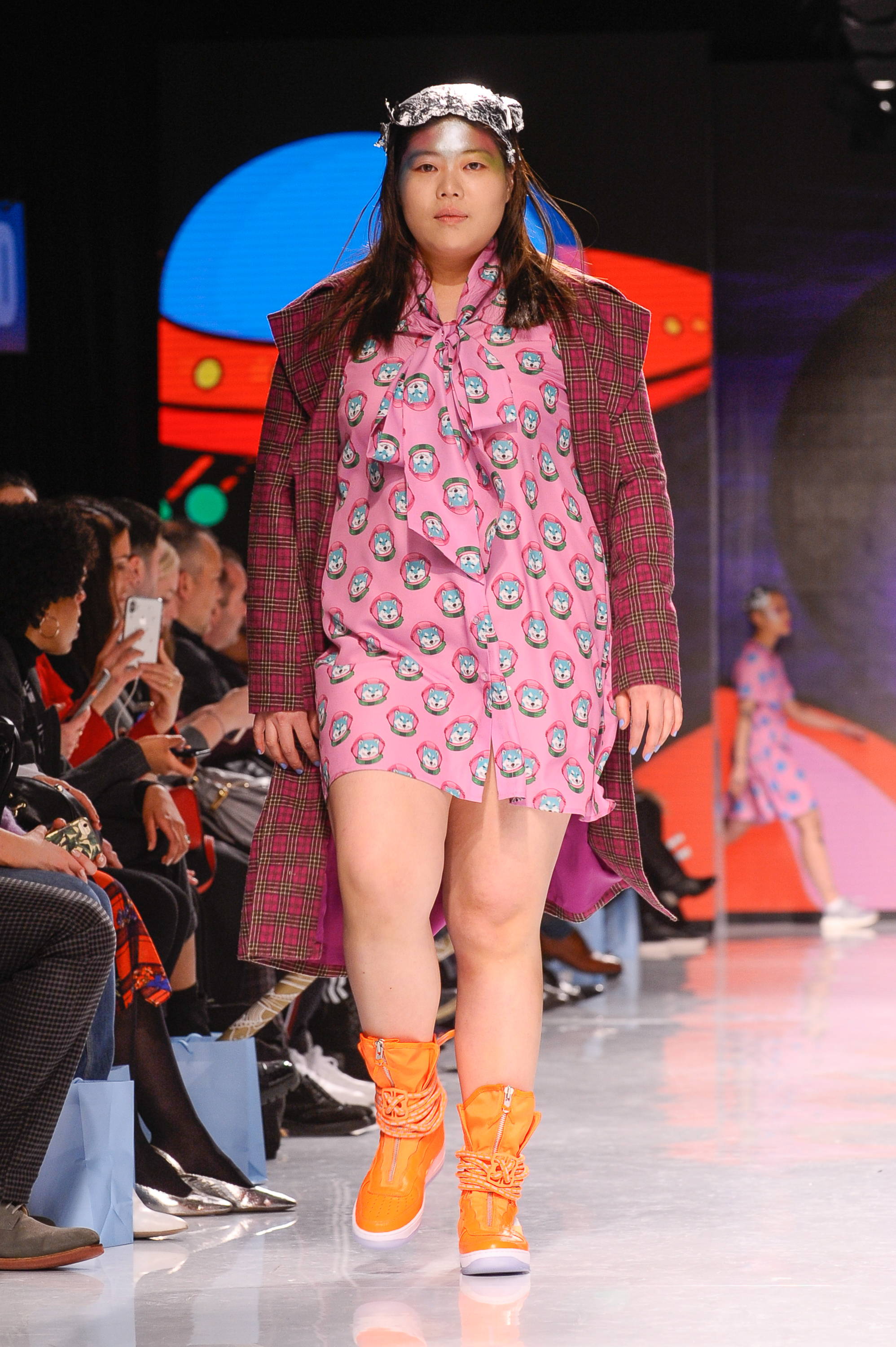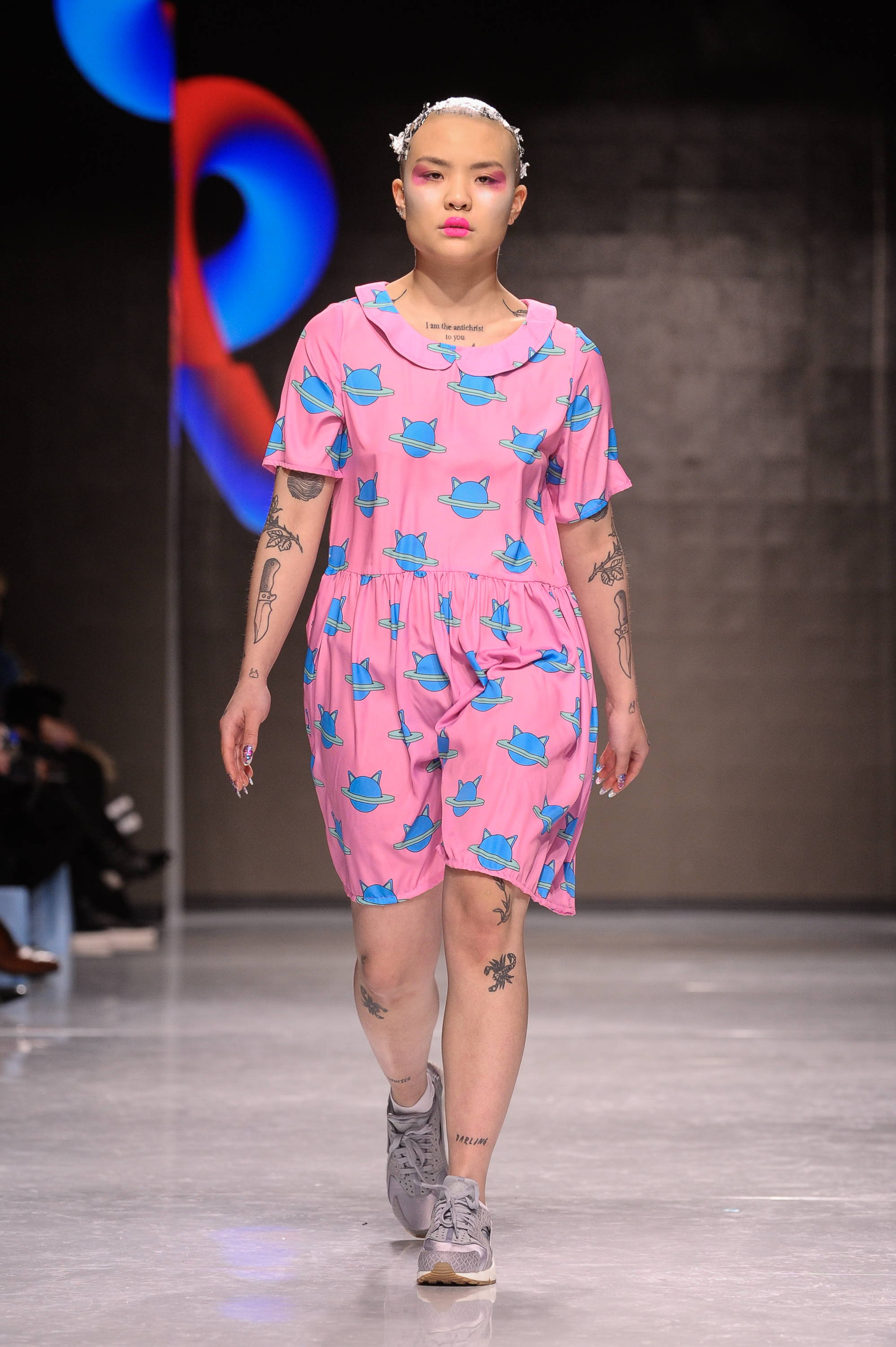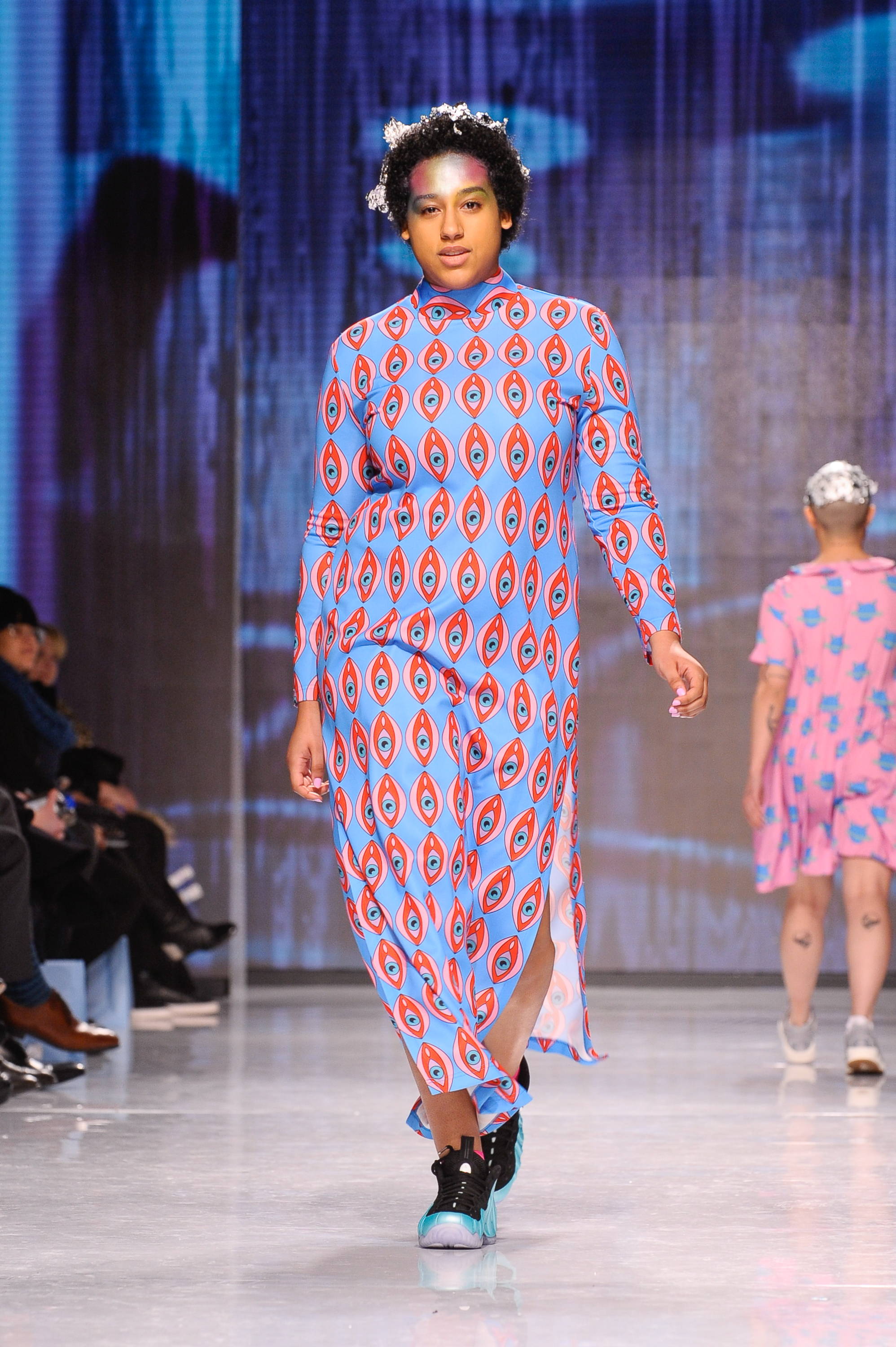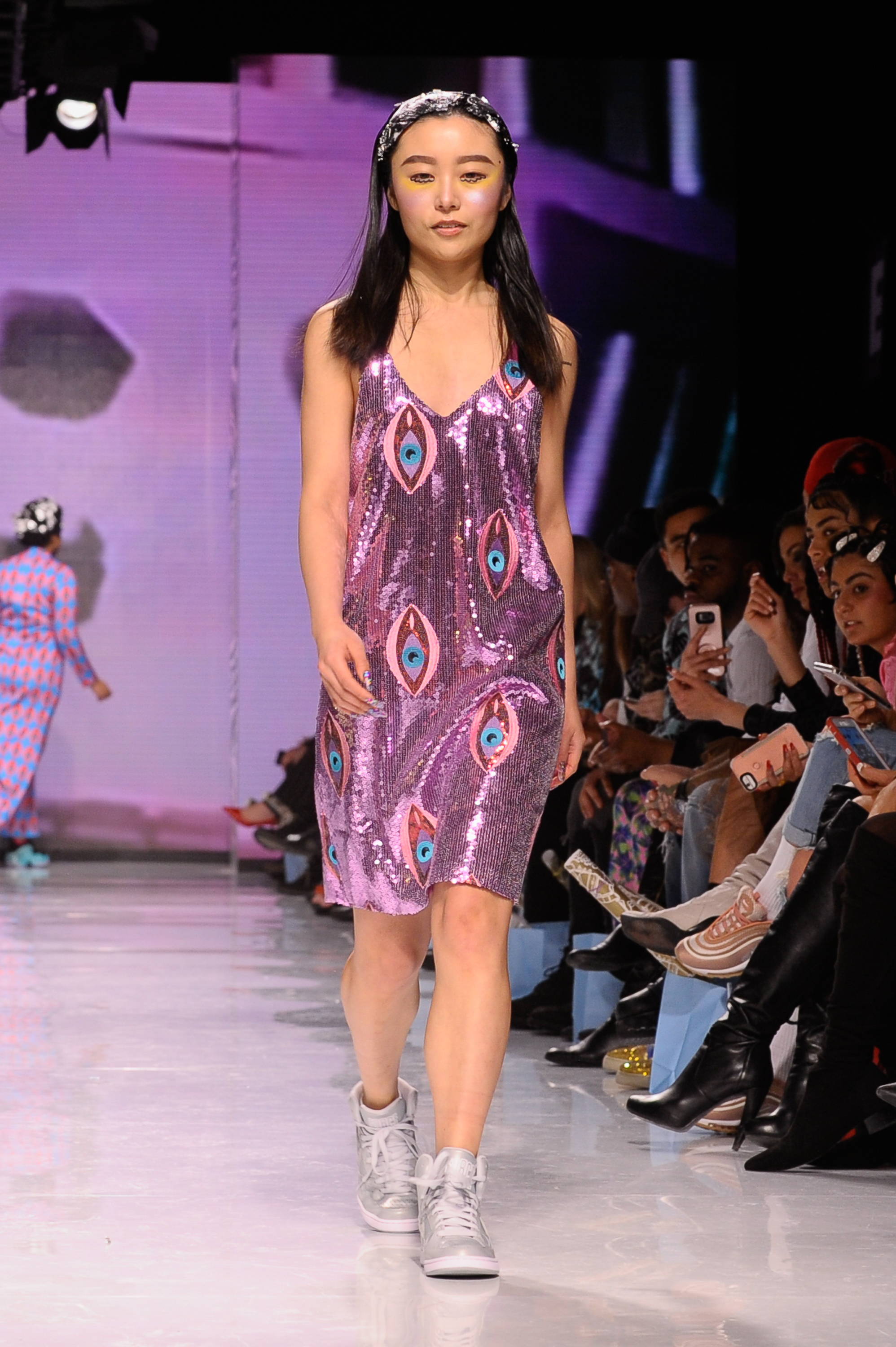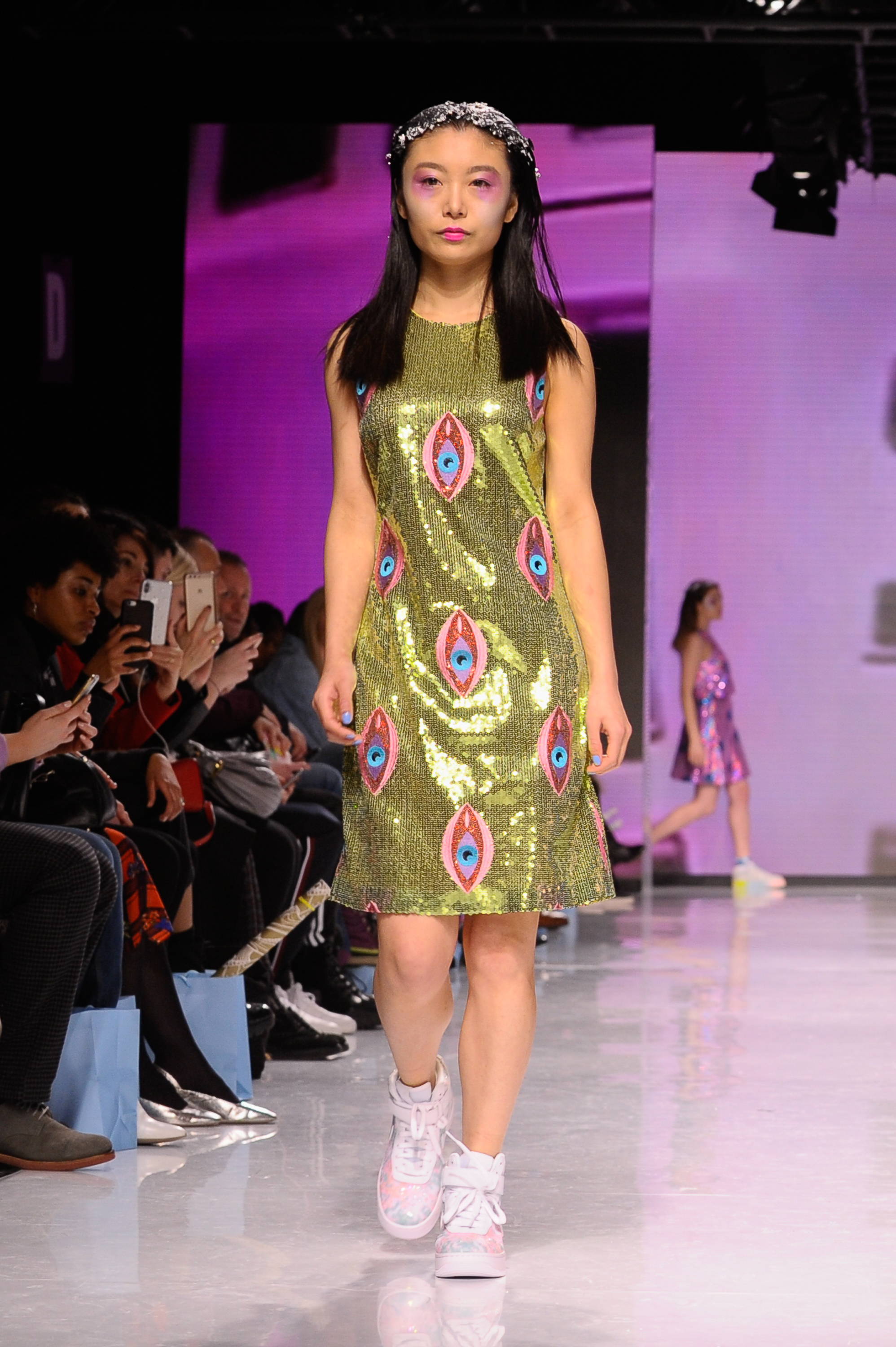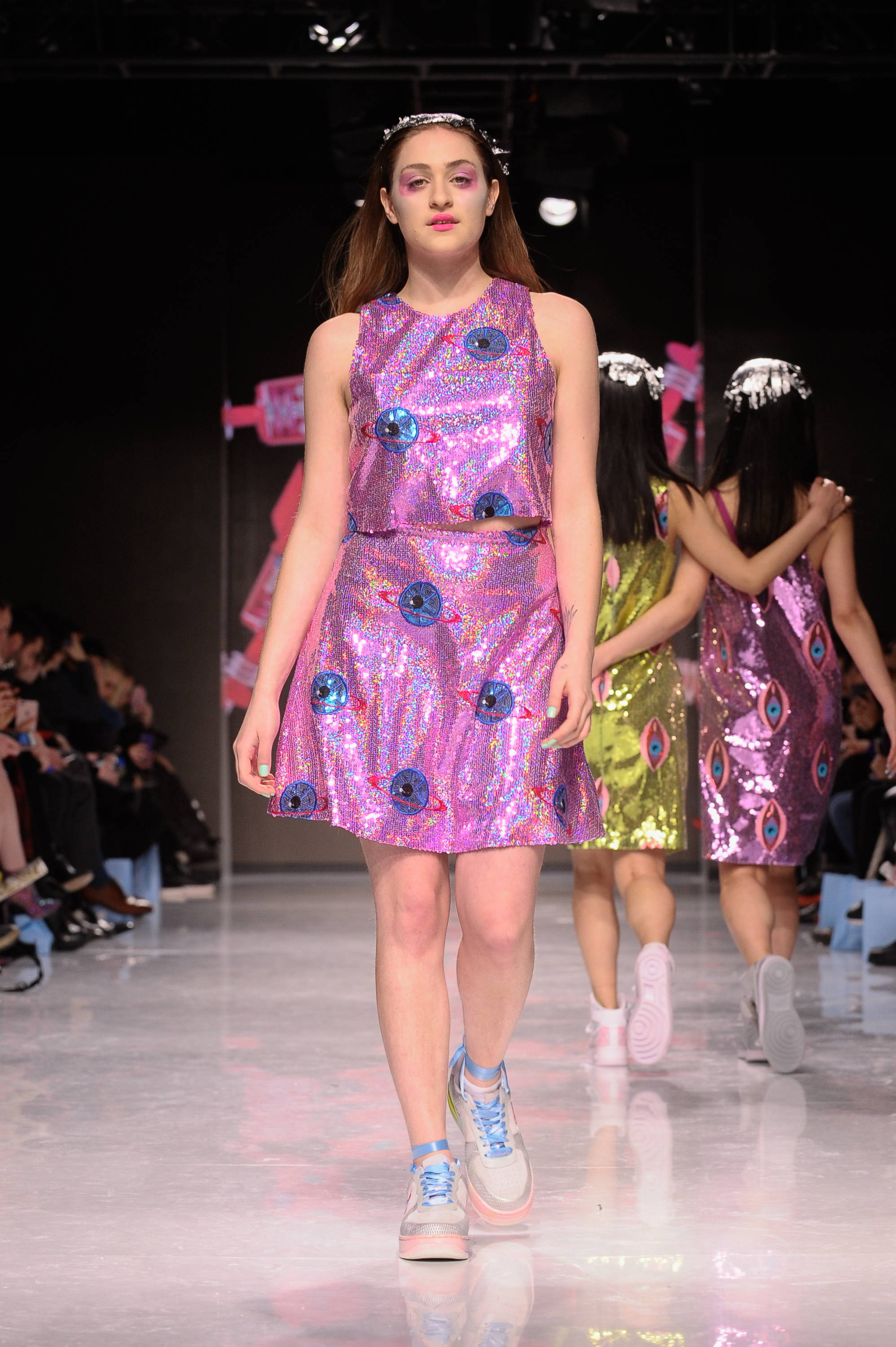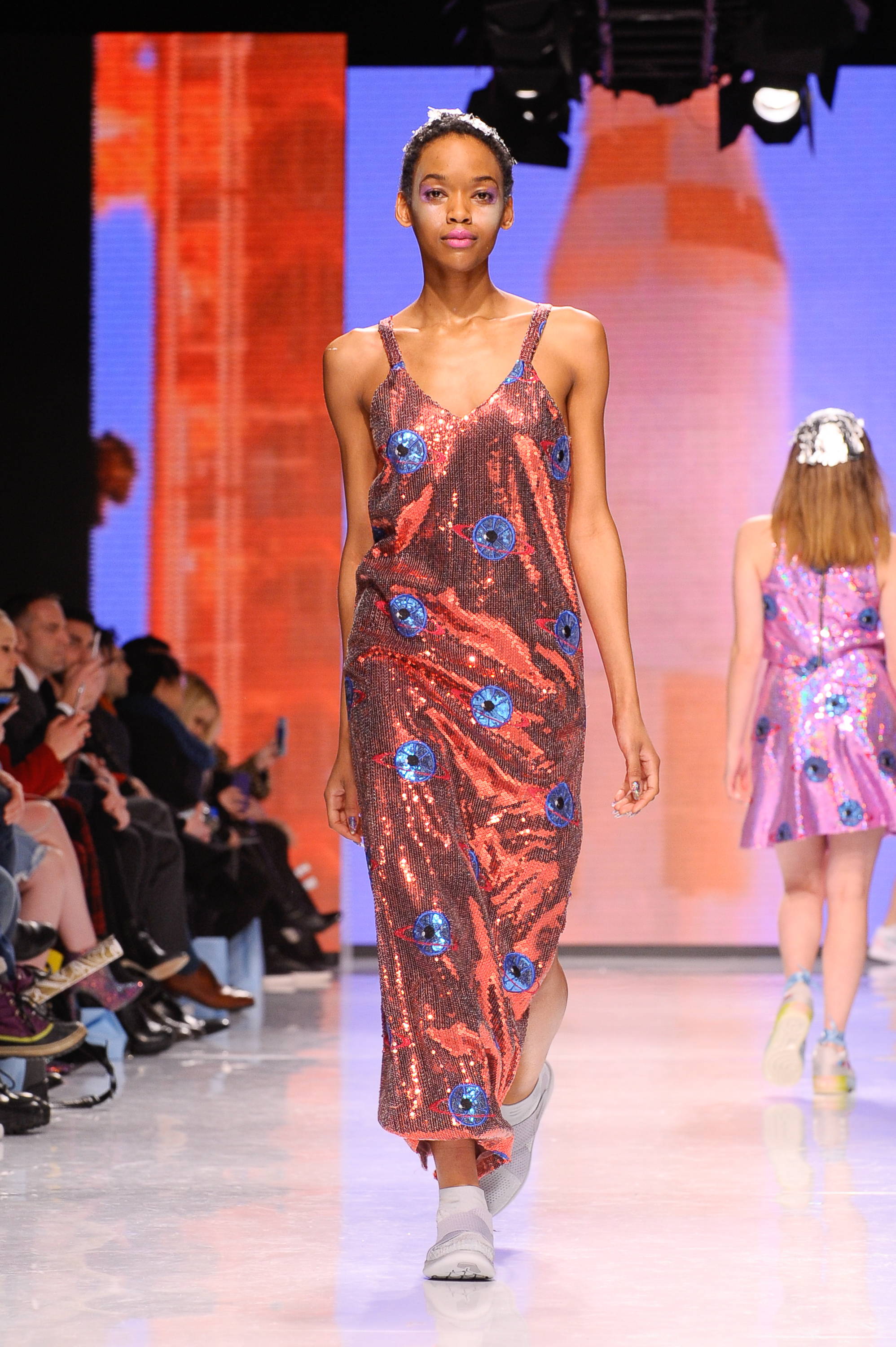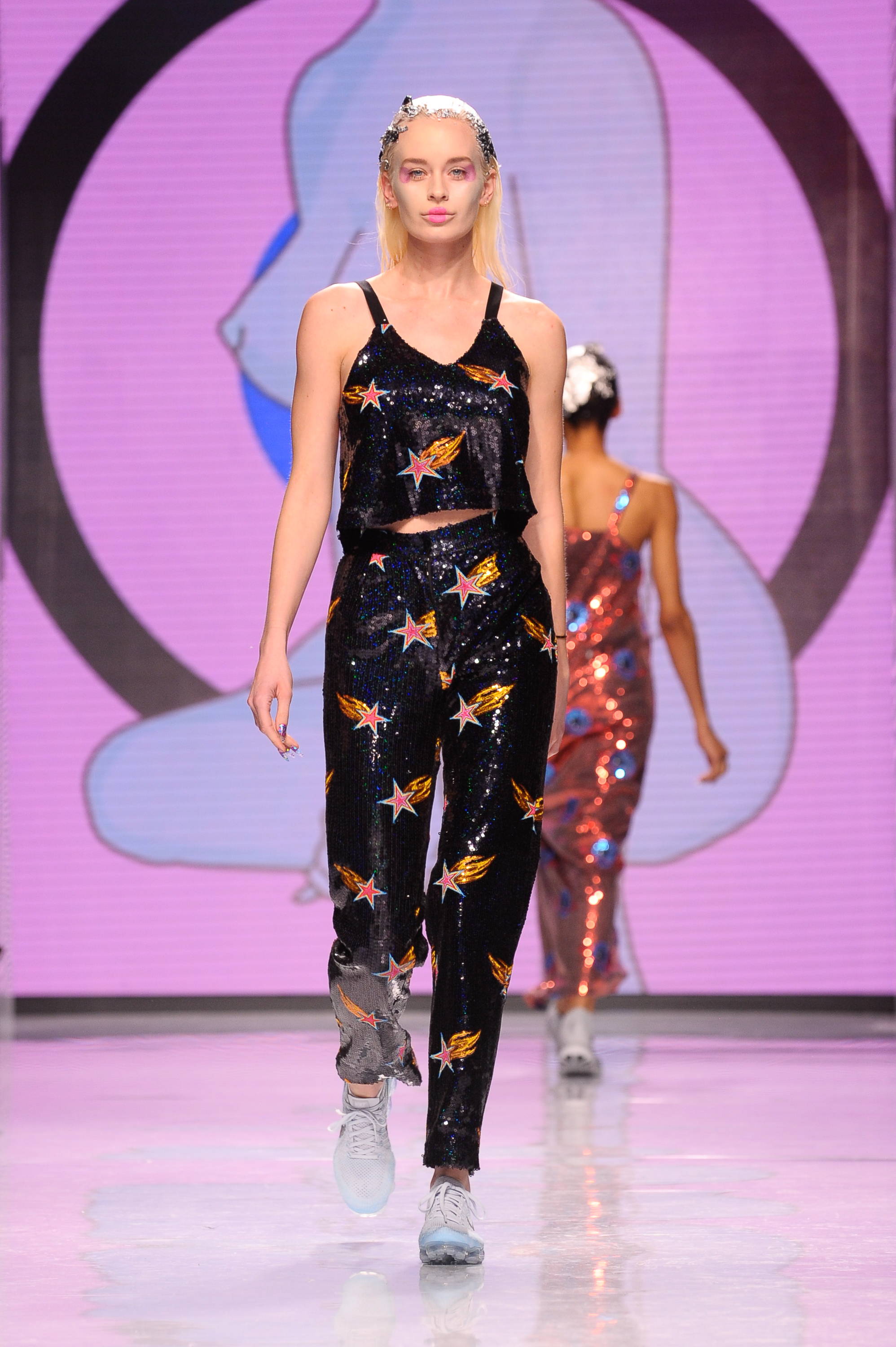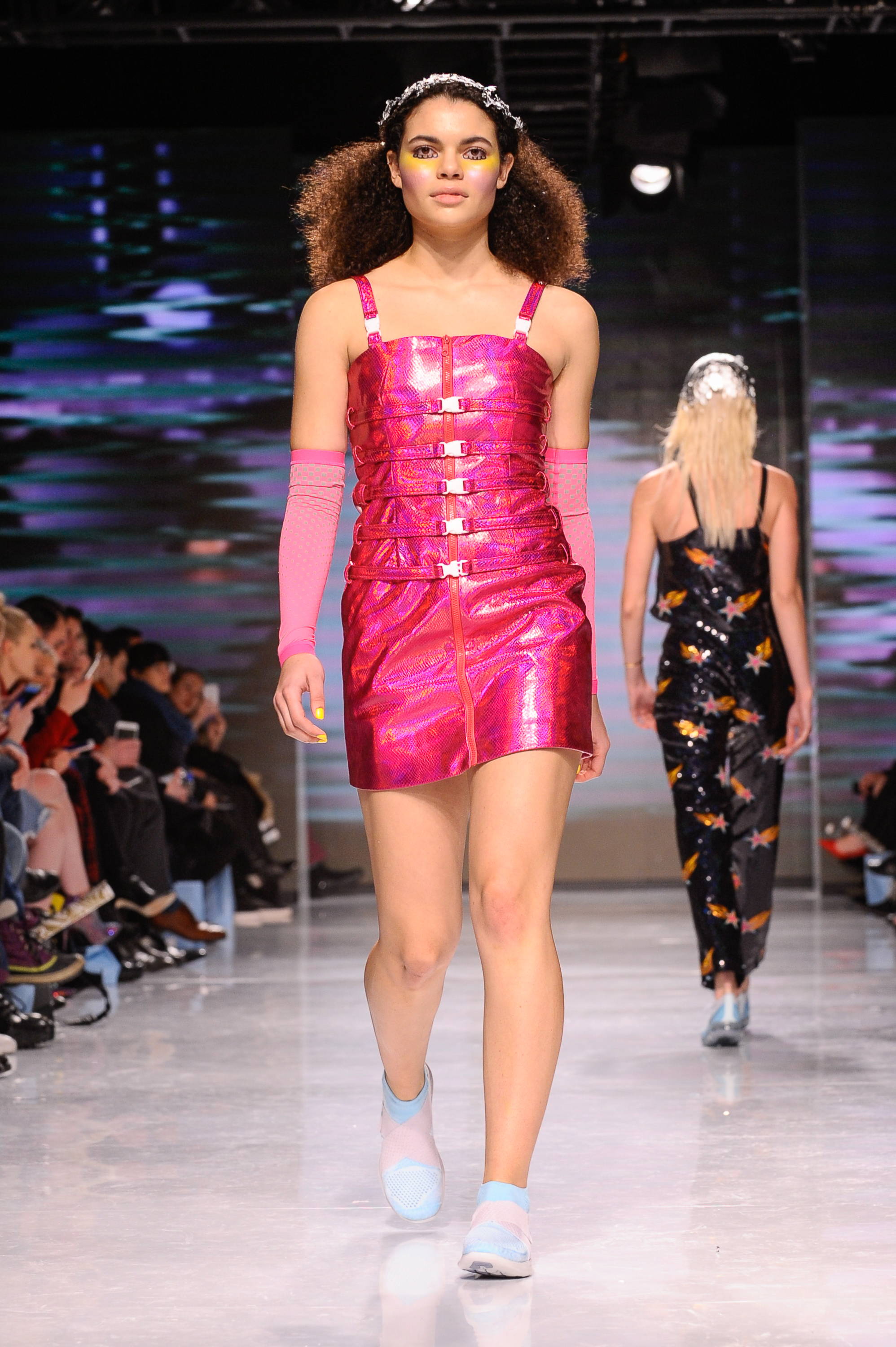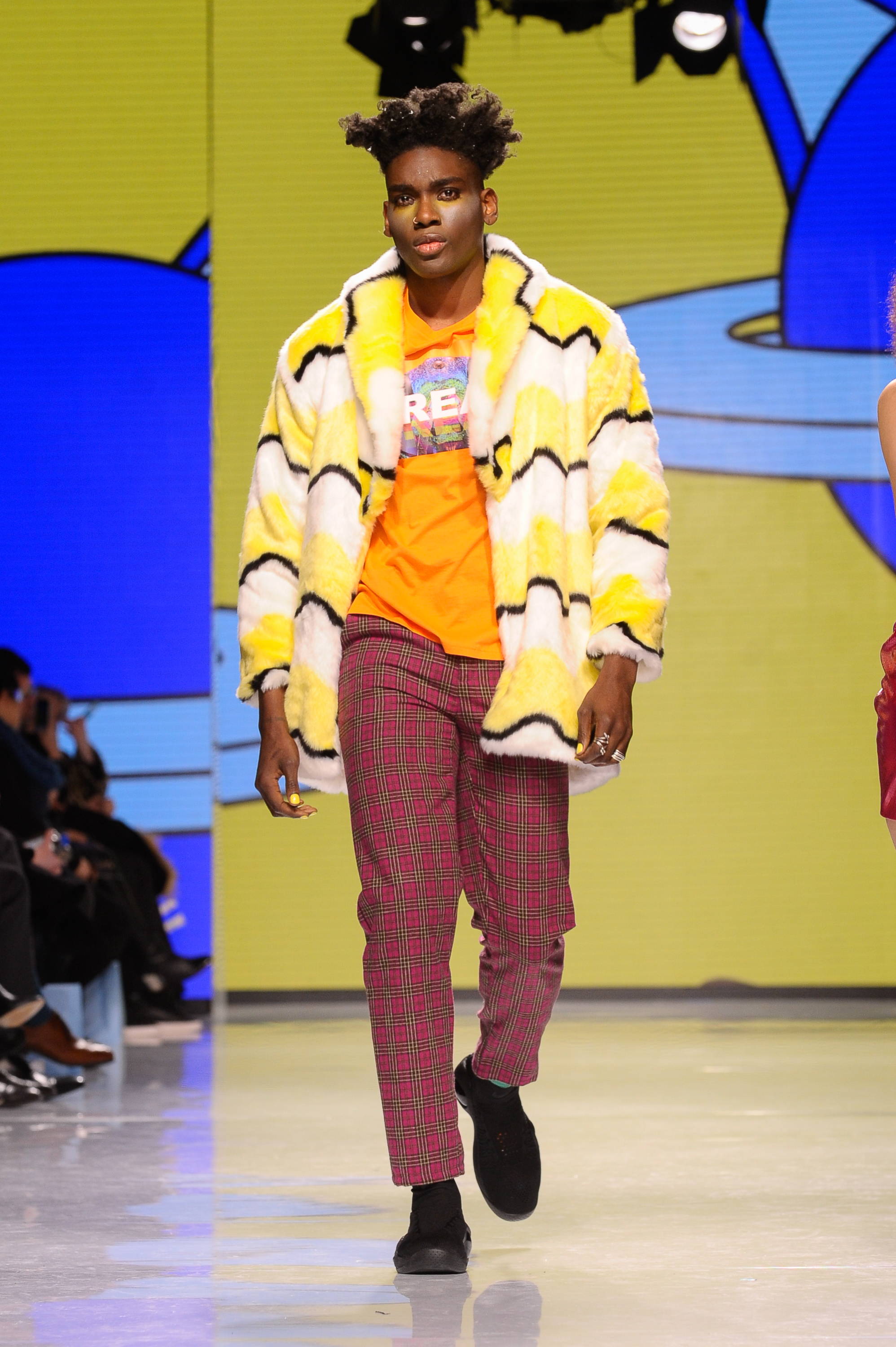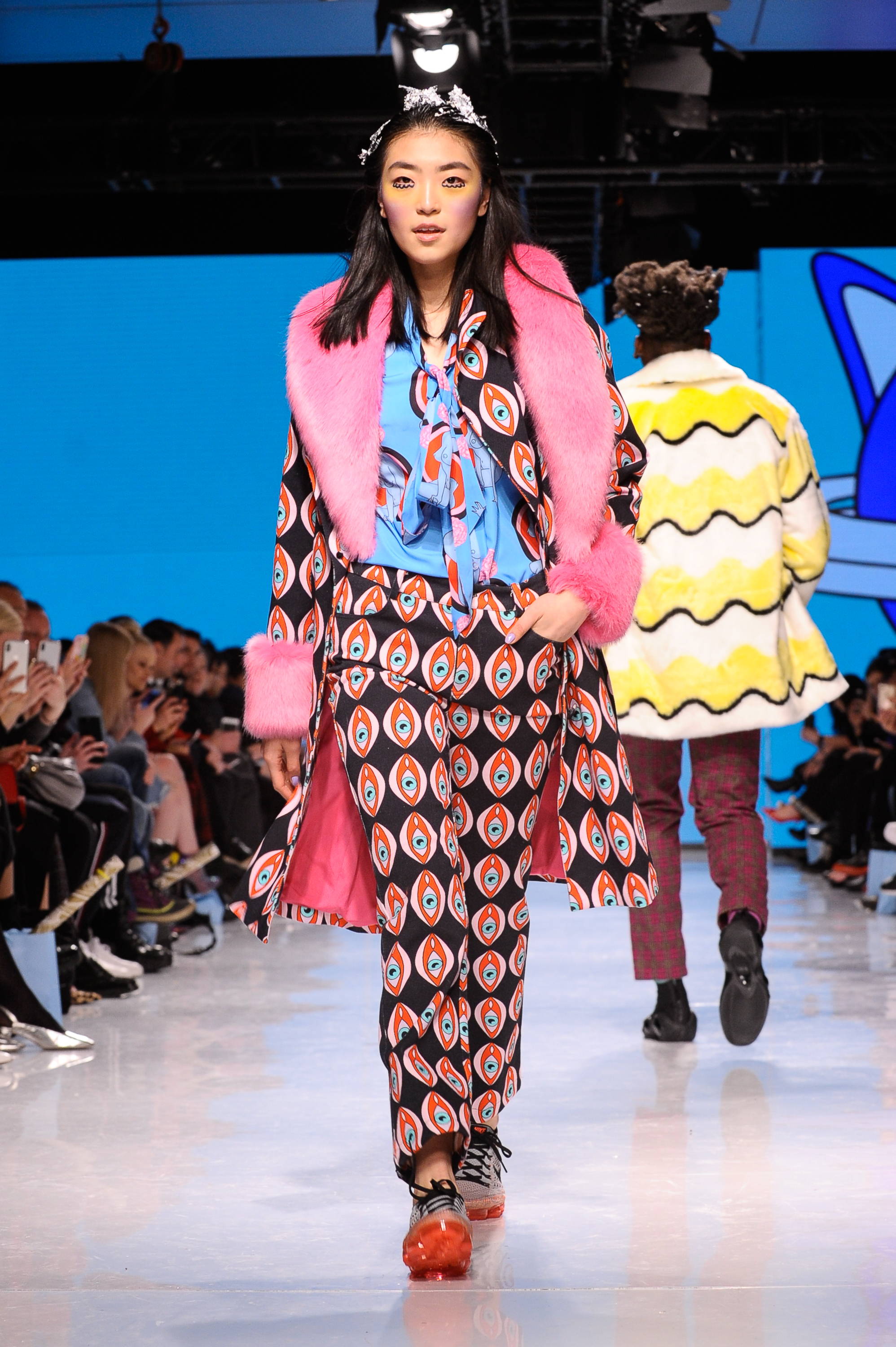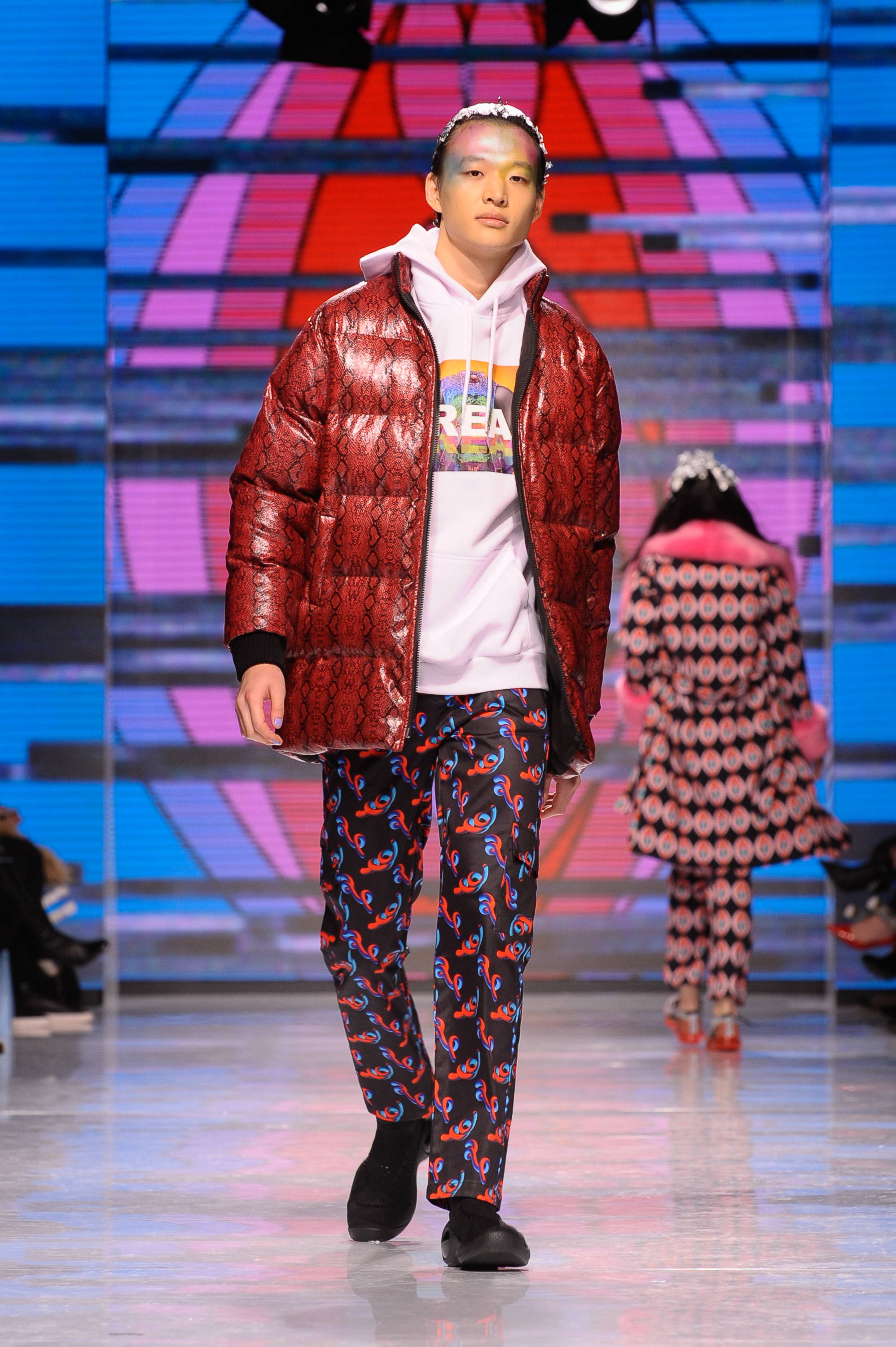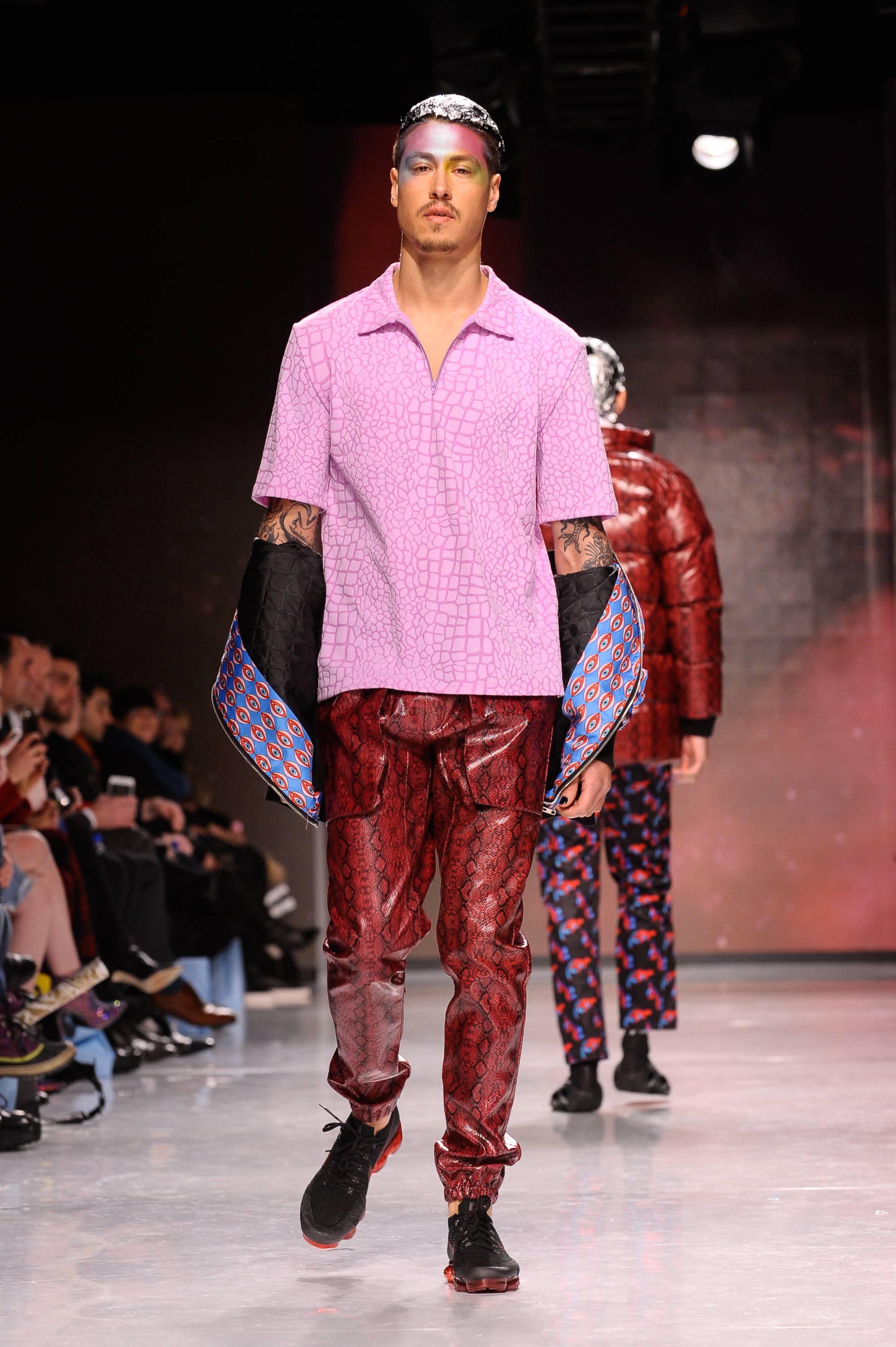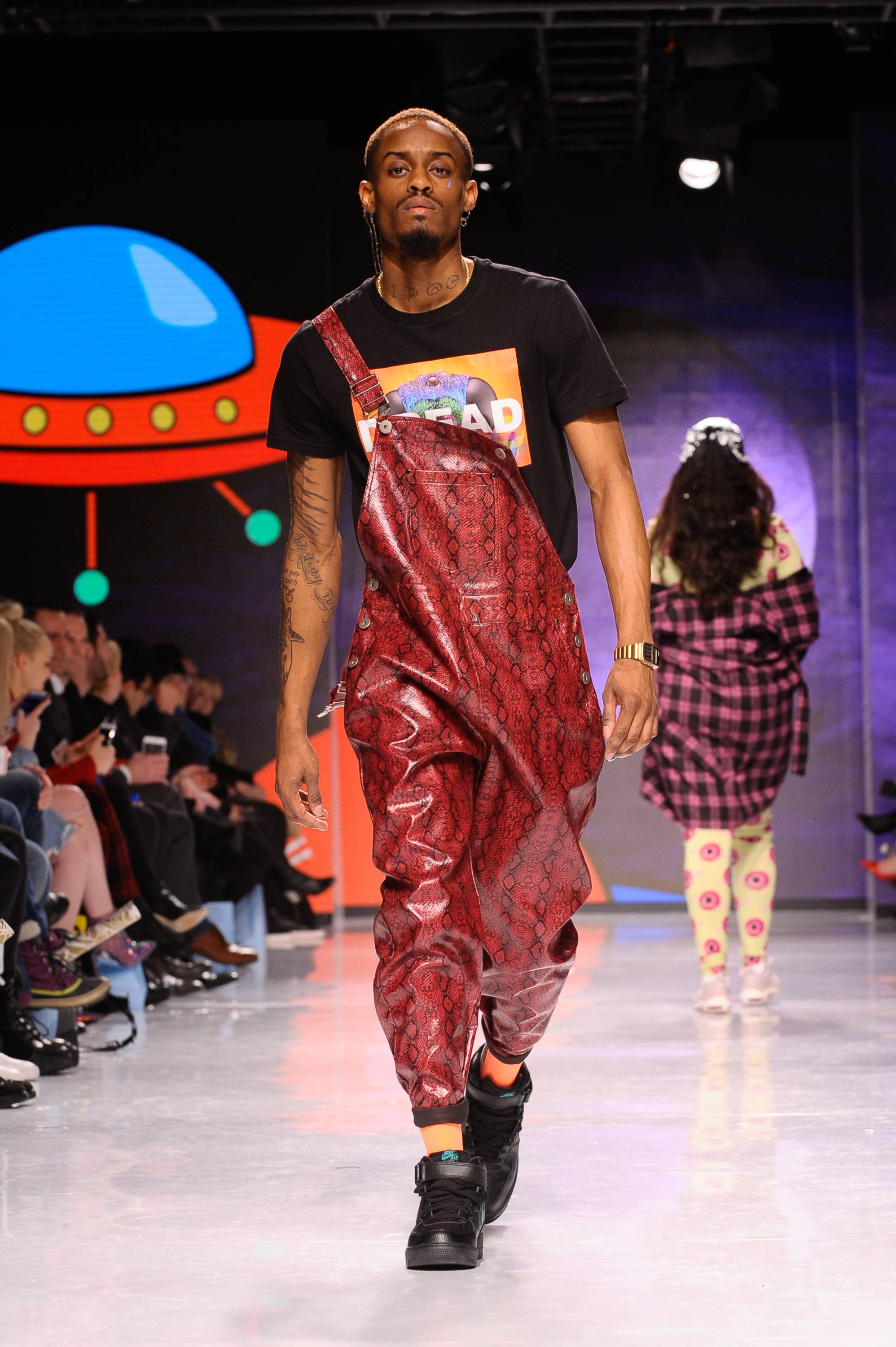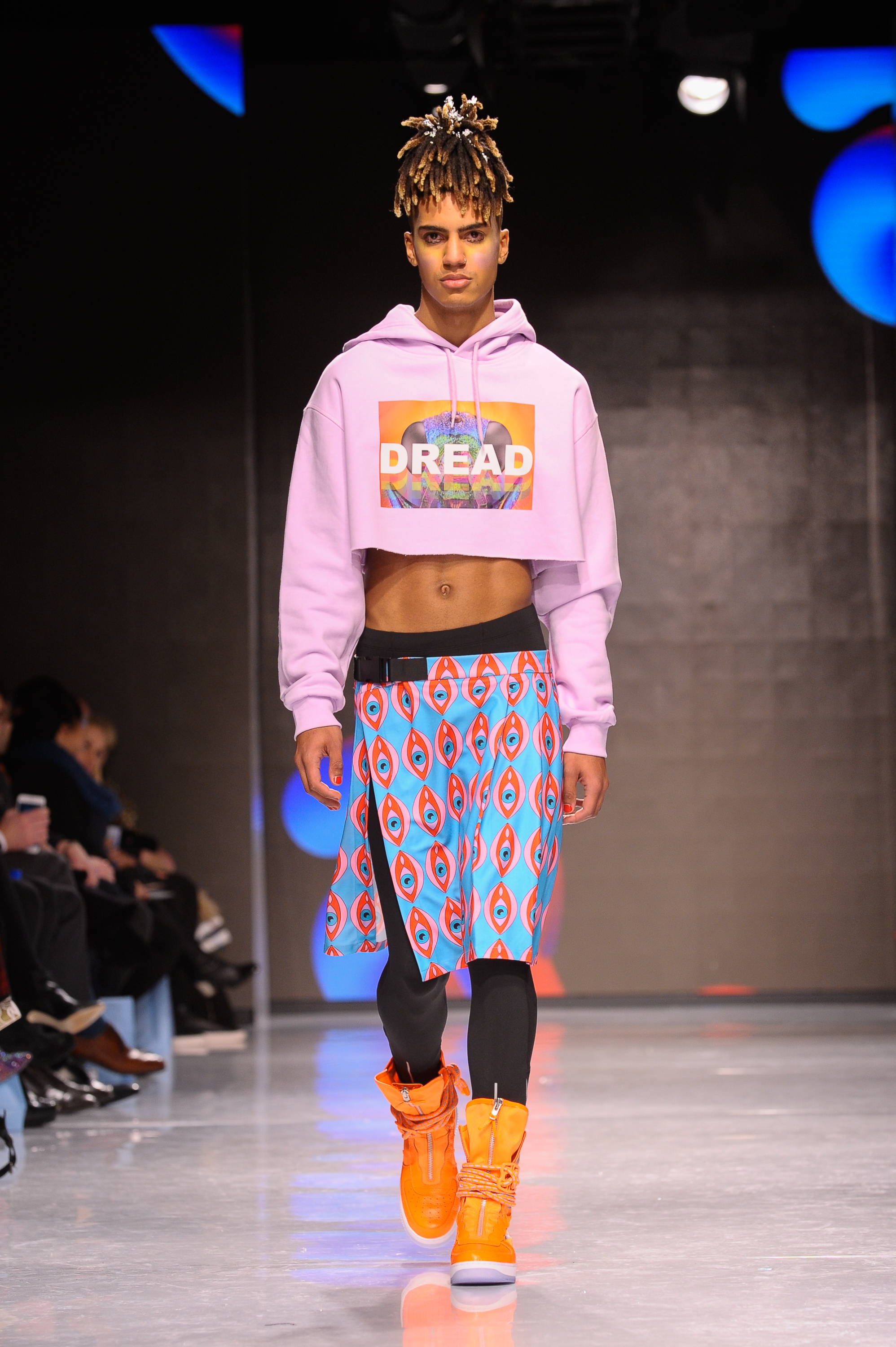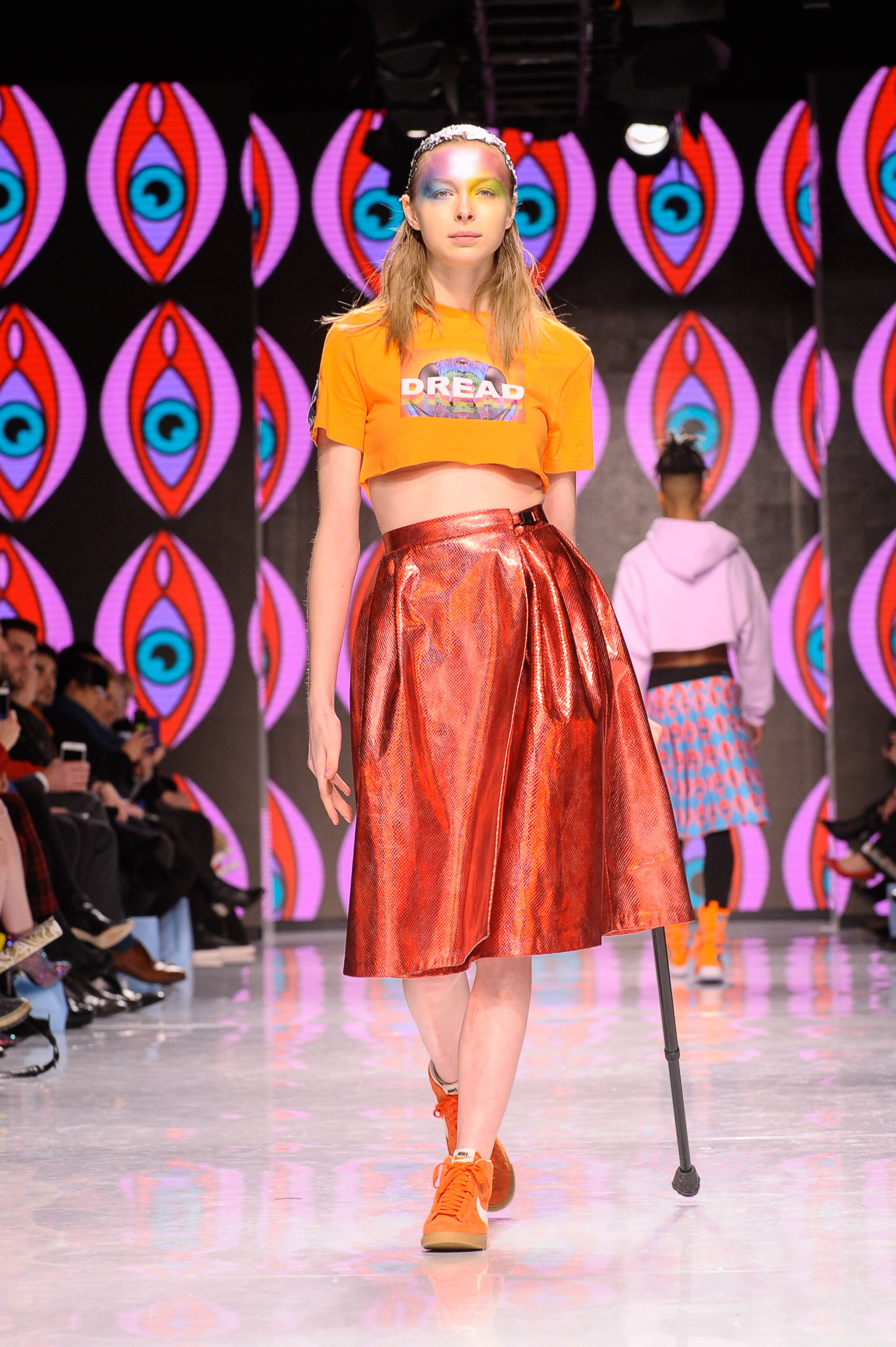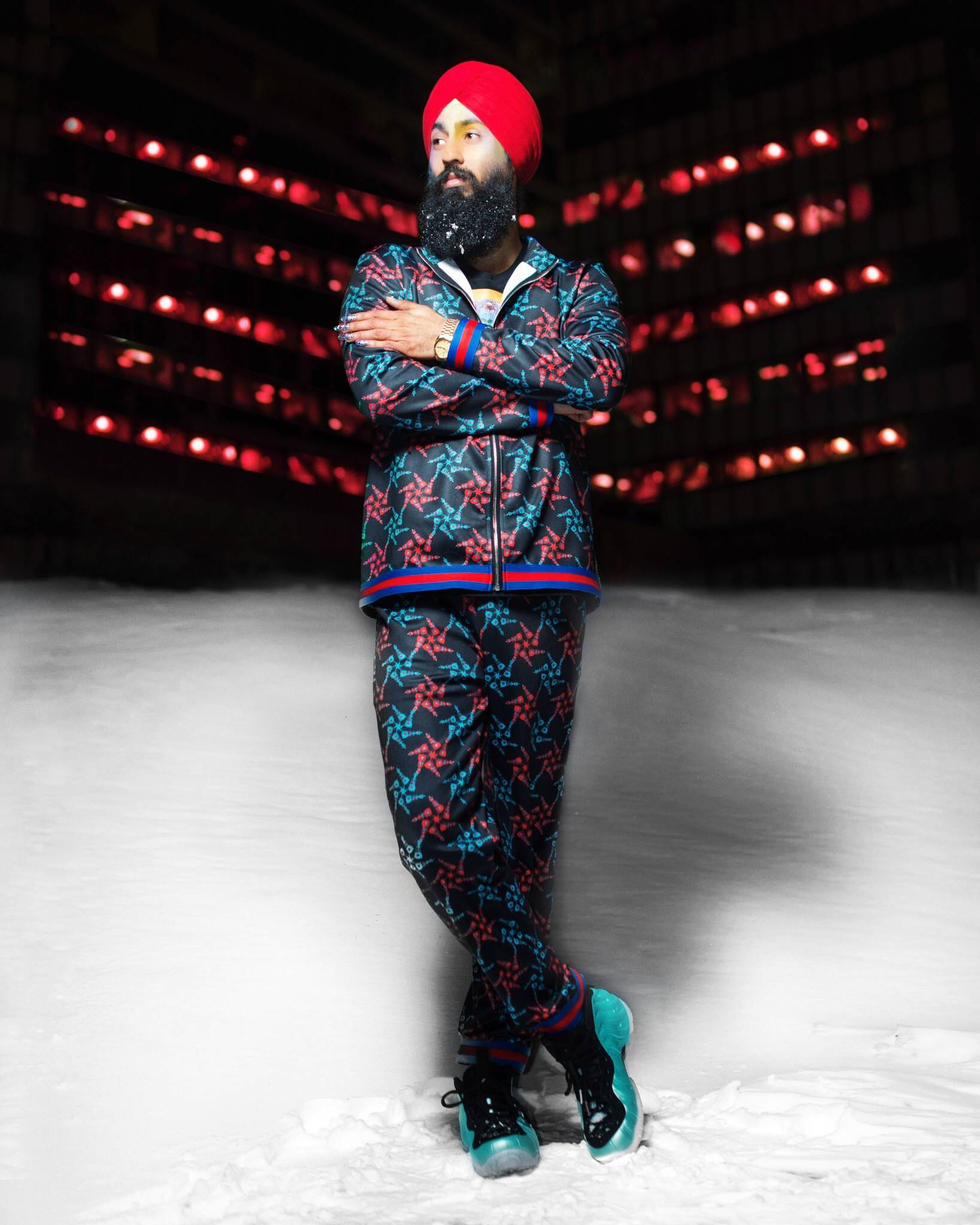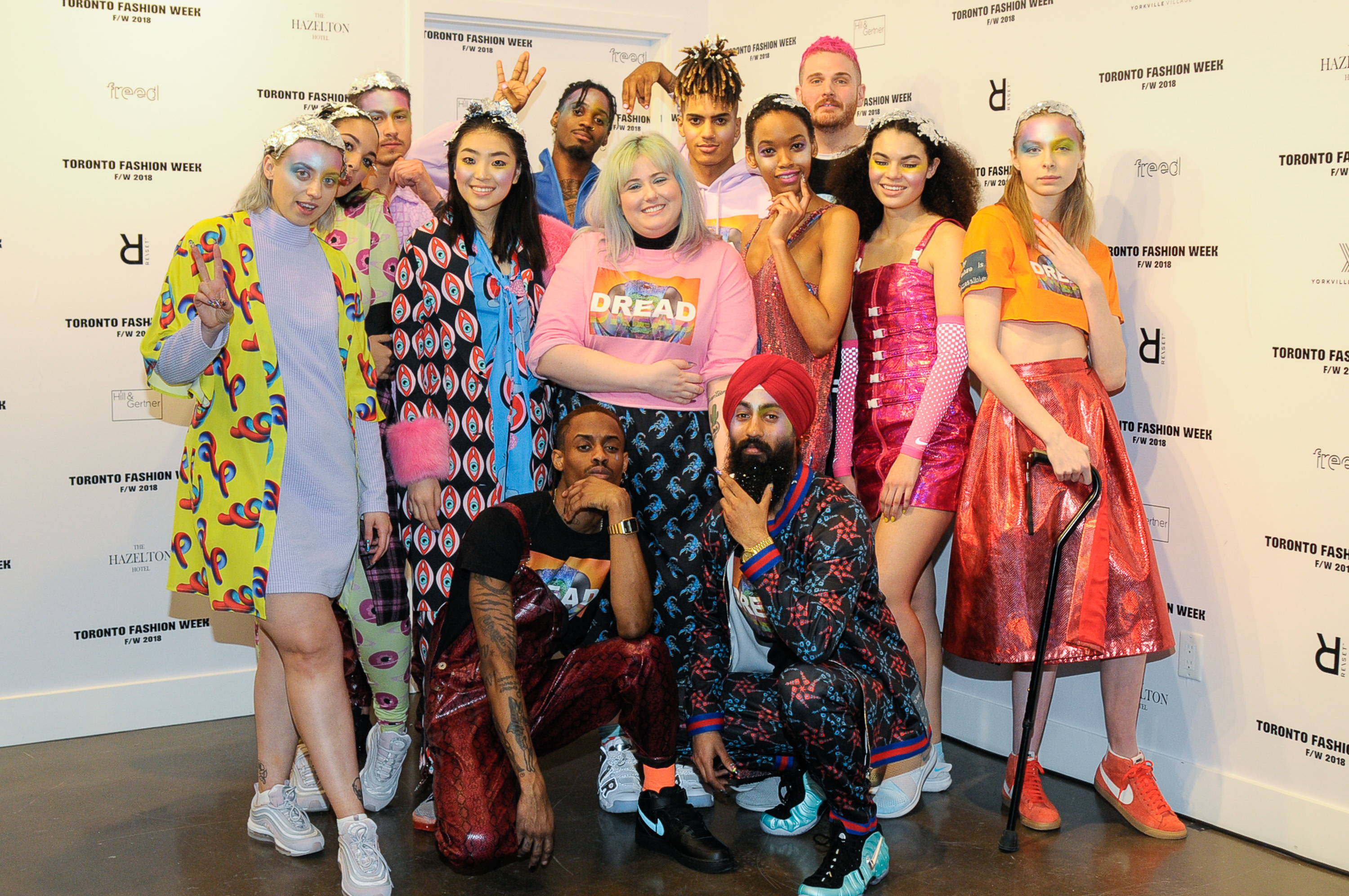 TORONTO FASHION WEEK S/S 2018
TEENAGE WASTELAND

After becoming a mainstay at Toronto Fashion Week, Hayley Elsaesser branched out with a solo Toronto show for SS17, and a New York Fashion Week show at Milk Studios for her My Little Pony inspired FW17, collection 'Déja Moon', which was a collaboration with Hasbro. Hayley is excitededly returned to the official Toronto Fashion Week, and once again thrilled audiences with her trademark prints, sickly sweet colour palette and diverse runway casting.
Hayley's SS18 collection, named for The Who's classic song 'Baba O'Riley' from 'The Kids are Alright' is a vision of post-apocalyptic optimism. Only the youth have survived and have congregated in the nuclear desert. They adorn themselves with colourful relics of their carefree life before 'the event' and wait out their days in hedonistic celebration of the culture they lost. Teenage Wasteland is their dystopian country club.
Hayley partnered with Nike Toronto to perfectly set off the futuristic country club vibe using classic and fashion forward sneaker silhouettes on the runway.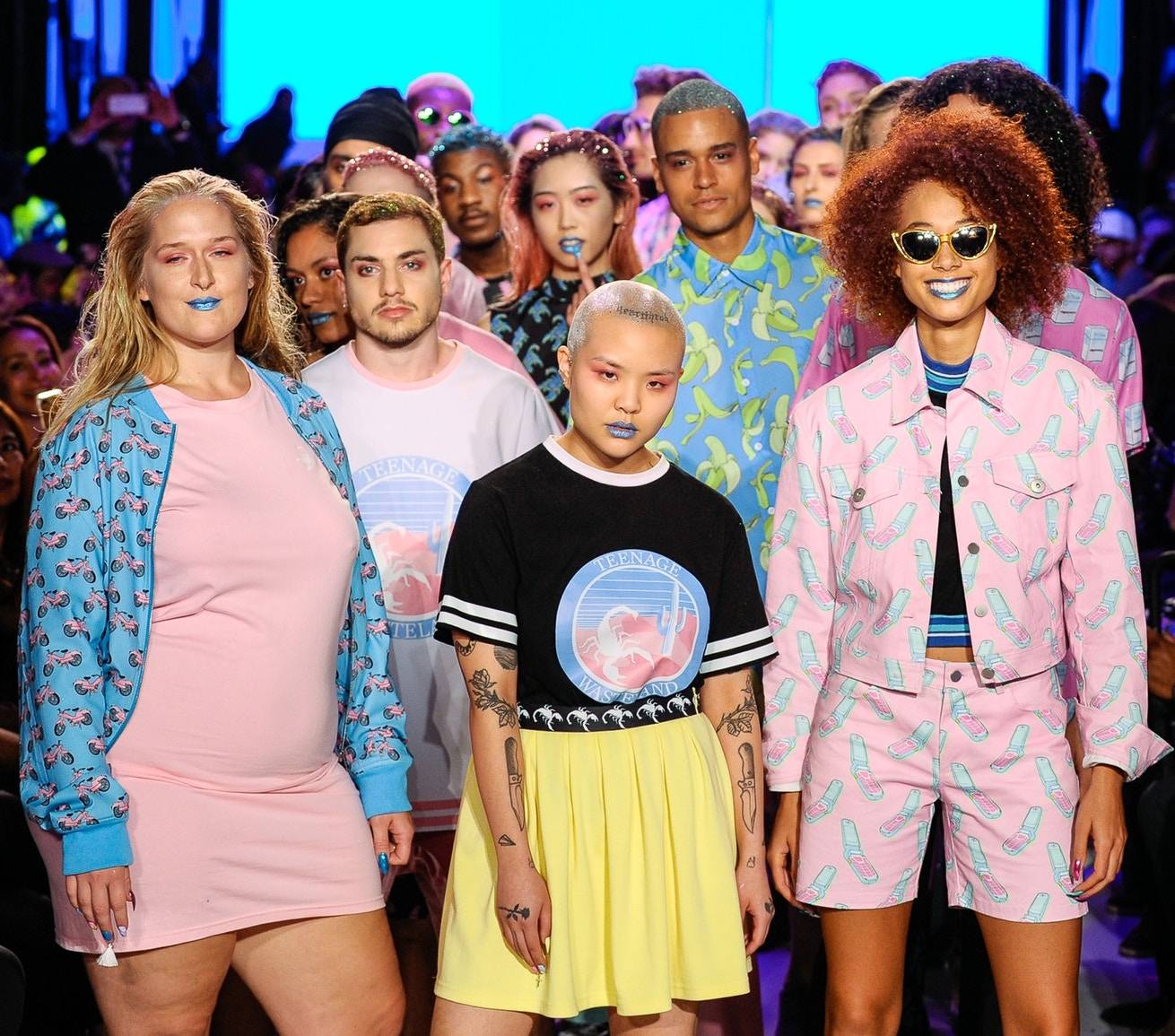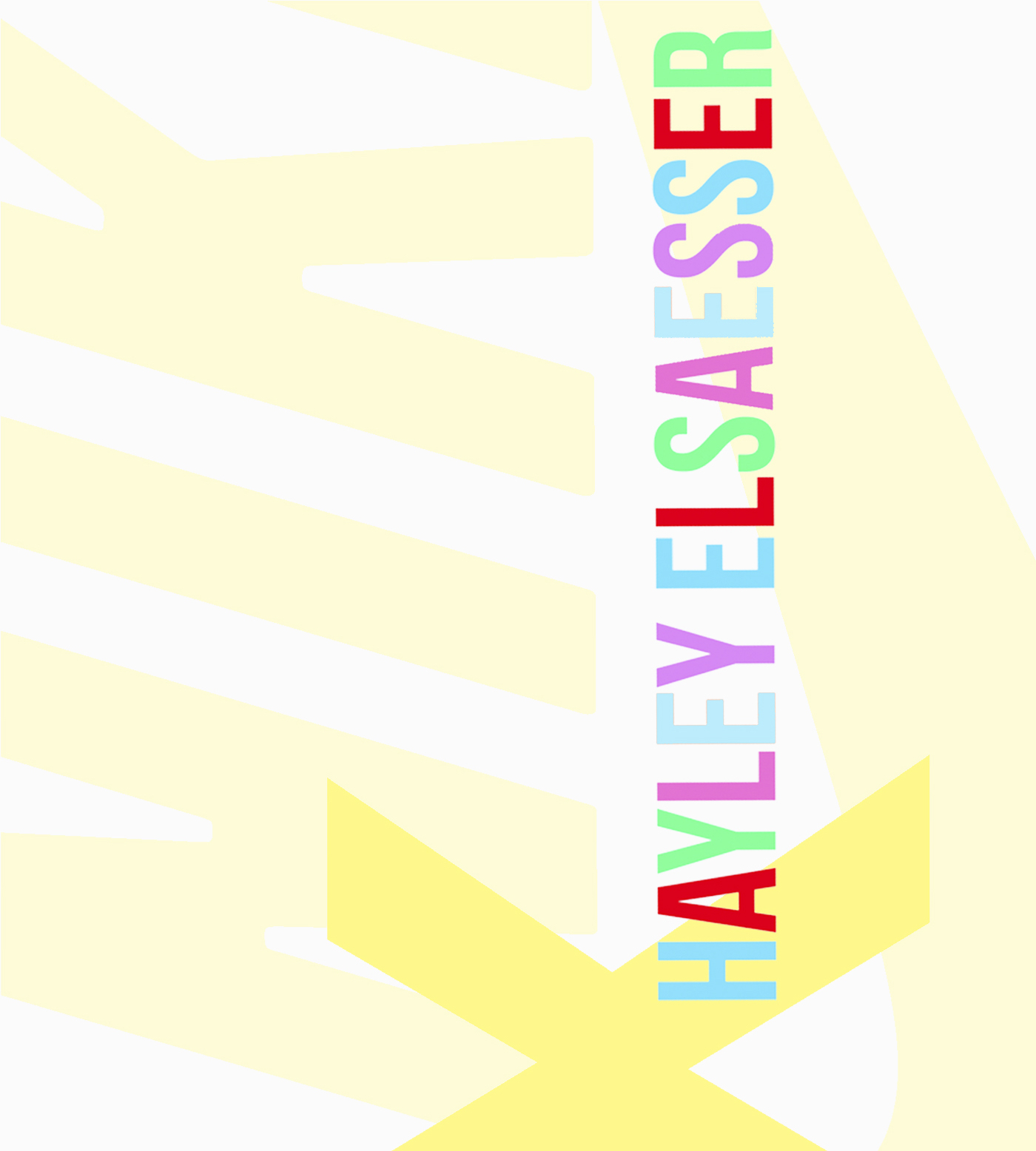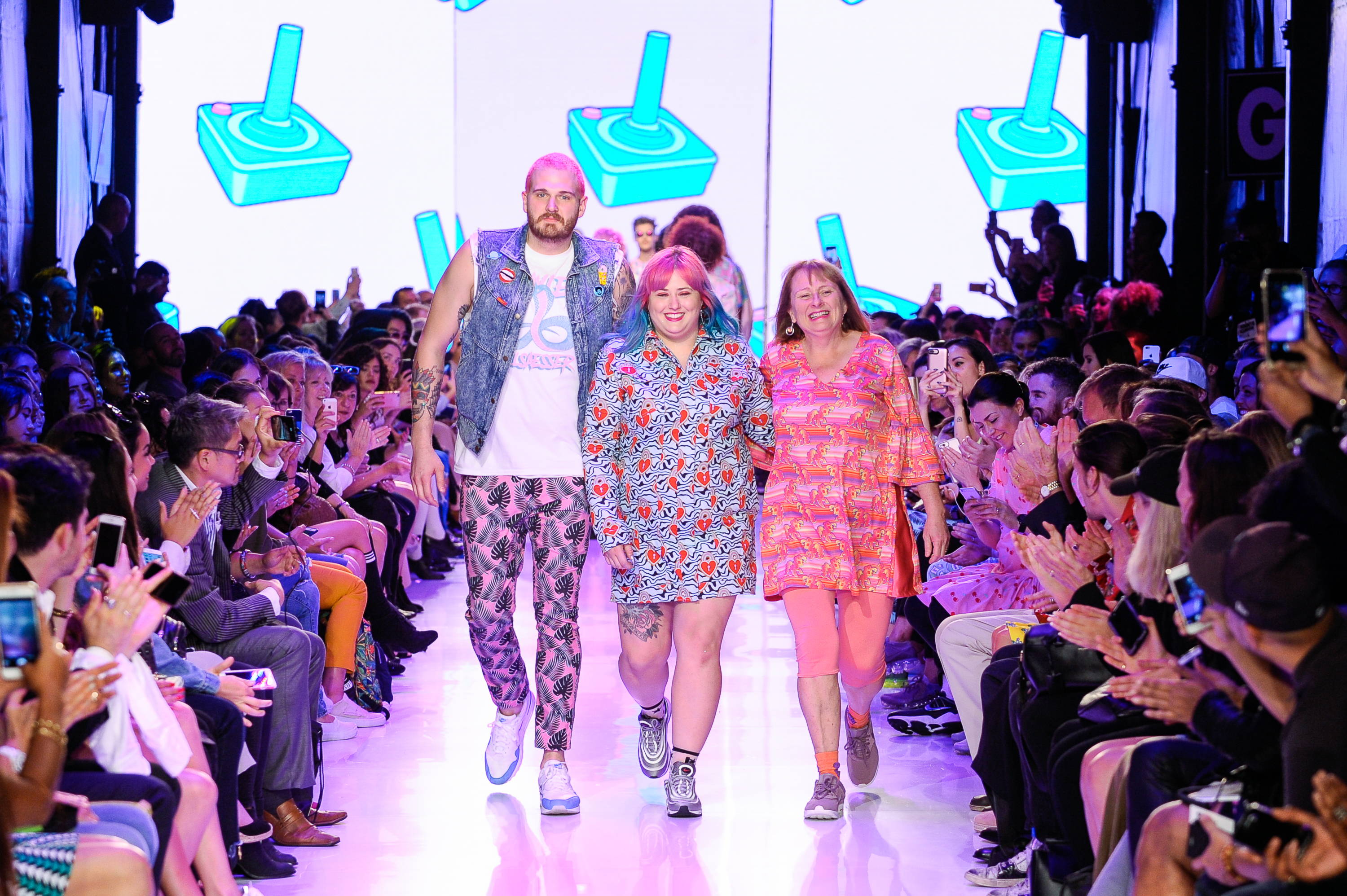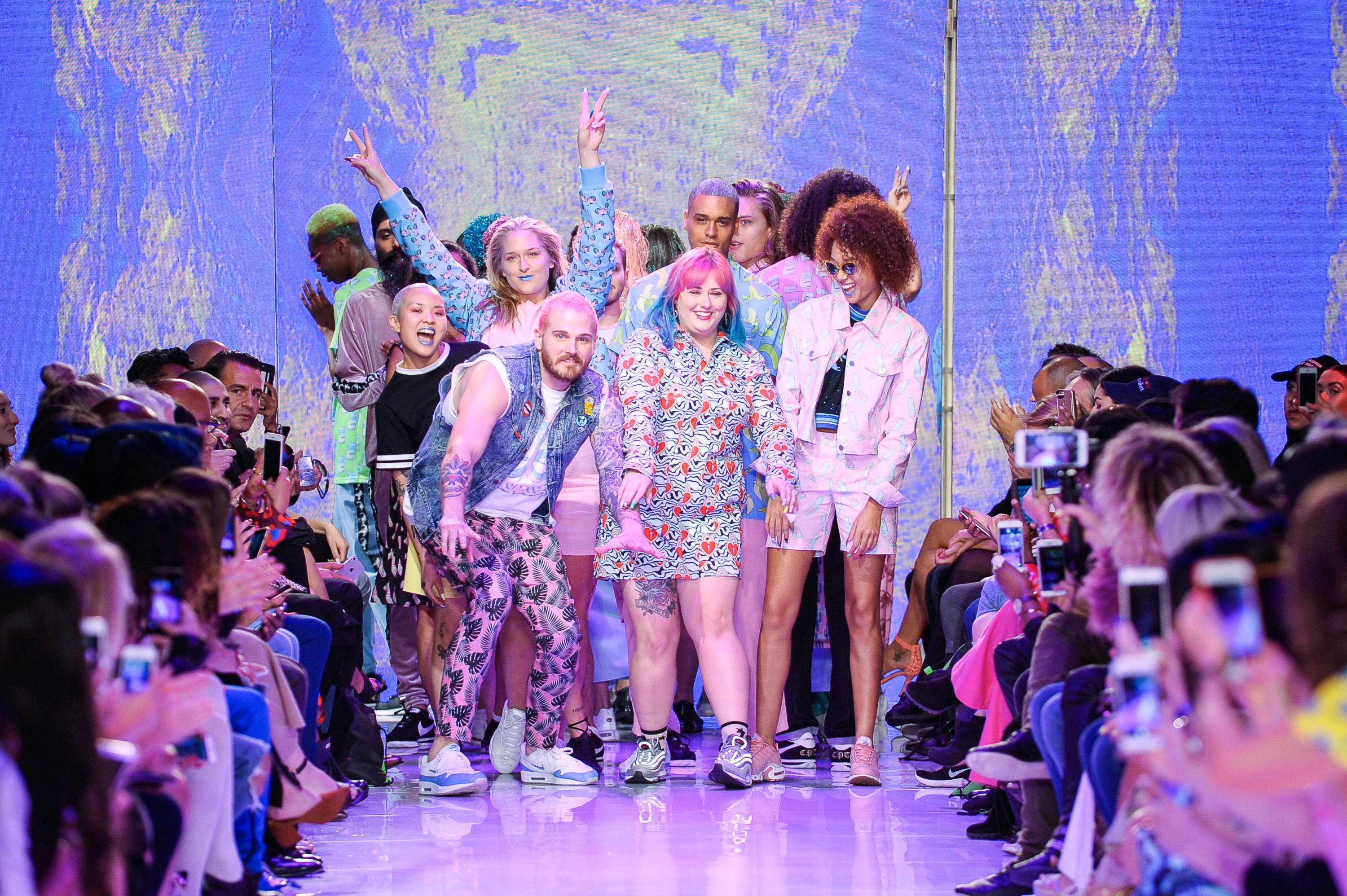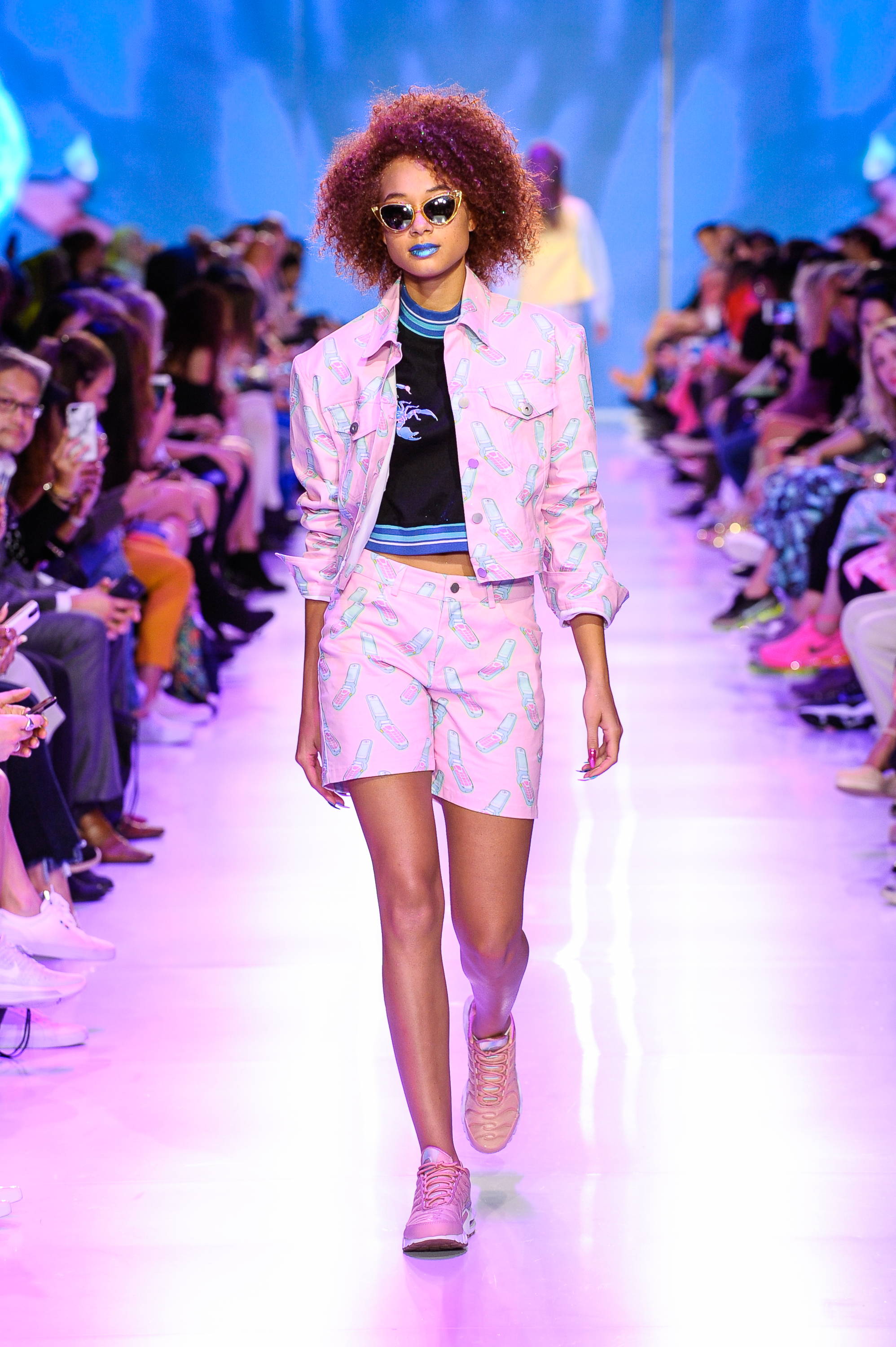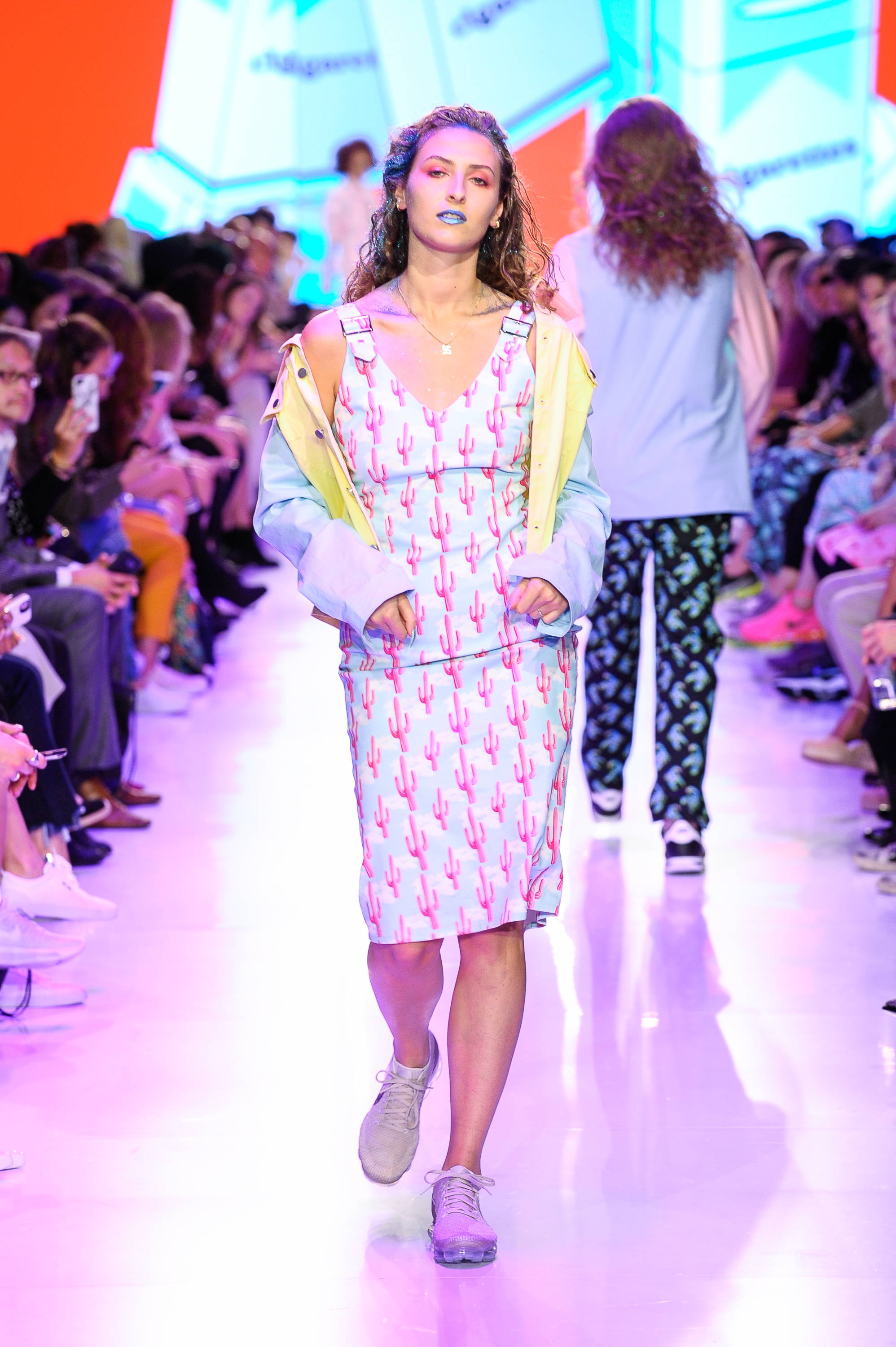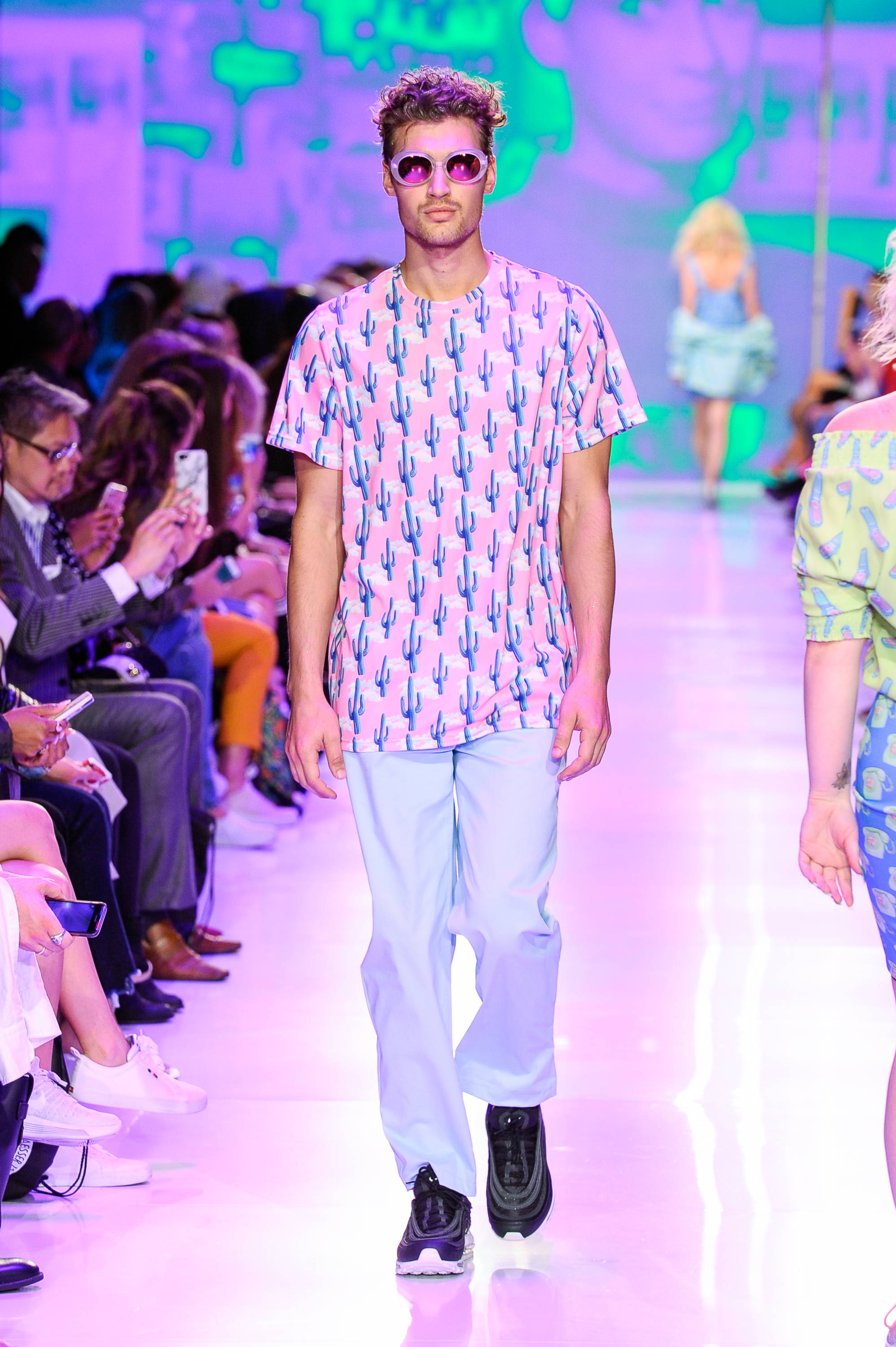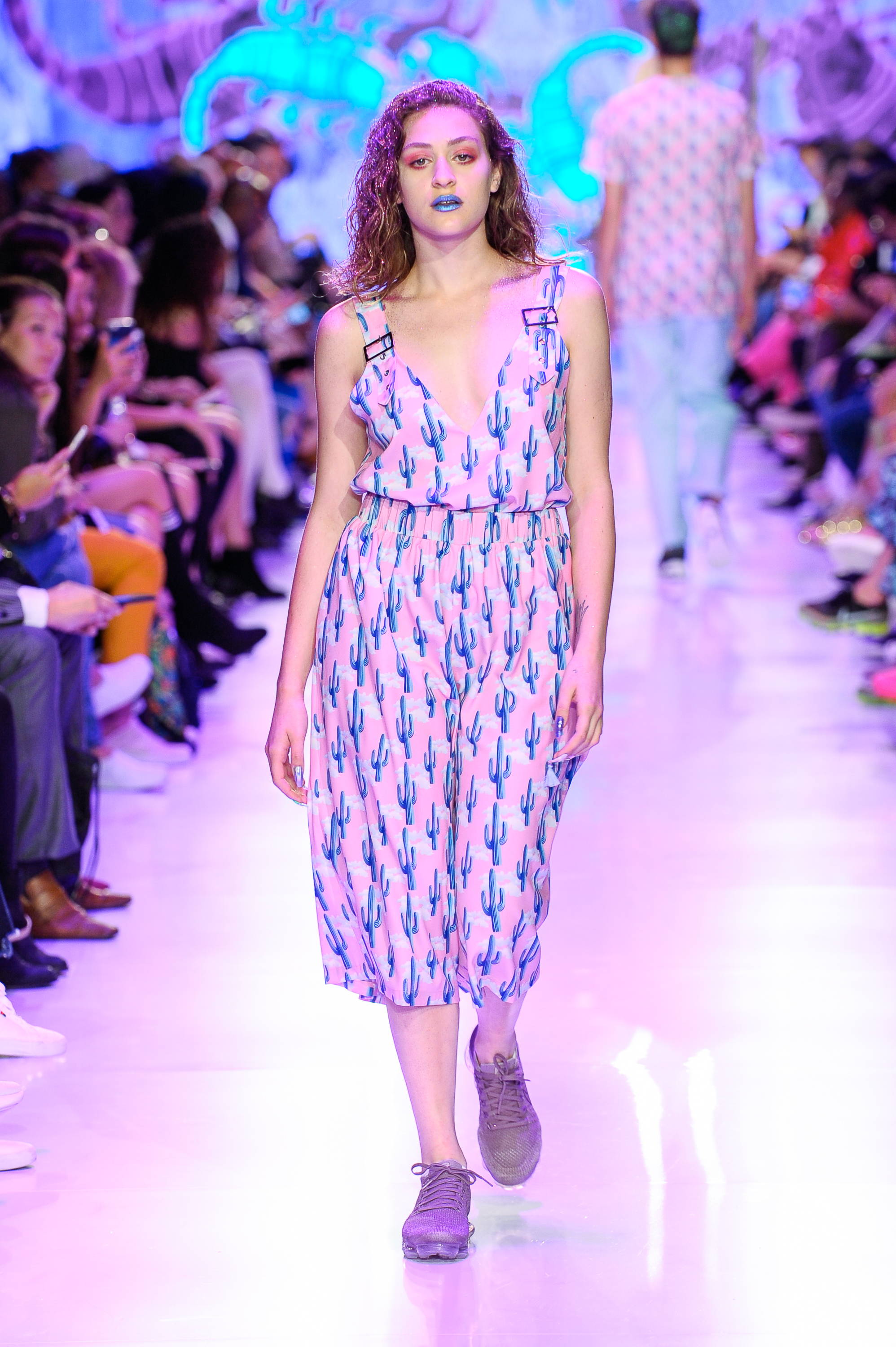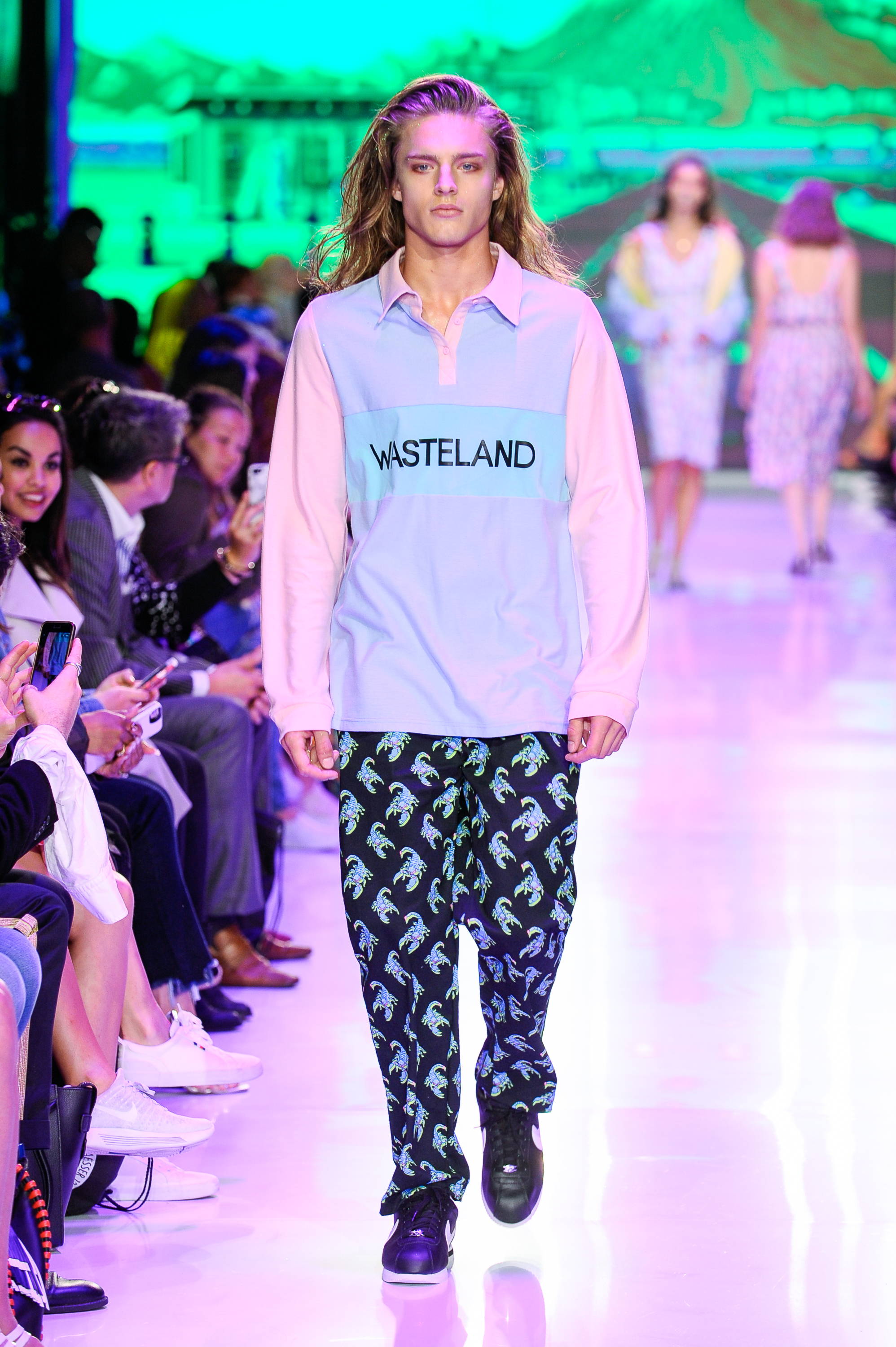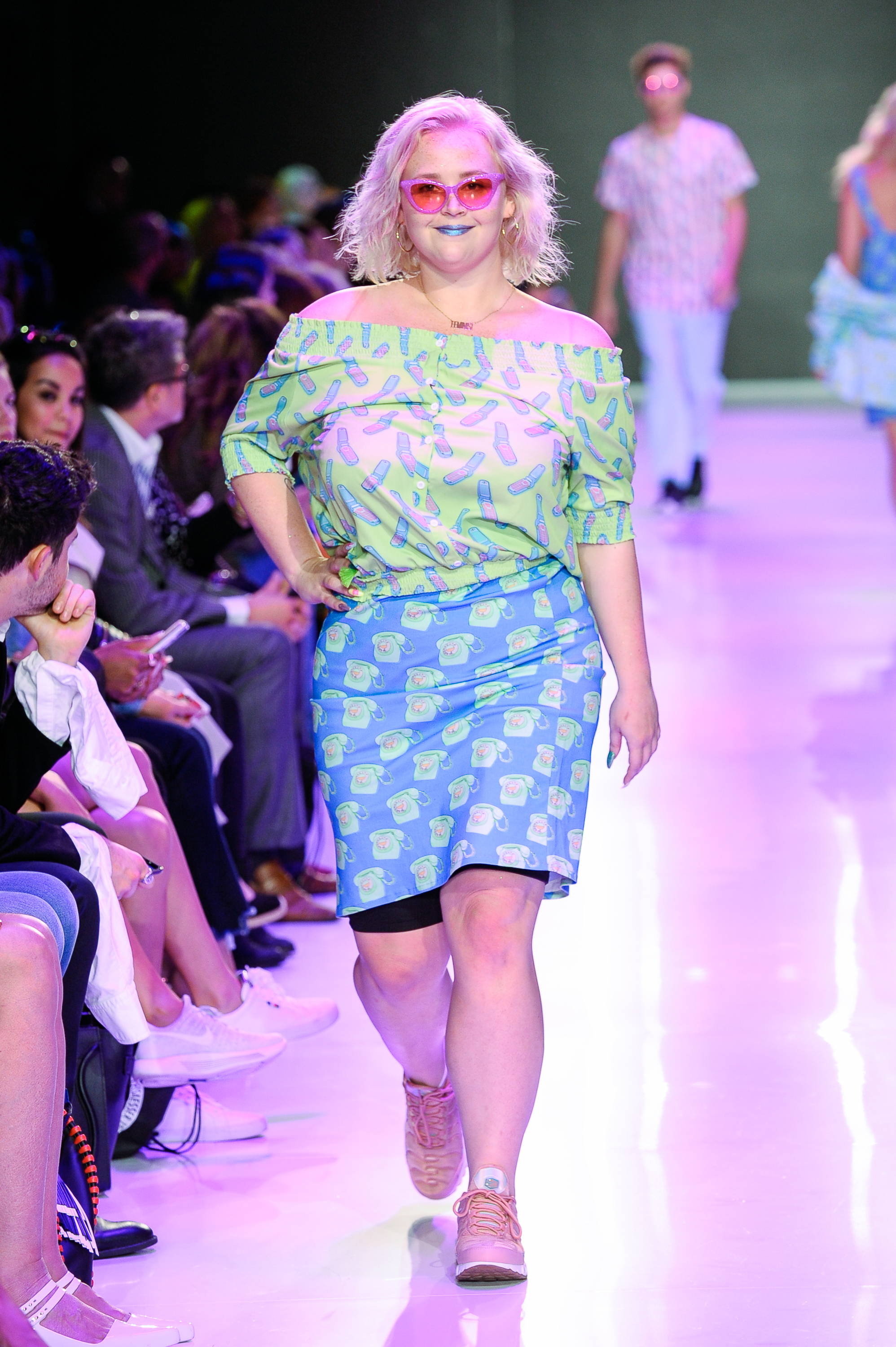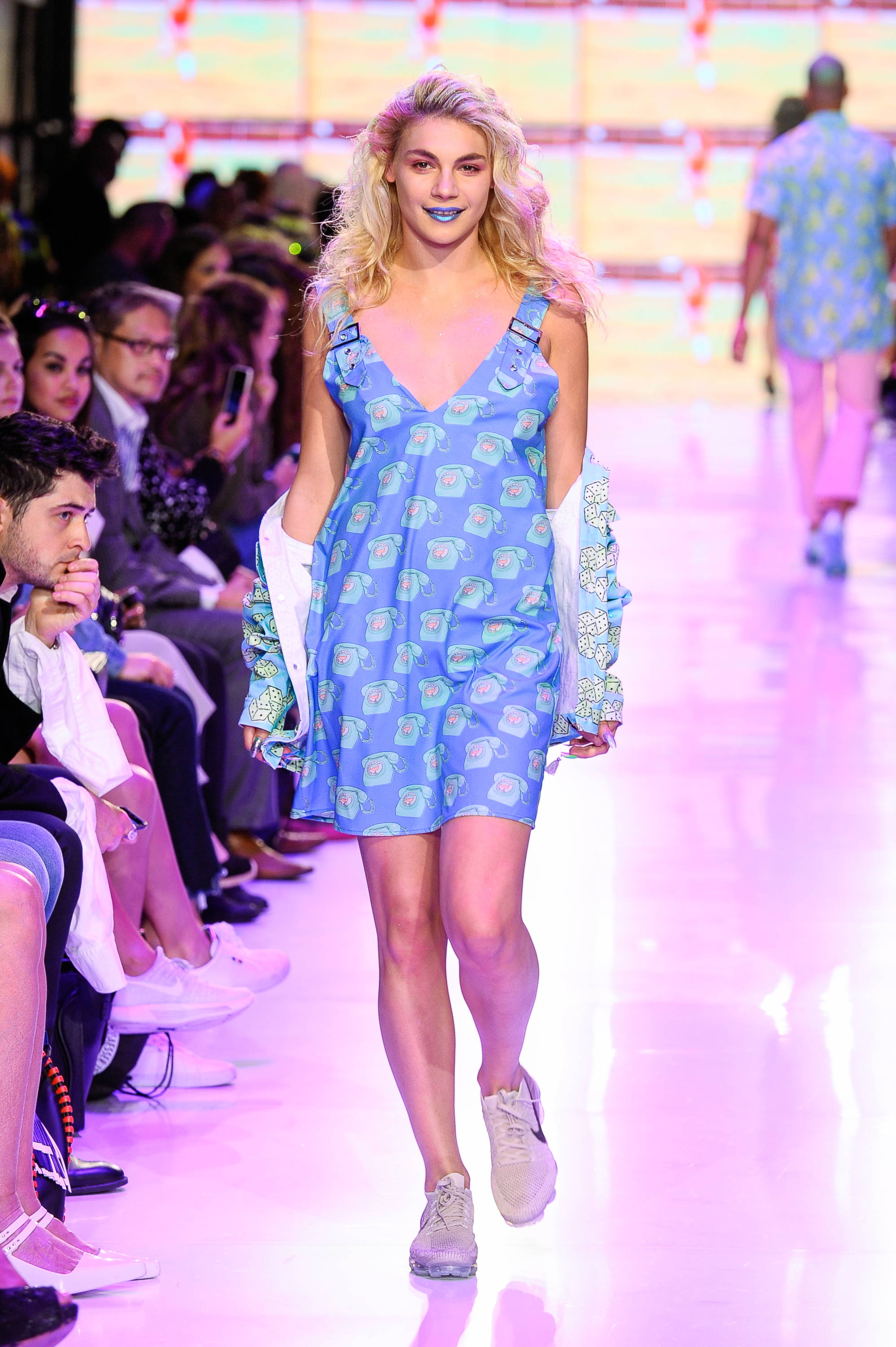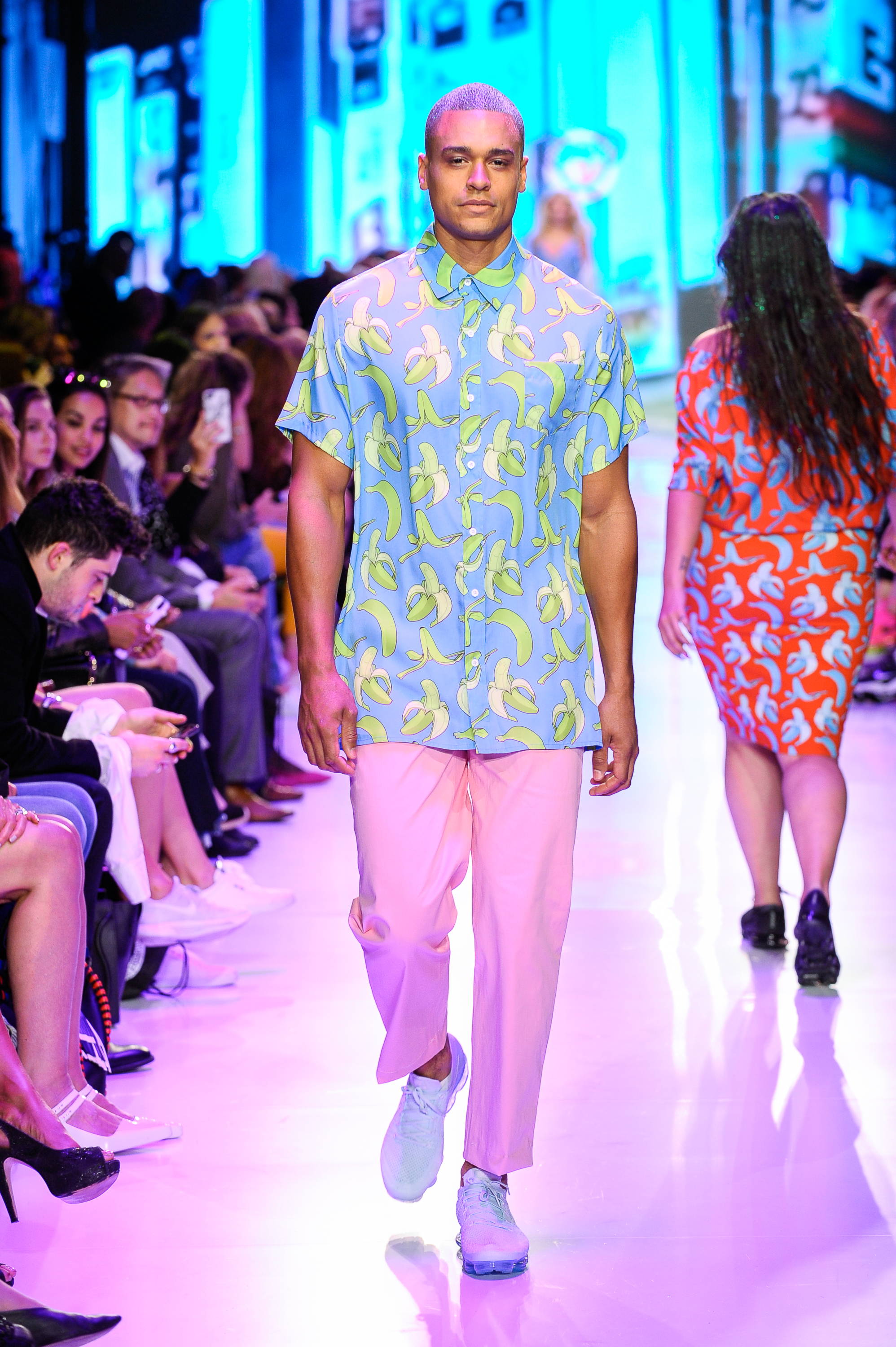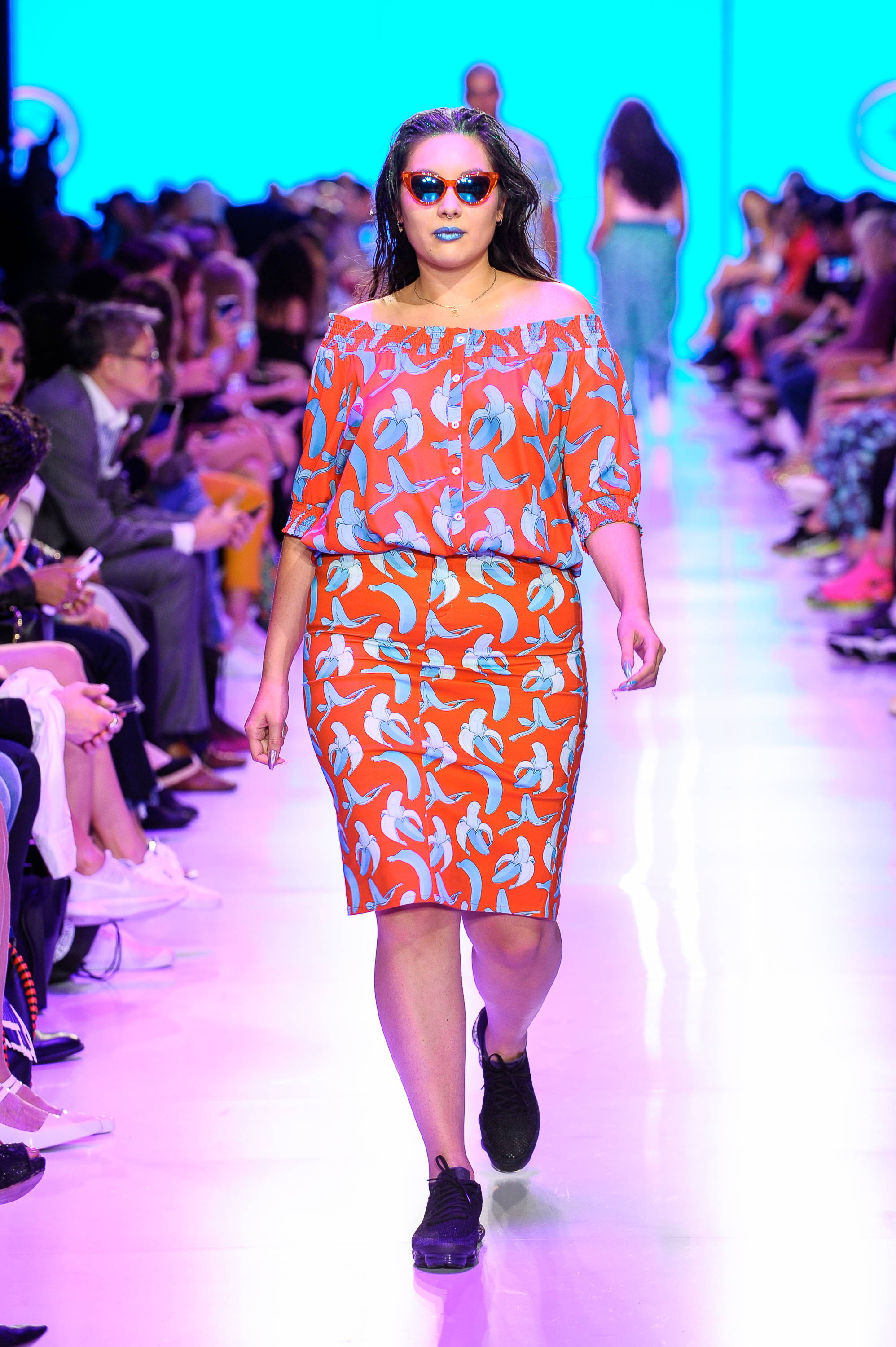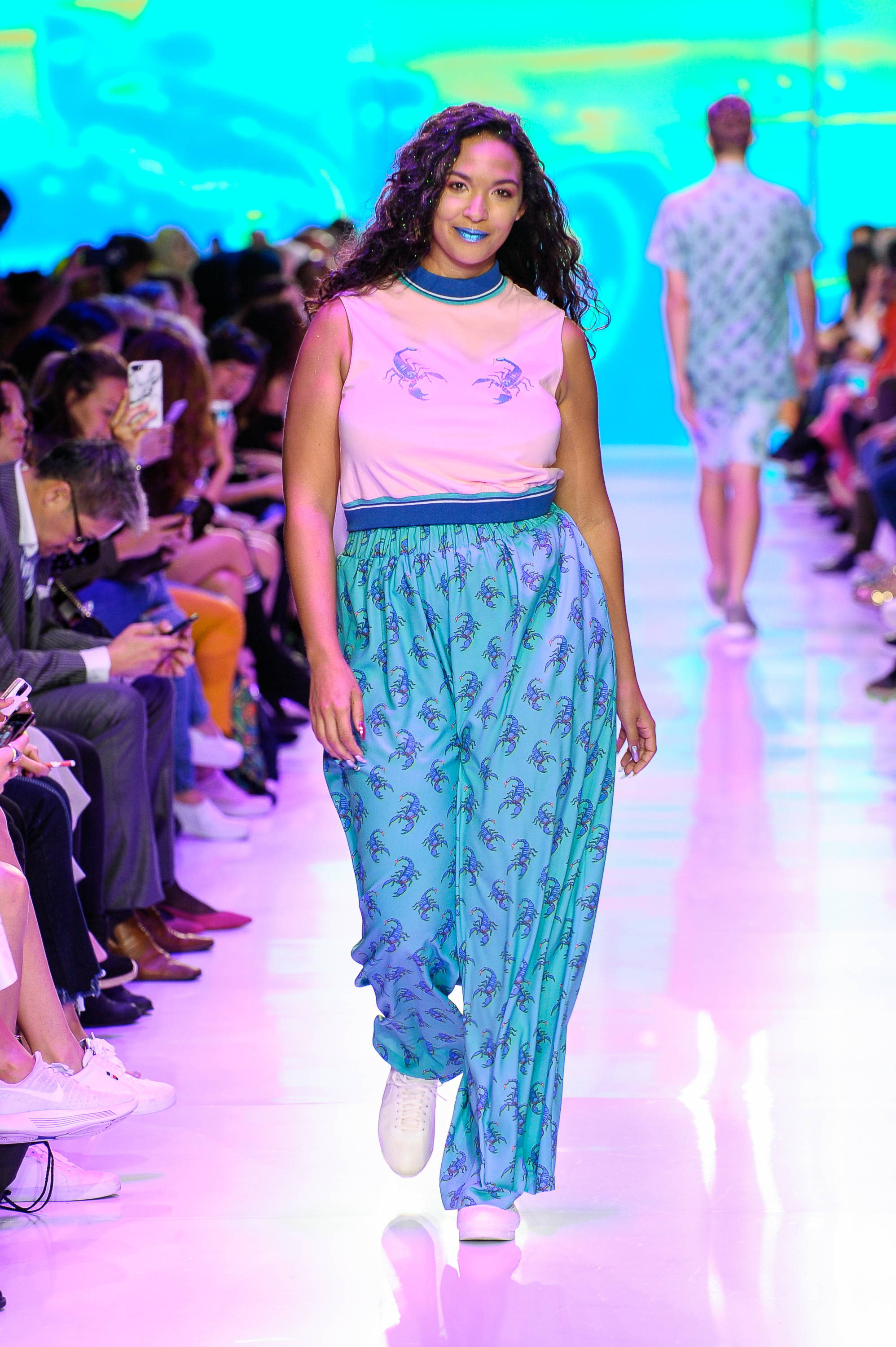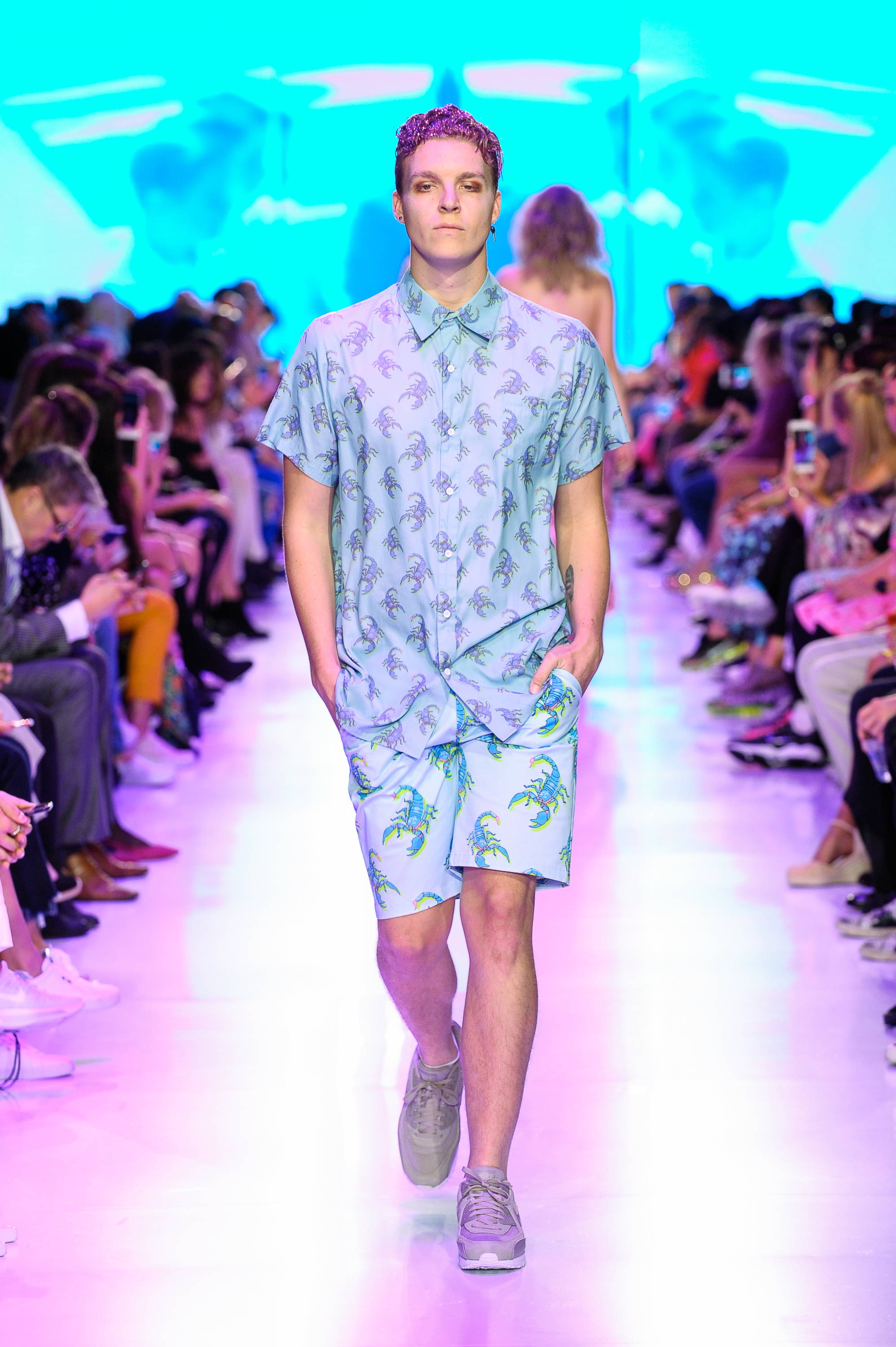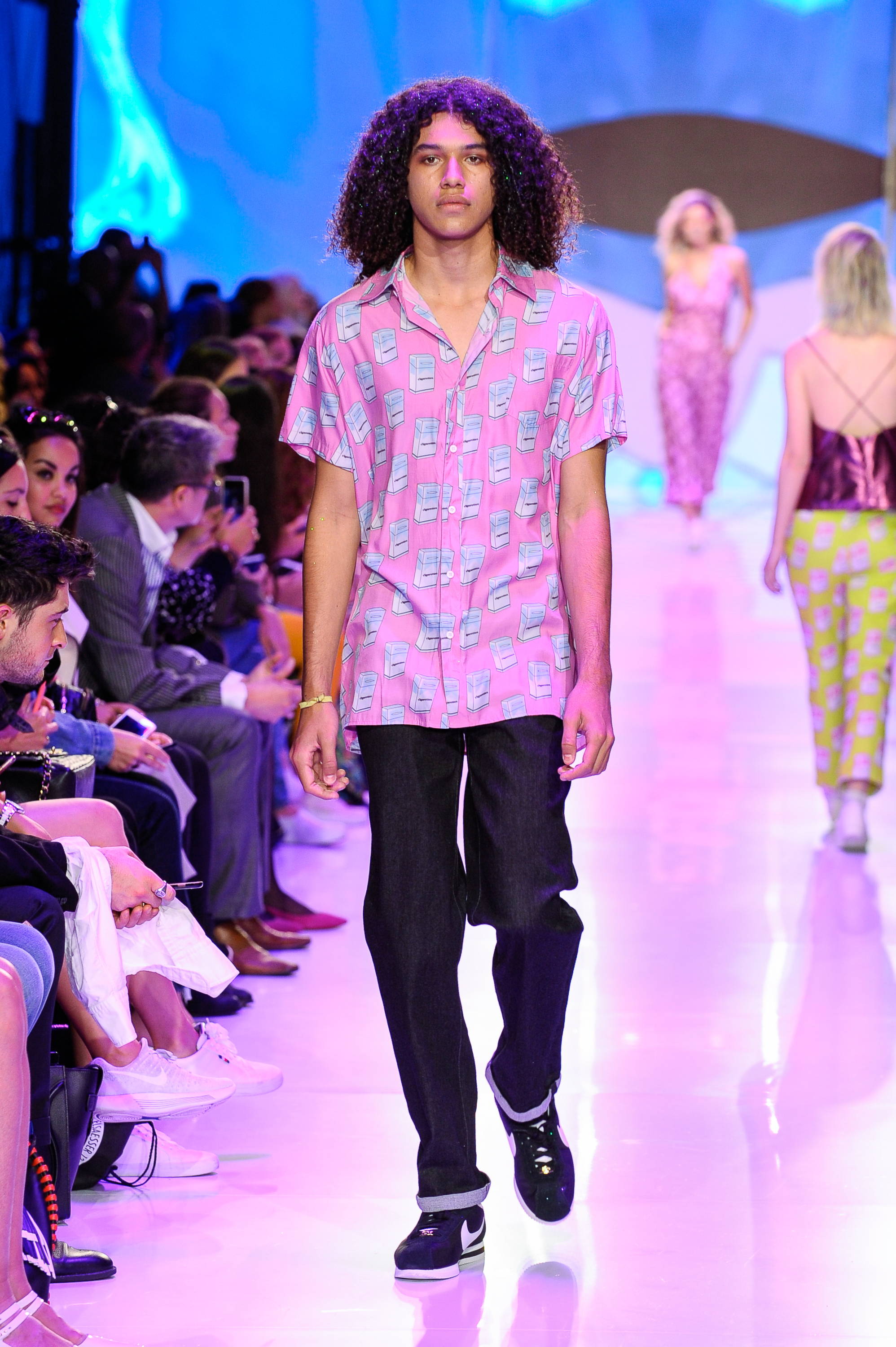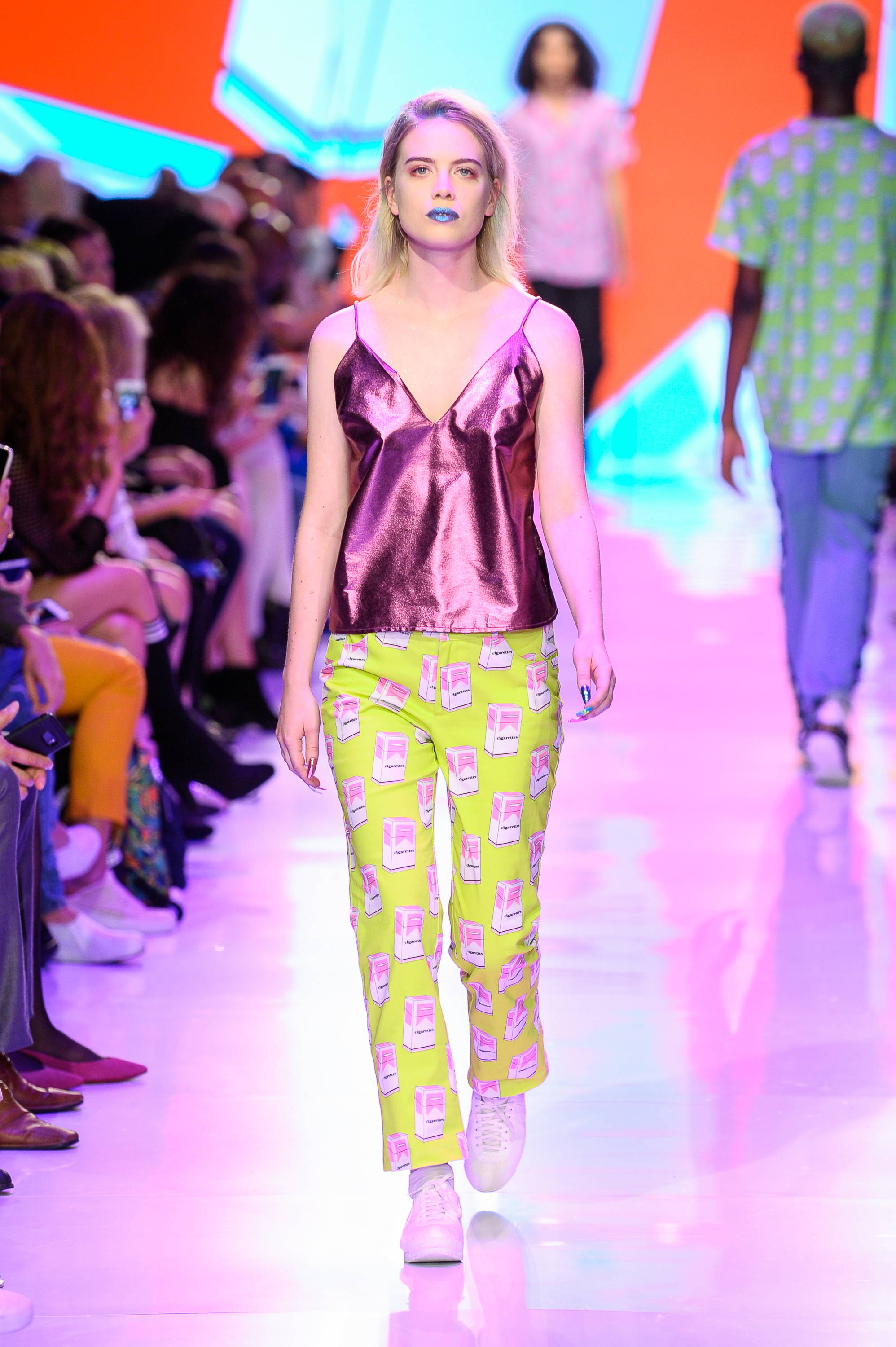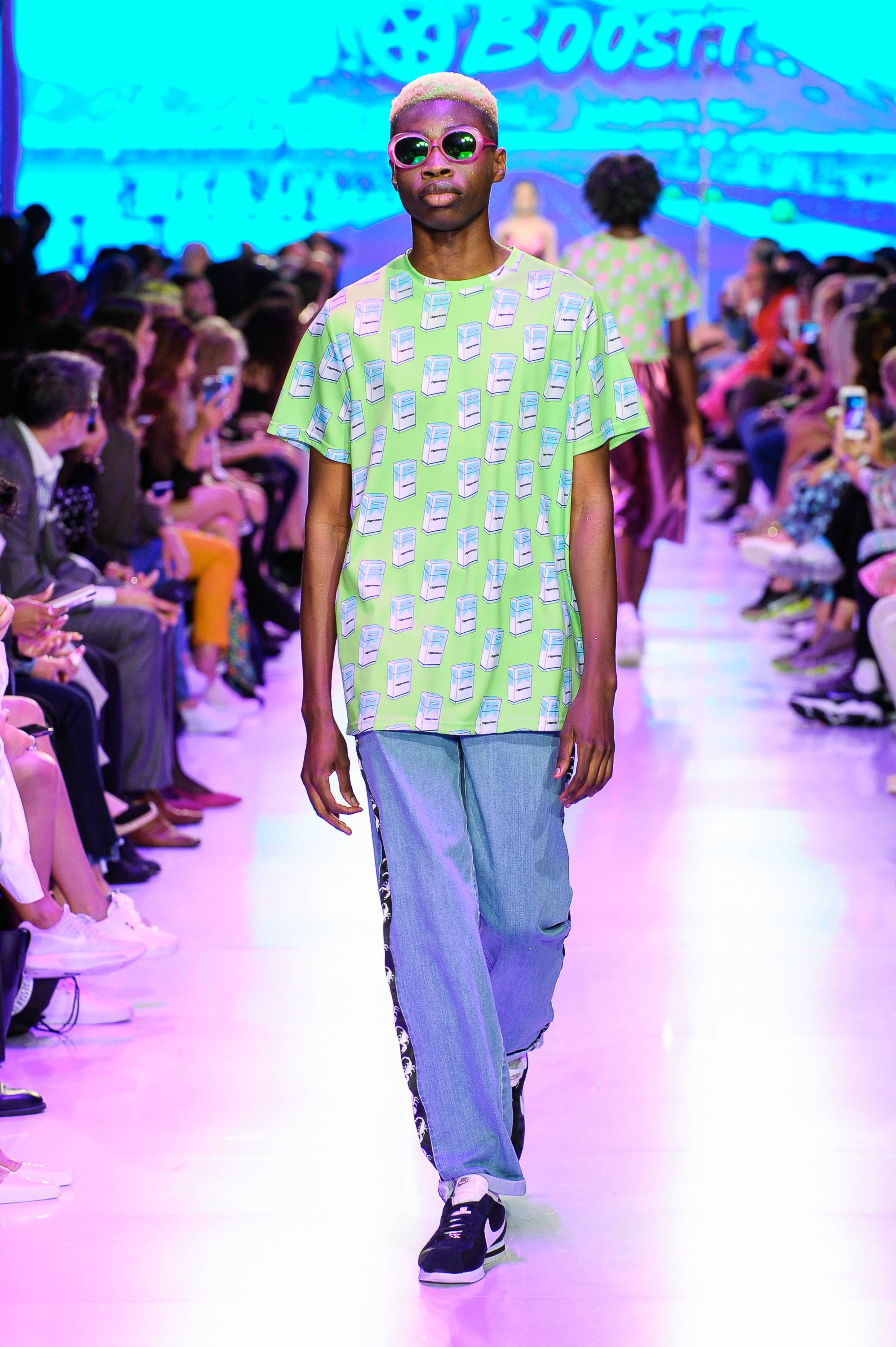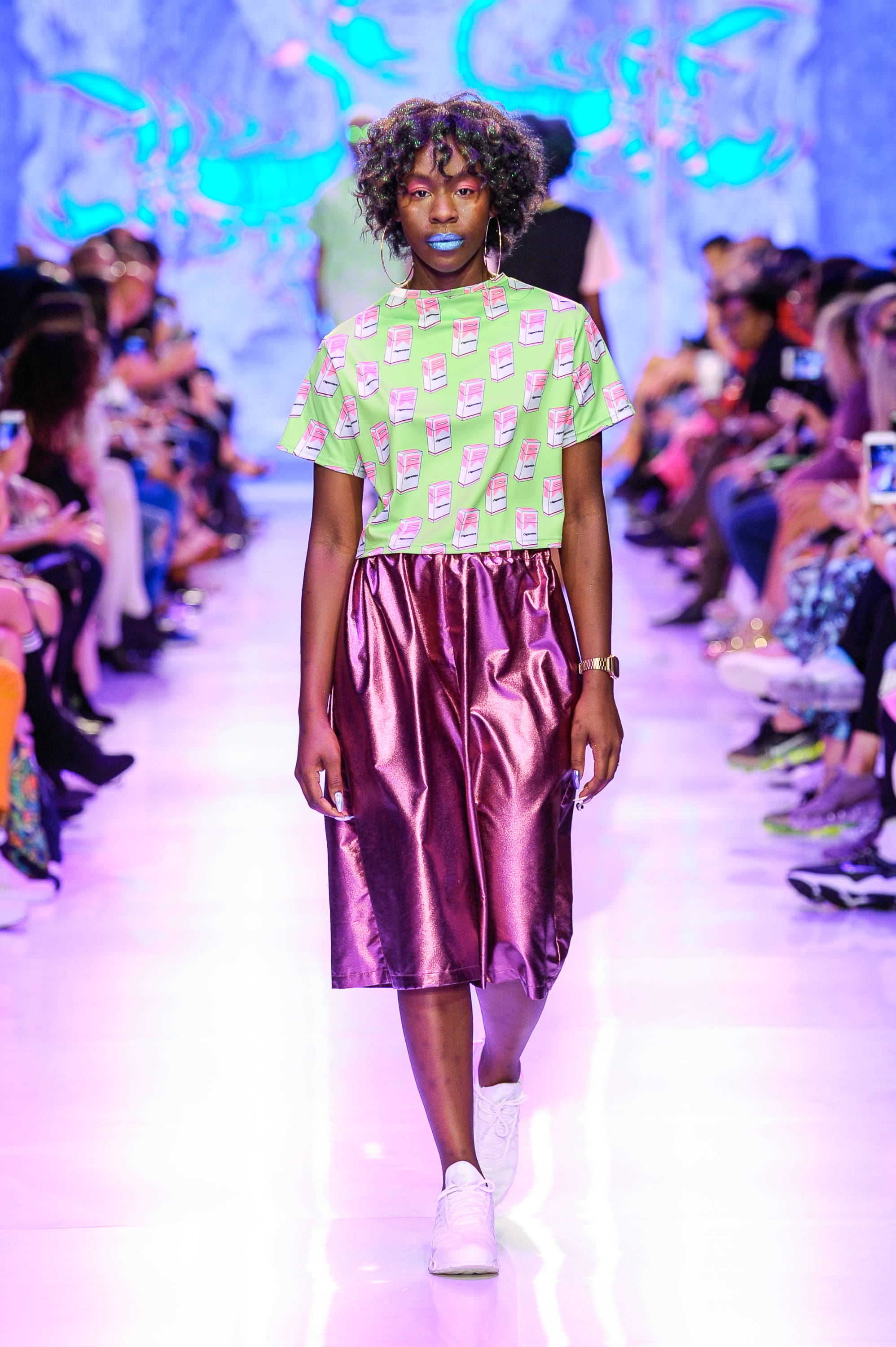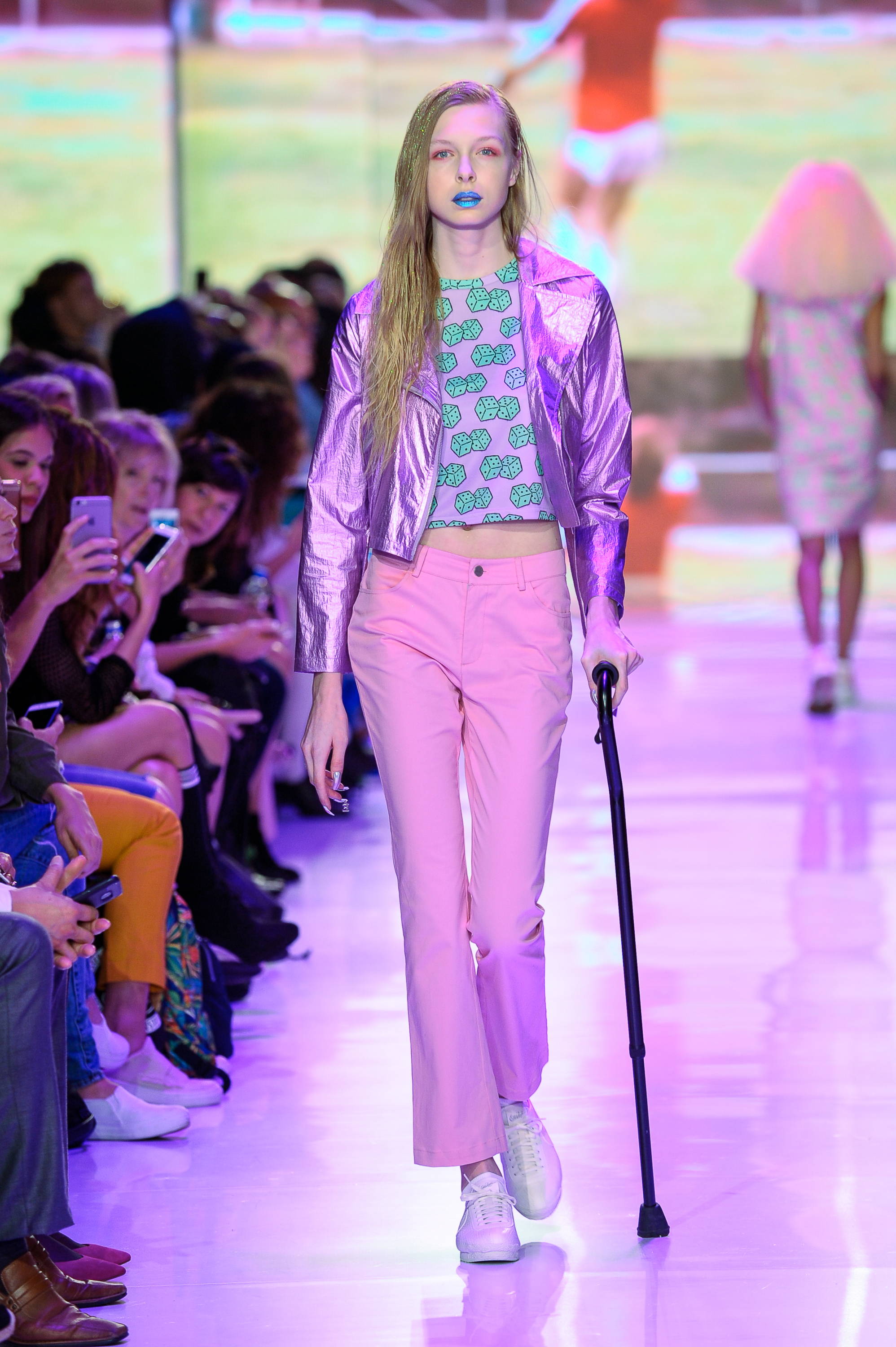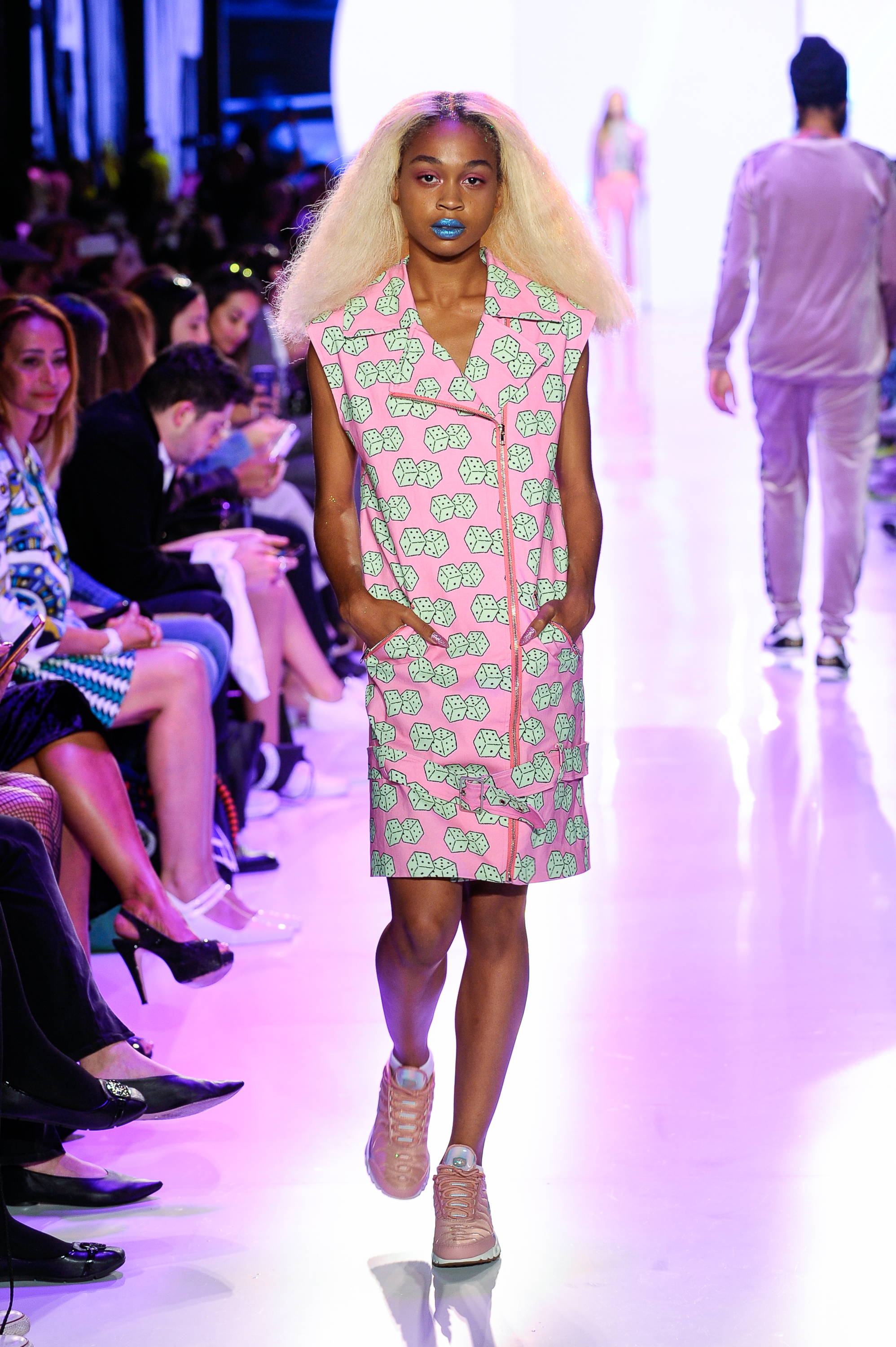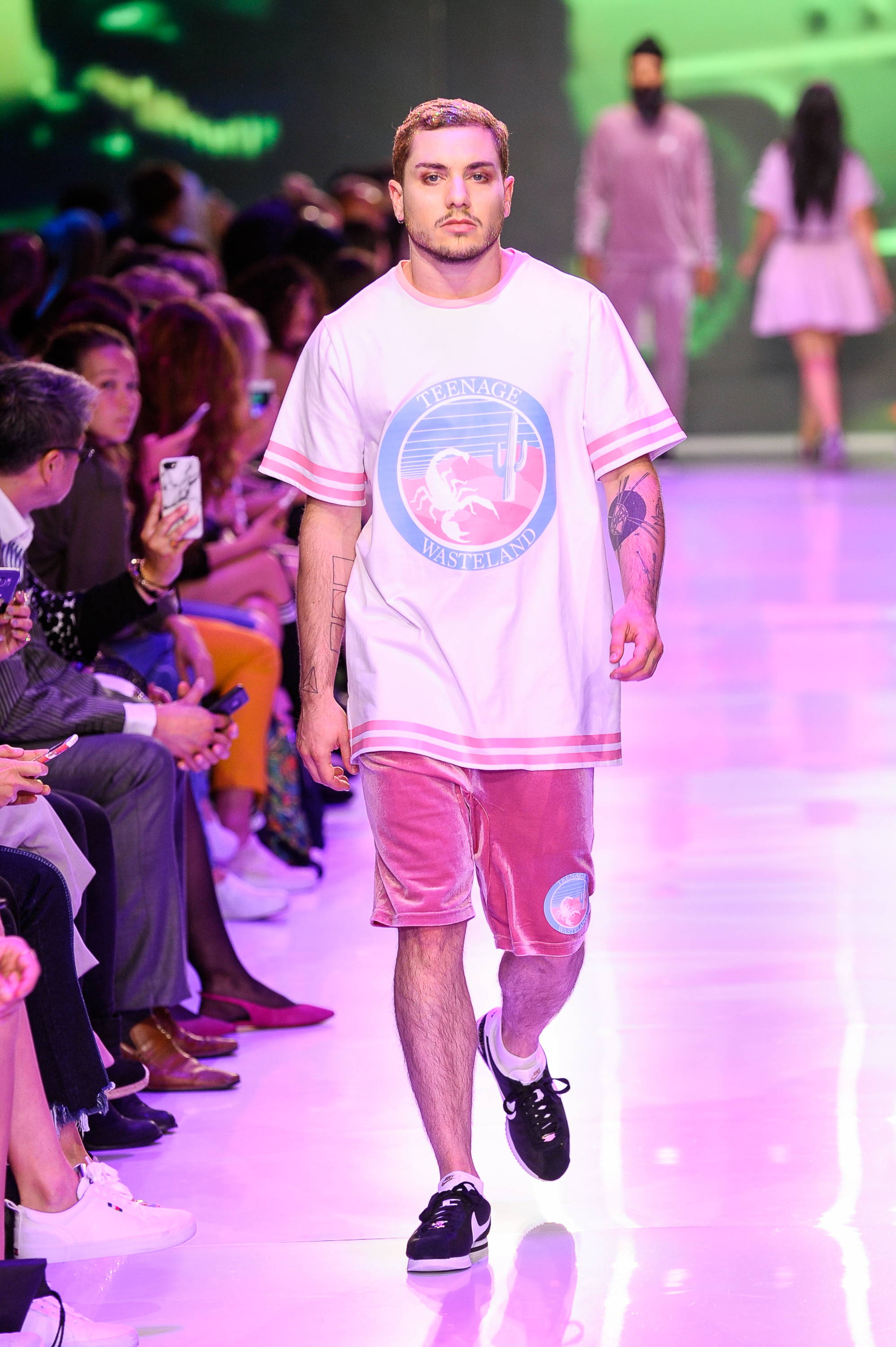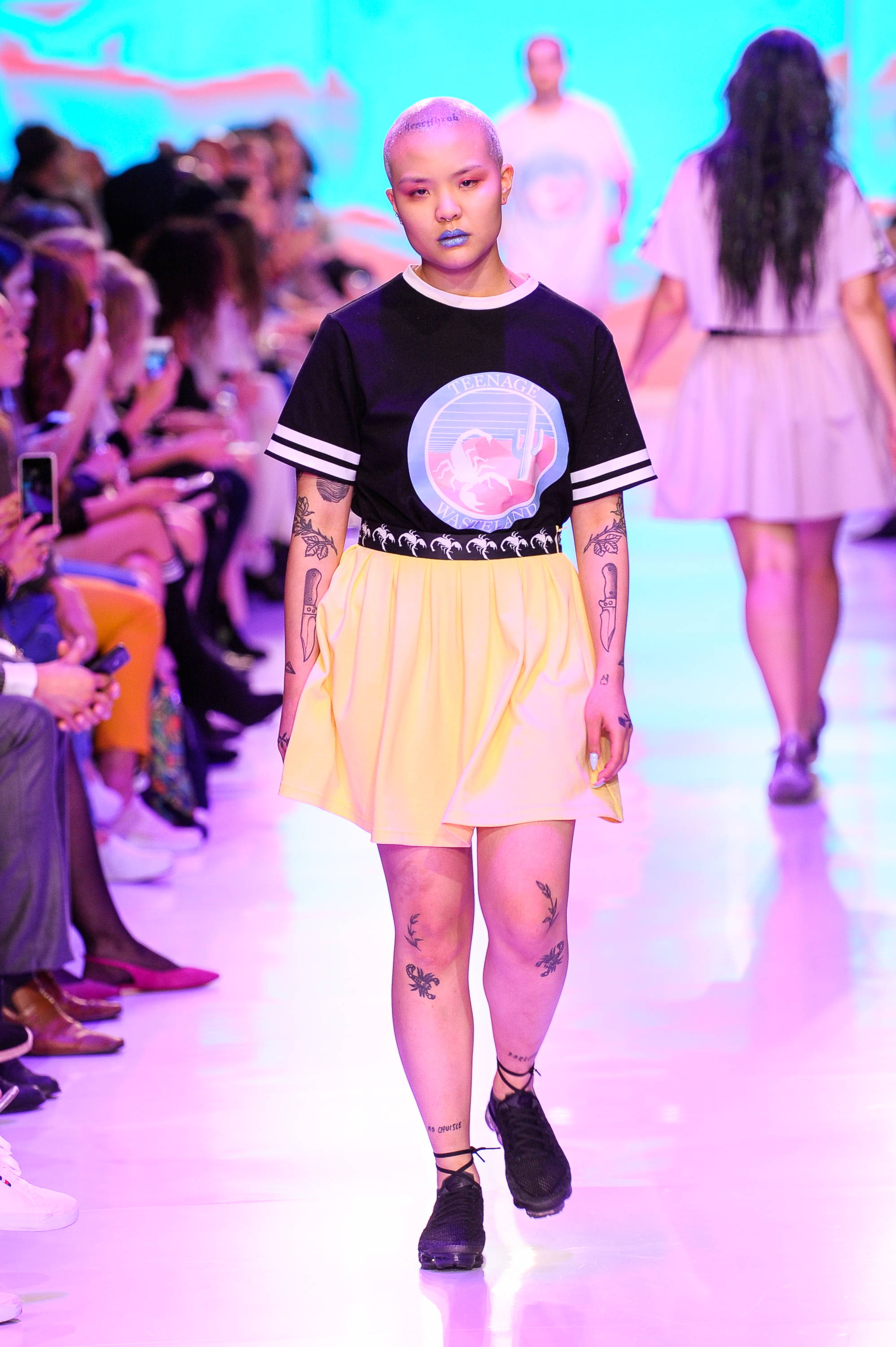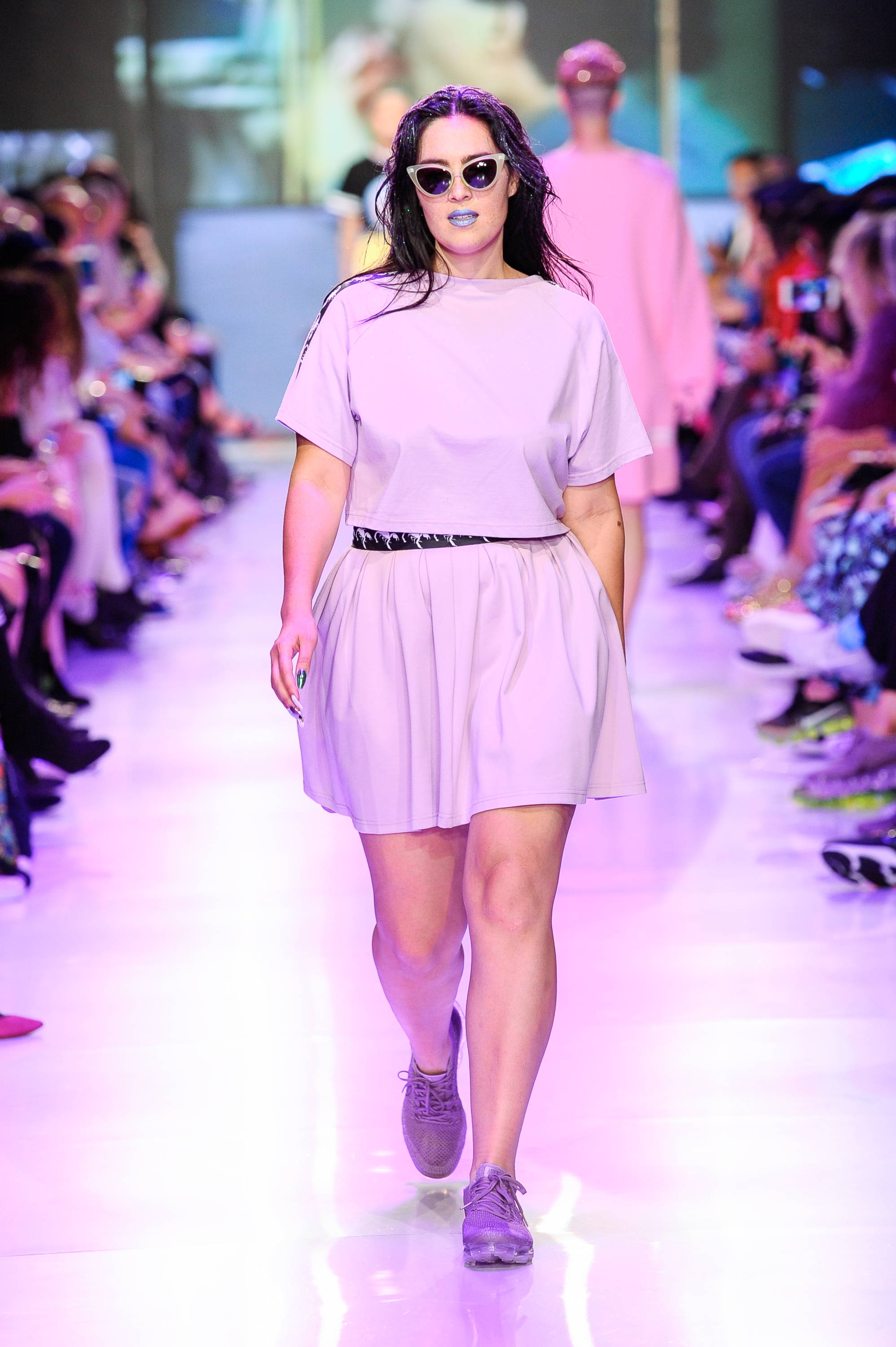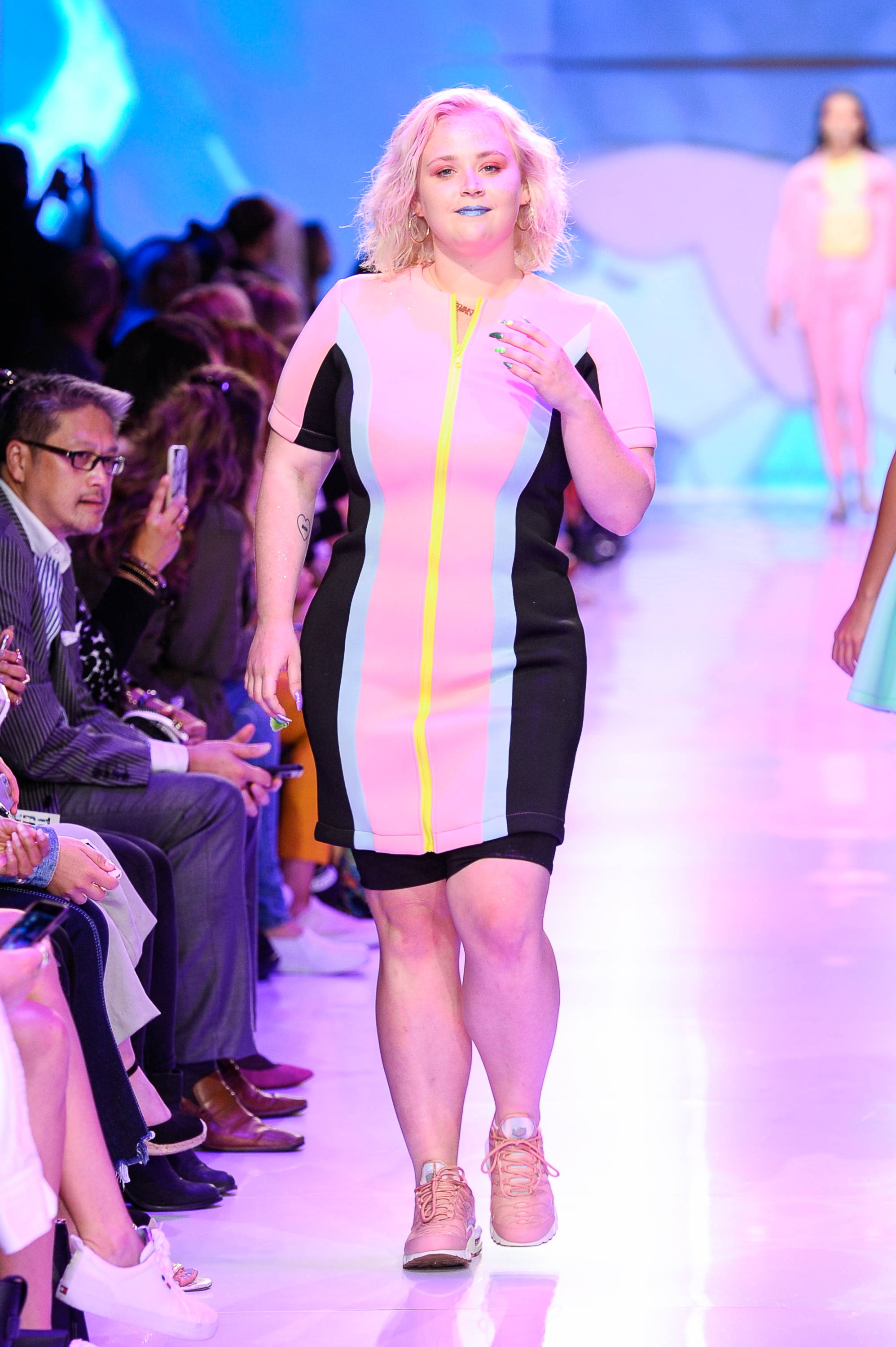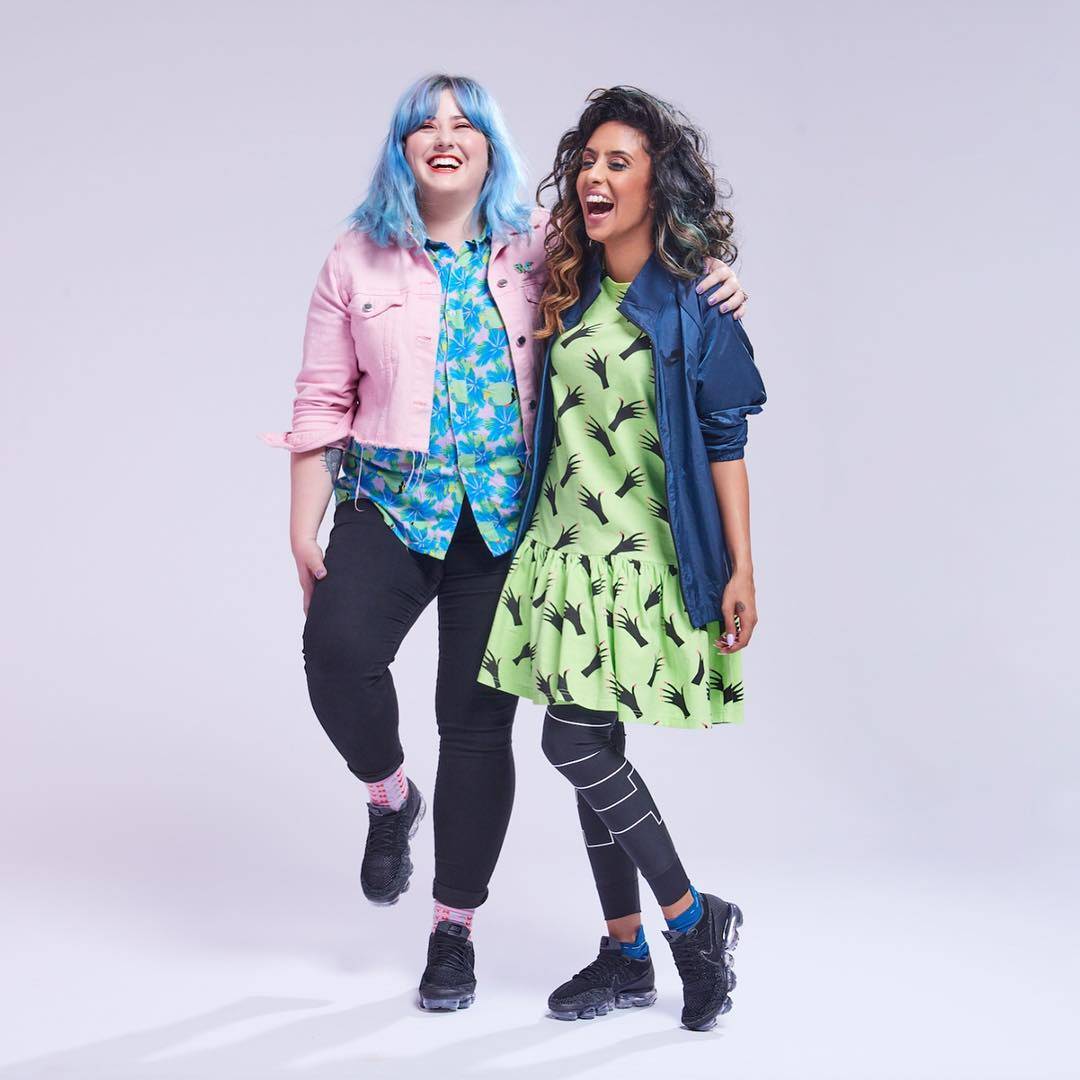 NIKE AIR SOCIETY LAUNCH & INSTALLATION
Hayley was approached by Nike to join the Toronto 'Nike Air Society' with a collaborative project along with fellow Canadian designers- Smythe and Markoo. Each designer styled pieces with Nike clothing and the VaporMax shoes, creating unique looks each inspired by a different VaporMax colourway: "Chrome Blush" for Smythe, "Black Anthracite" for Hayley and "Pure Platinum" for Markoo.
Keeping in the spirit of collaboration, the designers each selected a muse to model the clothing in the official lookbook photos. Hayley's muse, Sandy Gill is a celeb stylist and grade 6 teacher who perfectly embodies the spirit of individuality and drive that takes Hayley's girl through her day.
The designers also created a window installation at a different location along Queen West to display the collaboration and shed some light on the inspiration behind the partnership. Hayley worked with Toronto artist Char Da Silva to create her other-worldly landscape which imagines Hayley's muse getting lost in her own world of creativity as she moves throughout her day: from work to play, formal to casual, all while looking amazing and 'walking on air'.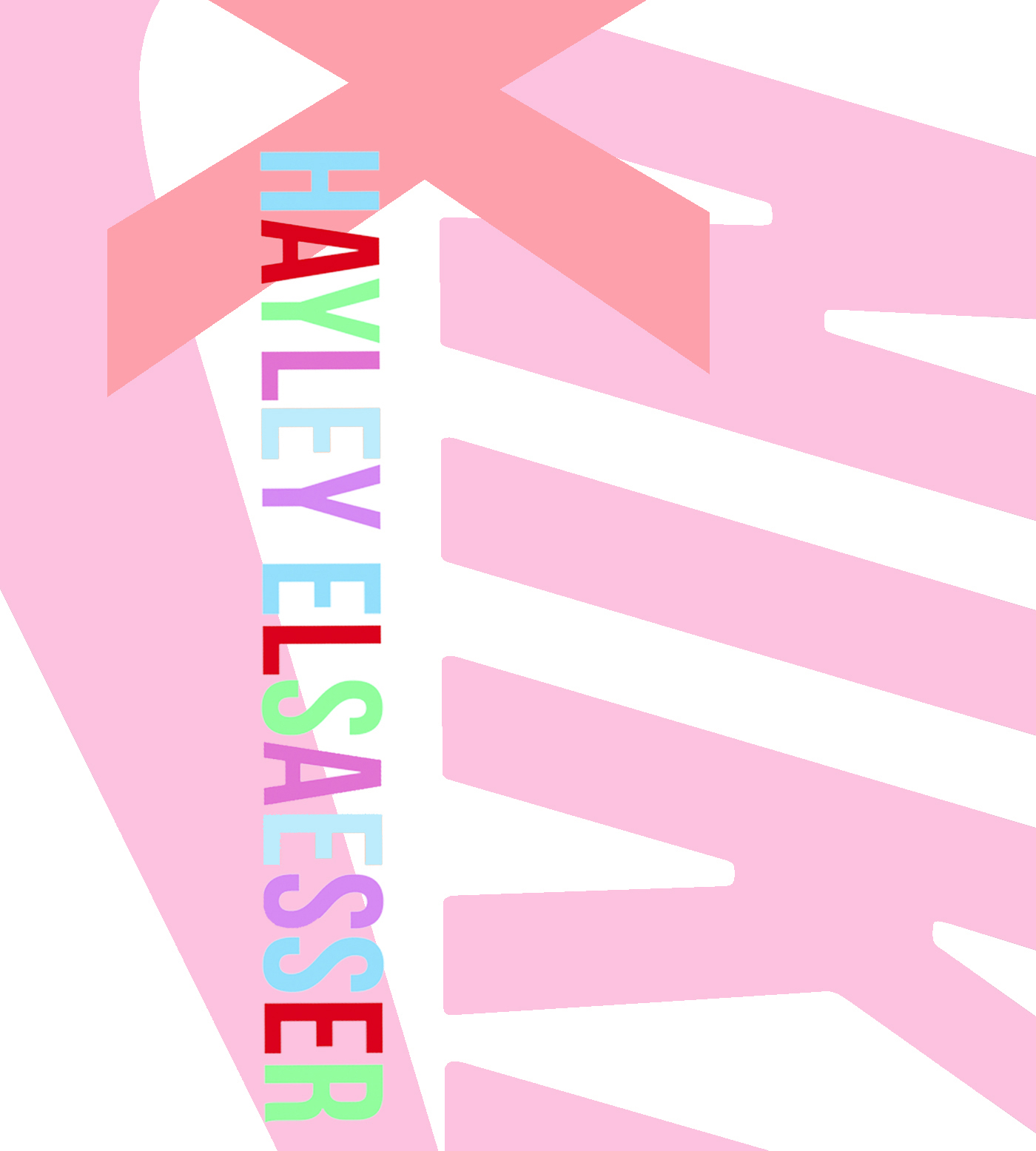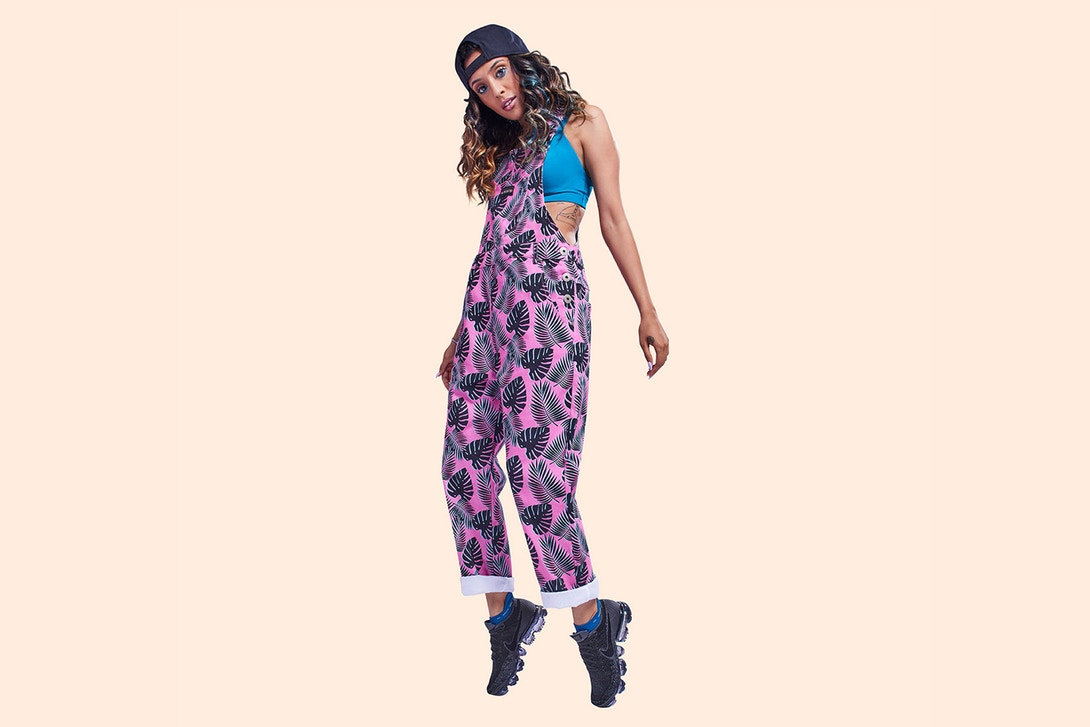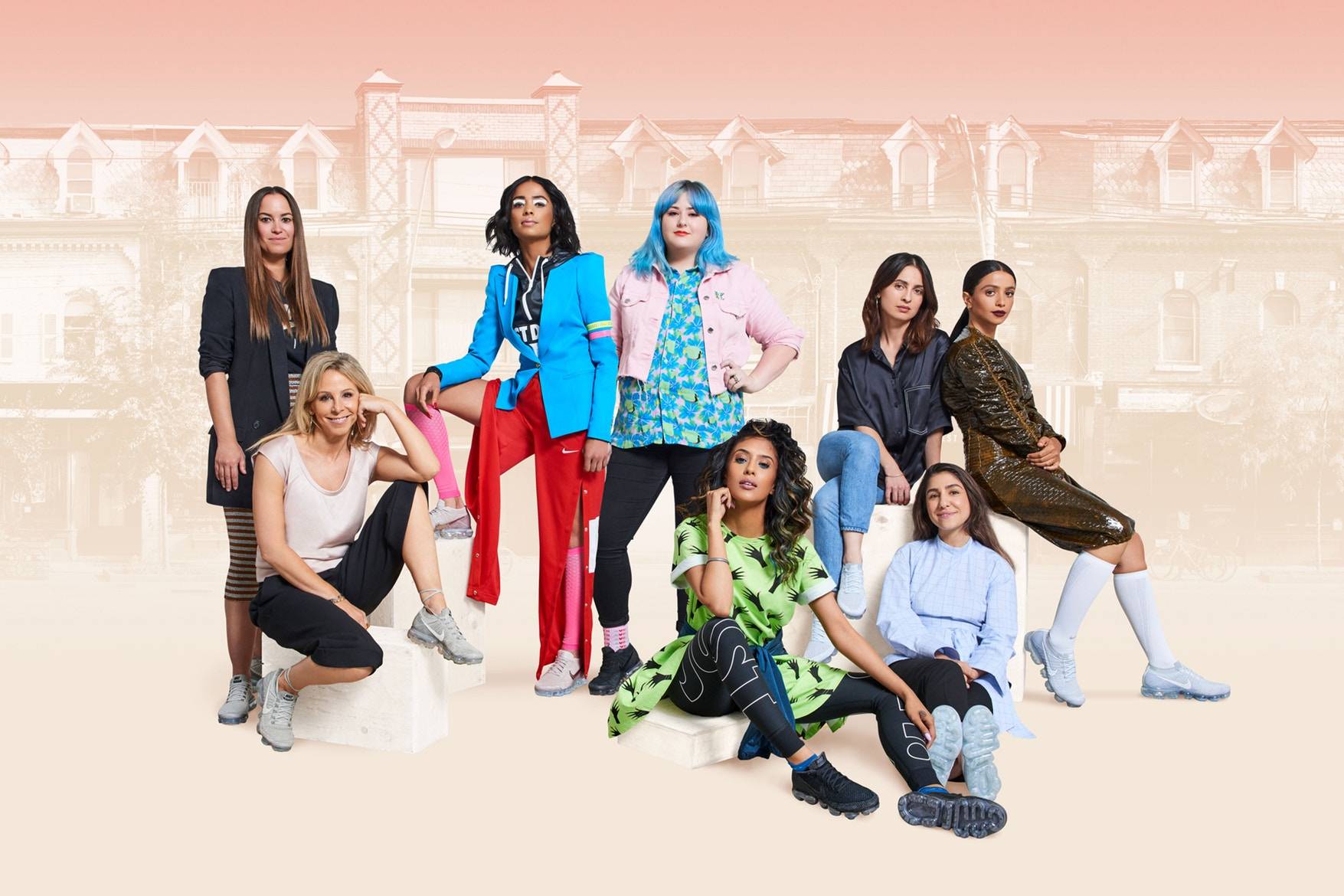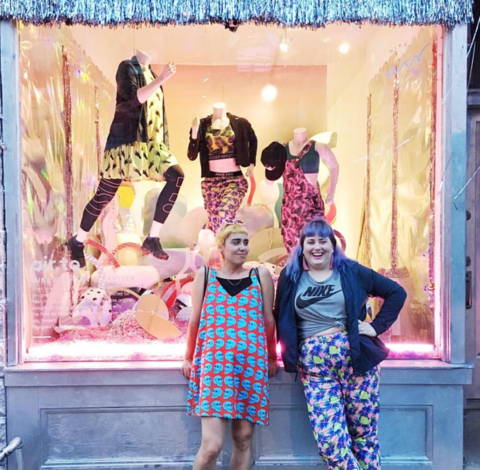 Hayley with Charziie who created the installation.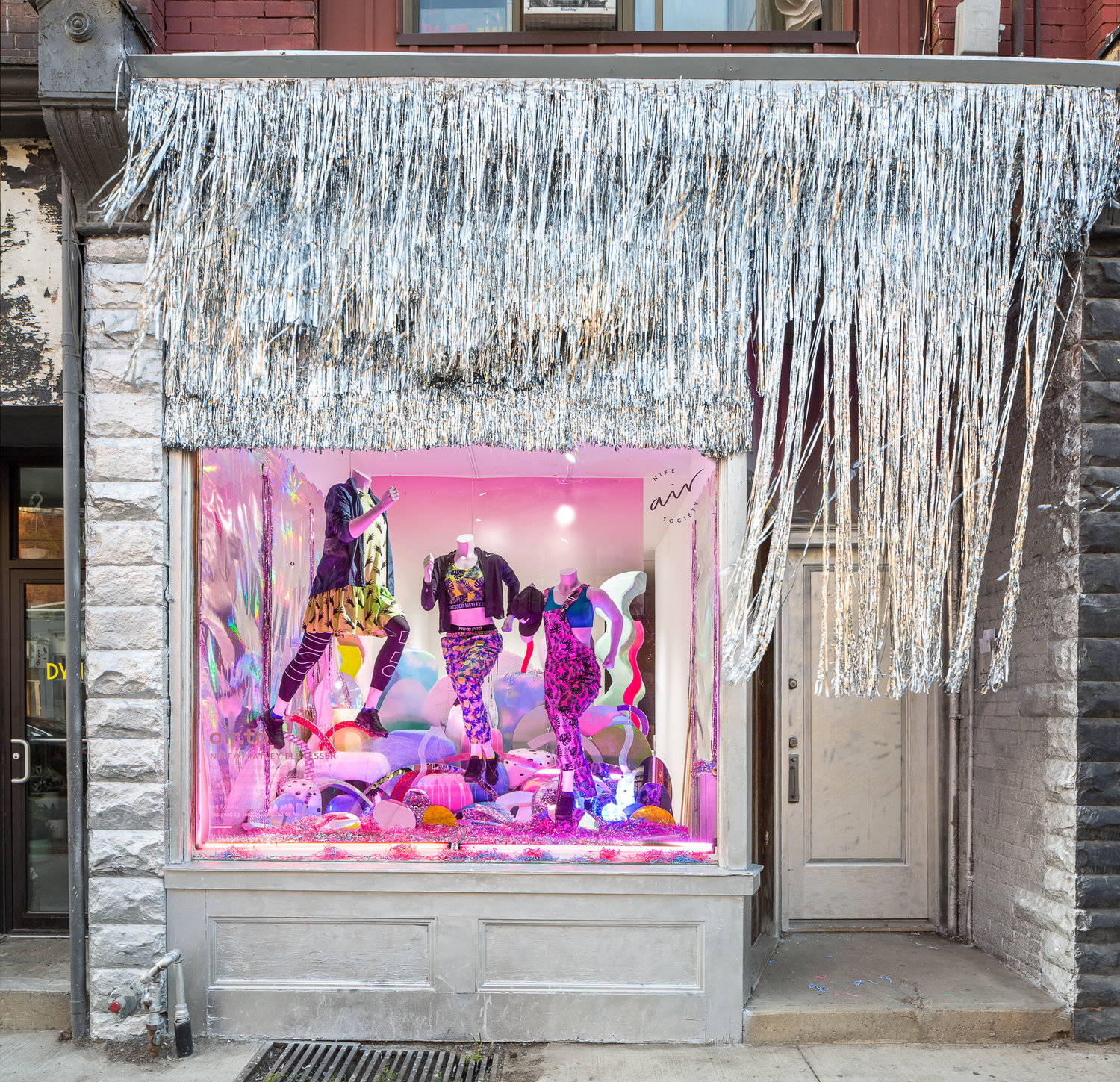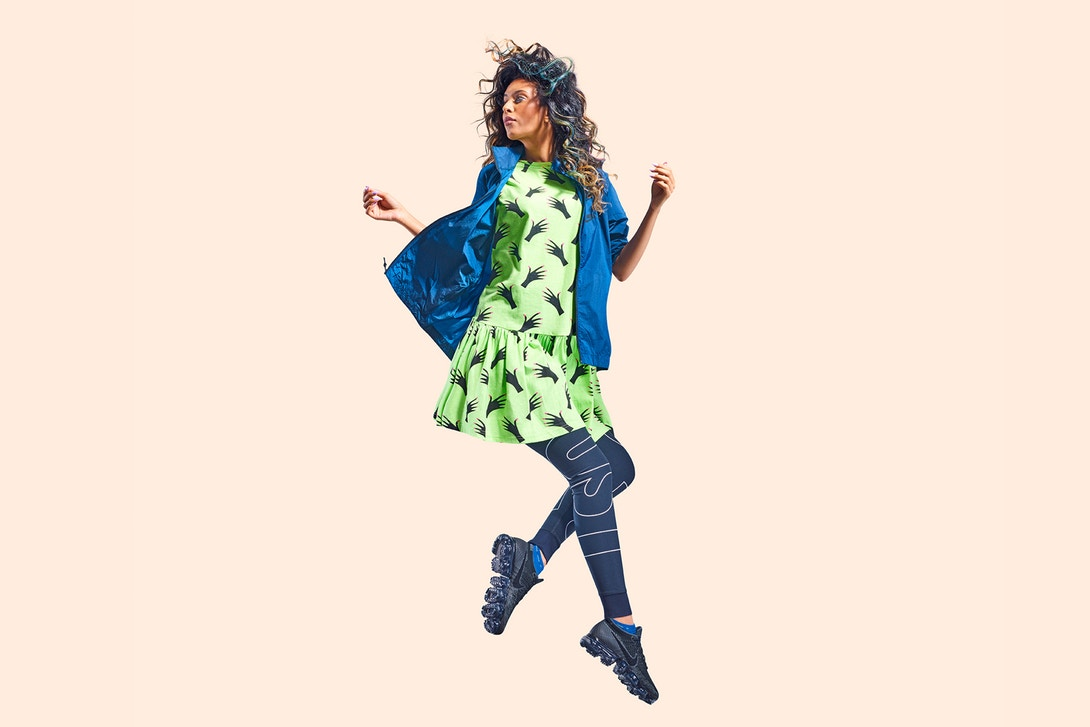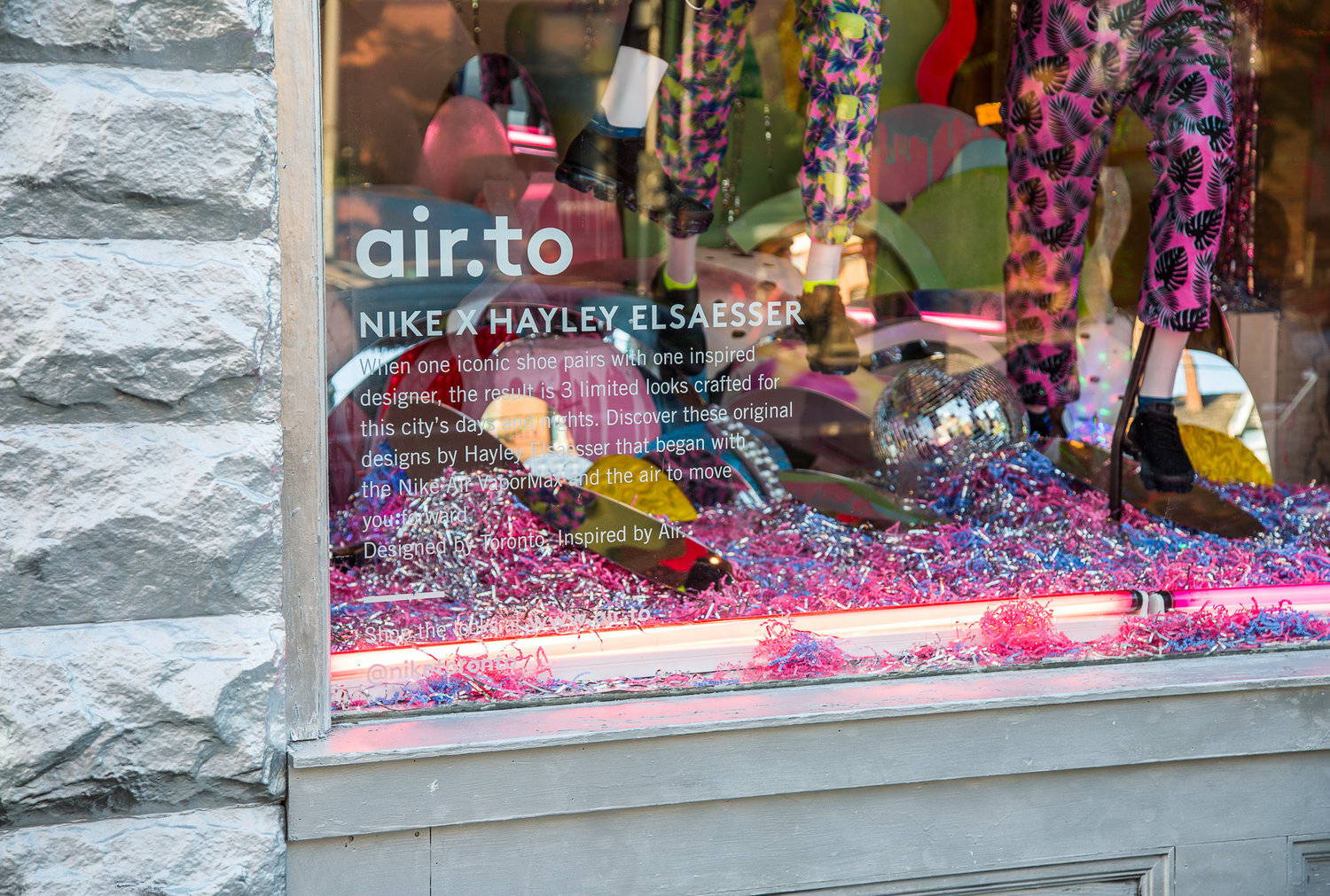 INTRODUCING VR TO
TORONTO FASHION WEEK
When she designs, Hayley likes to try to imagine another world and create a collection around her interpretation of that world, with each design adding to the story and becoming a piece of the creative puzzle. Hayley is definitely a technophile, and technology plays a huge part in her design process. When we started working with Microsoft we wanted to pay homage to the technology behind Hayley's creative process in some way, and allude to the intricacies of the colourful world she imagines for each collection. Through Windows Mixed Reality we were able to do so. Hayley travelled to Microsoft HQ in Redmond, Washington and was captured in a state-of-the-art studio surrounded with high-powered cameras. The images were compiled to create a 3D Hayley avatar ready to invite you into her world (or be a character in your favourite X-Box game). We invited media and friends to don a WMR headset and venture into a combination of virtual reality and augmented reality, with the Hayley Avatar as their tour guide.
Our FW18 collection, 'Cosmic Dread' is basically Hayley's science fiction influenced prediction for a future where technology and biology have merged and interstellar travel is commonplace. Putting her trademark candy coating on the idea of existential dread in the face of vast technological advancement, we thought it would be cool to begin our runway show with a fun mini performance piece. Our opening model emerged from a life-size 'Eyegina' wearing a WMR headset as if from another dimension where technology allows us to travel through time.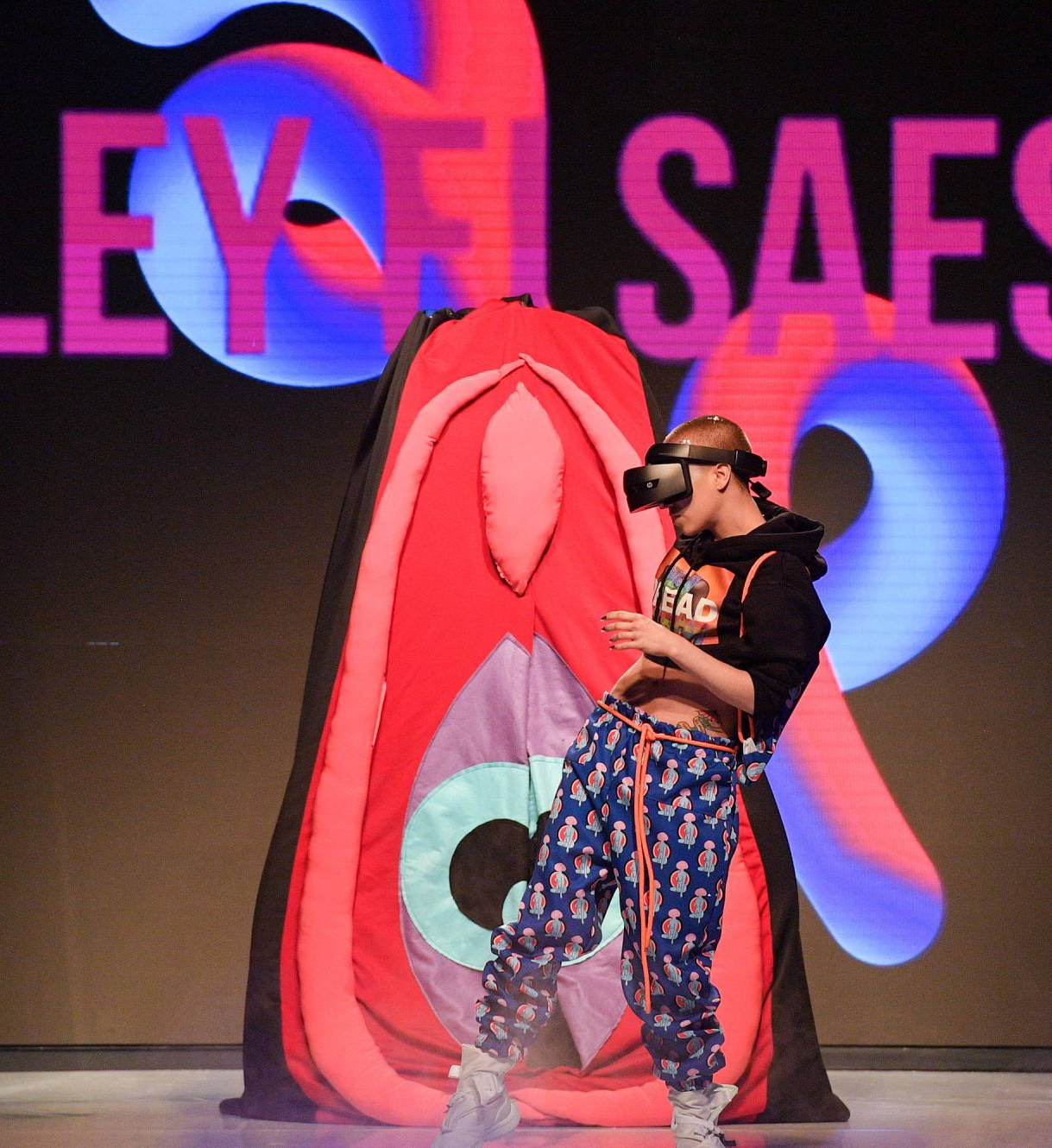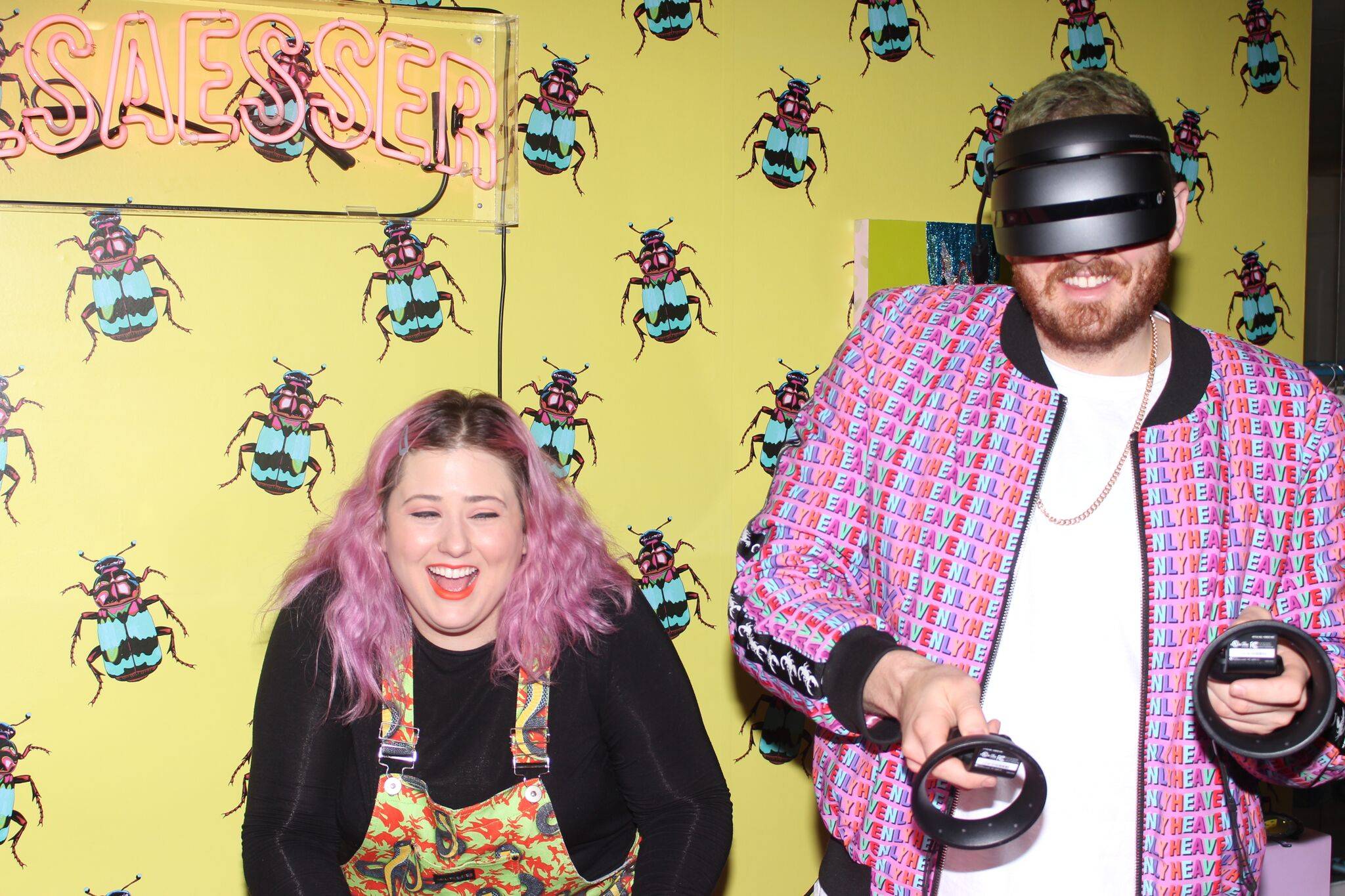 As a designer Hayley is known for her bold, colourful aesthetic highlighted by her iconic pop-art-inspired prints. Hayley designs all of her prints by hand and prior to working with Microsoft was sketching on paper, digitizing, and then drawing again electronically. It made the design process slow and arduous, and the potential for misplacing a sketch (especially if you know Hayley) was high. Enter the Microsoft Surface. Hayley has been designing on the Surface for 3 collections now, and has been converted. It essentially takes an entire step out of the process, and makes the remaining steps much easier and more seamless. With the use of the accompanying pen, Hayley can draw directly on her screen, and mock up a new print within moments, allowing her to spend more time on meticulously planning out her unique colour combinations.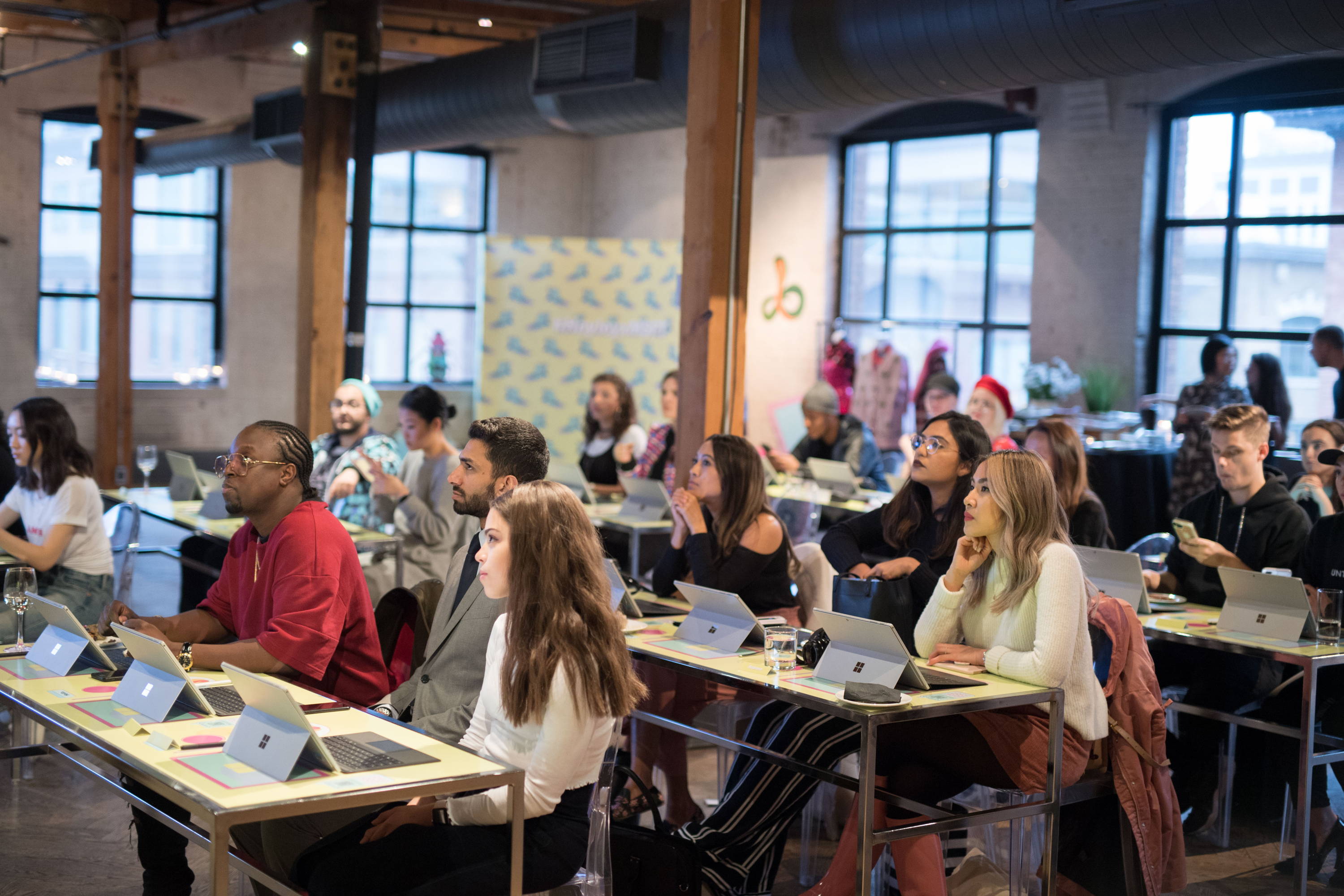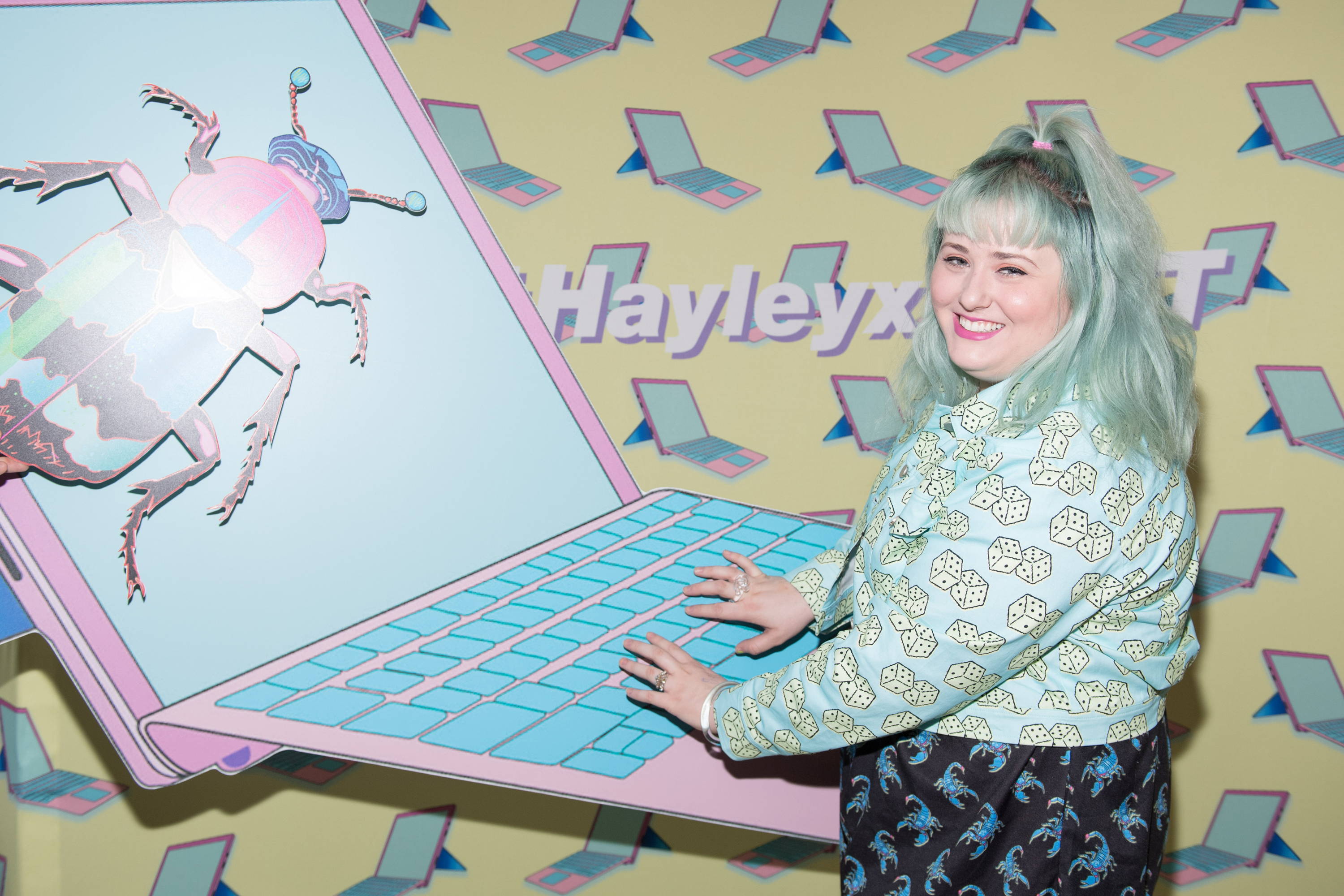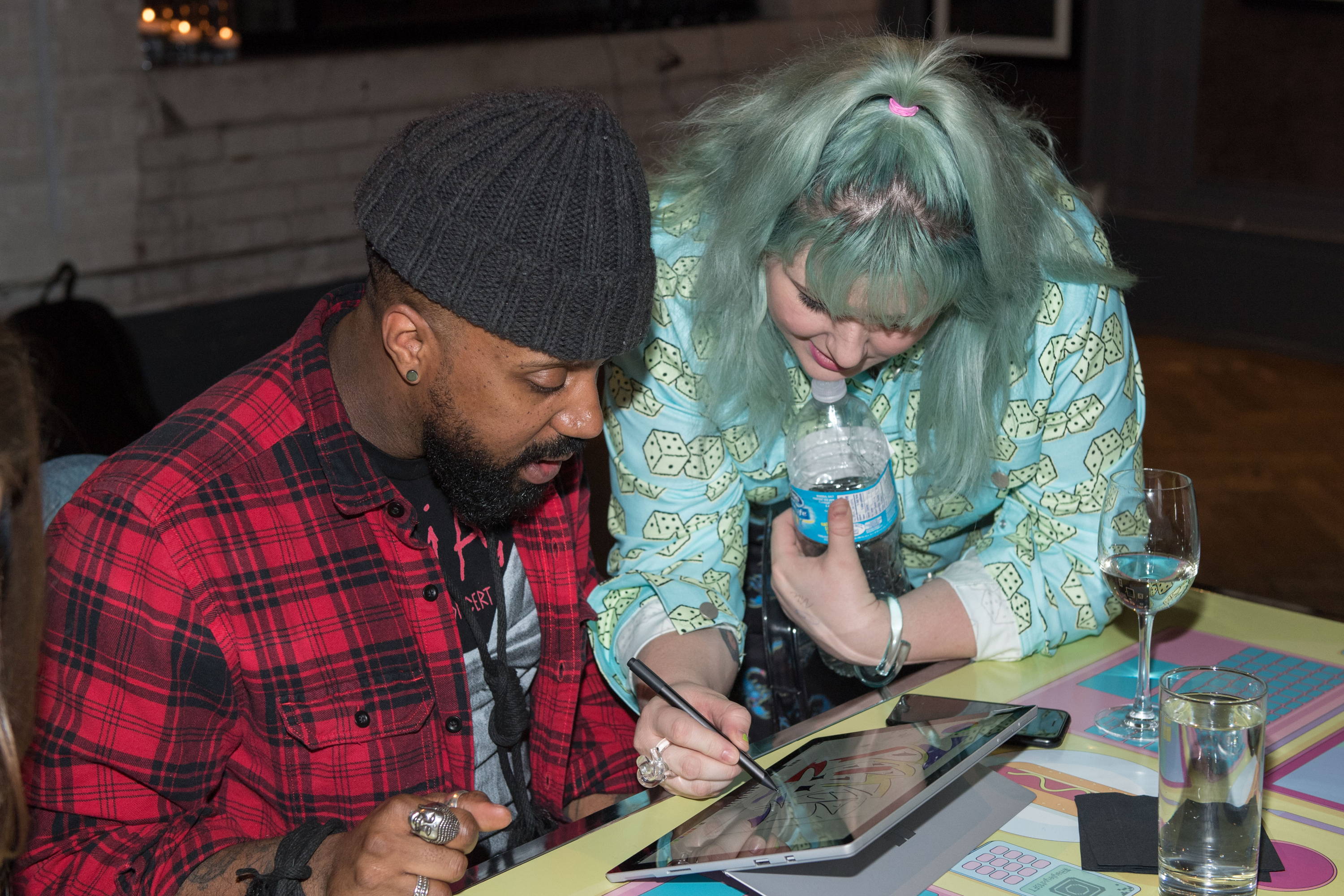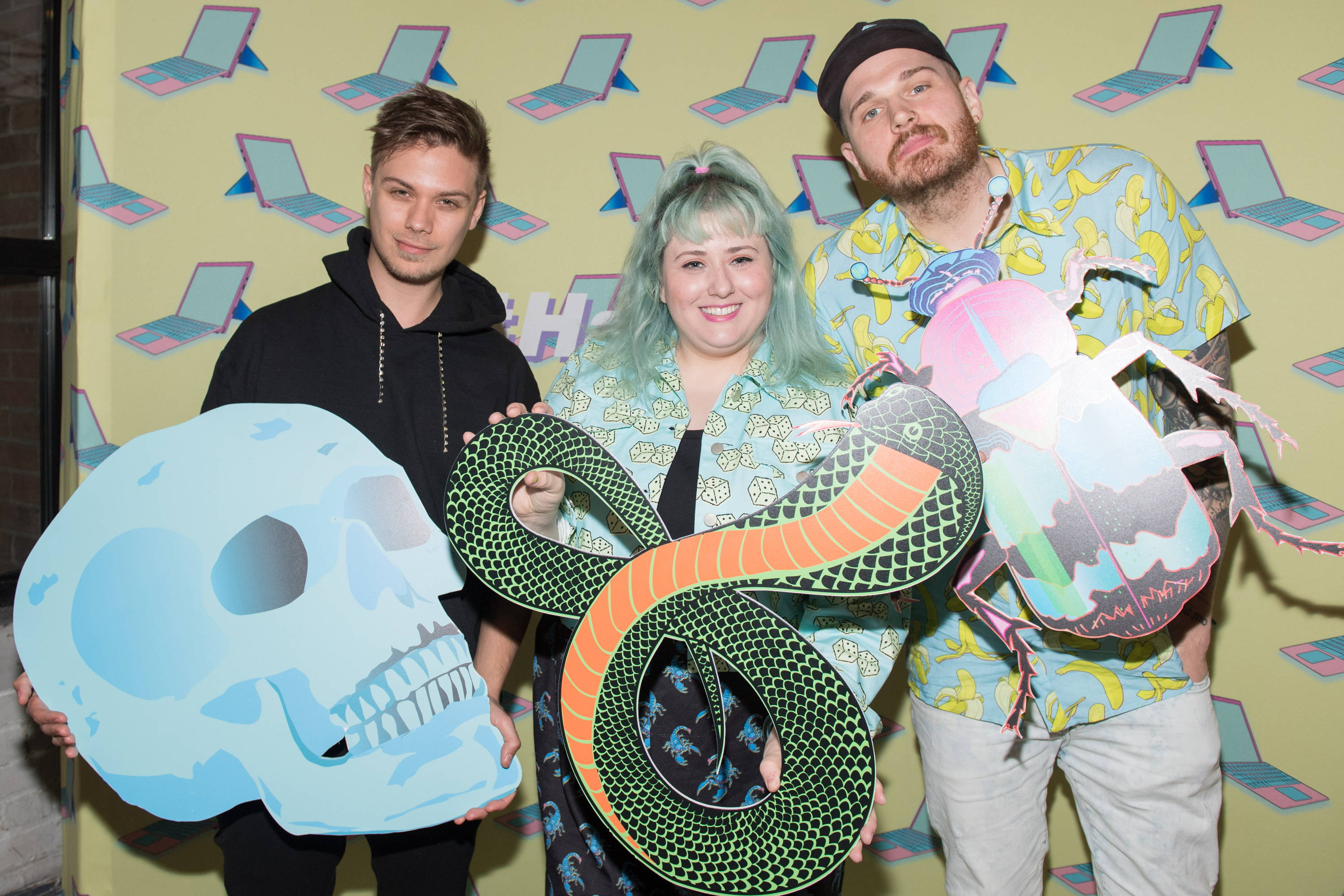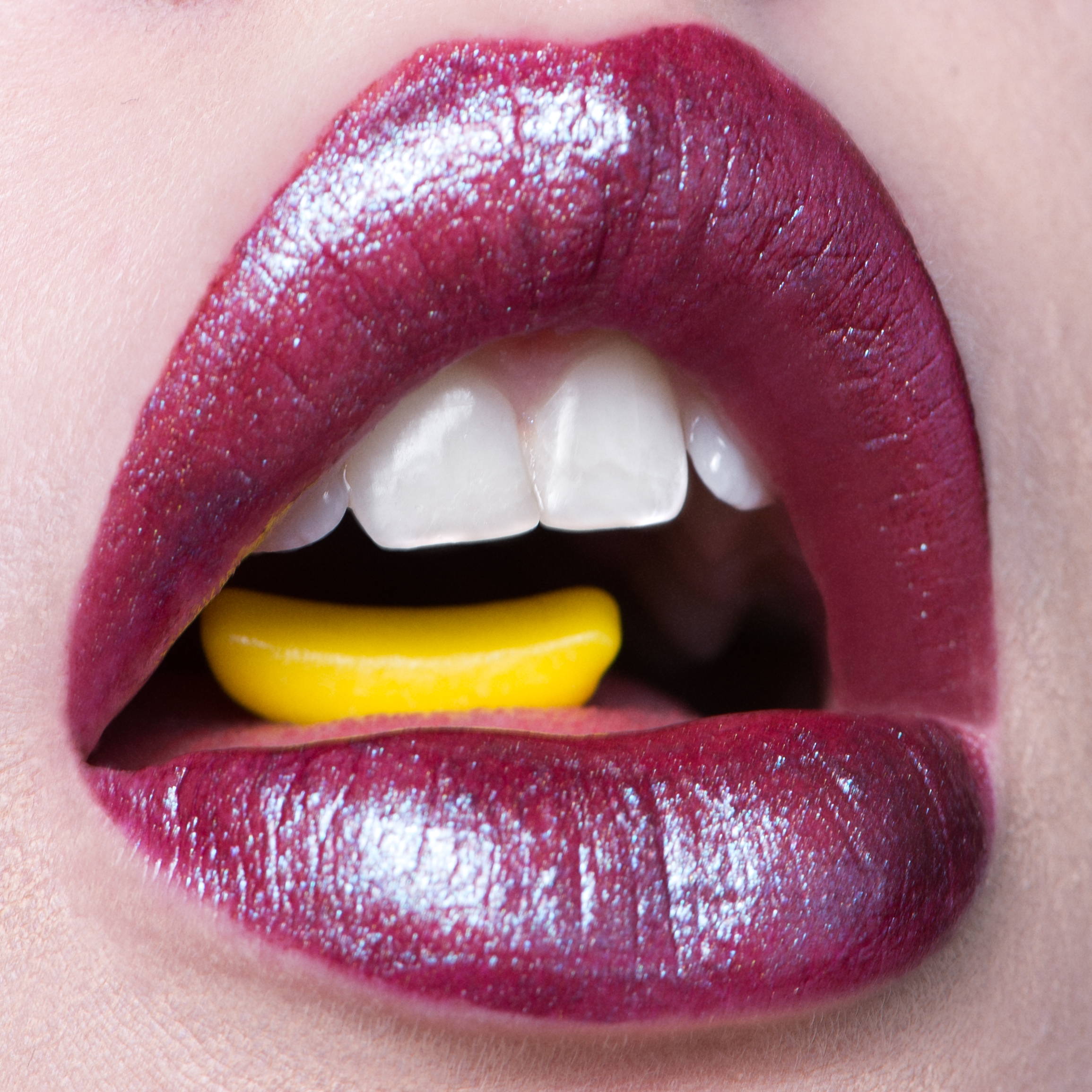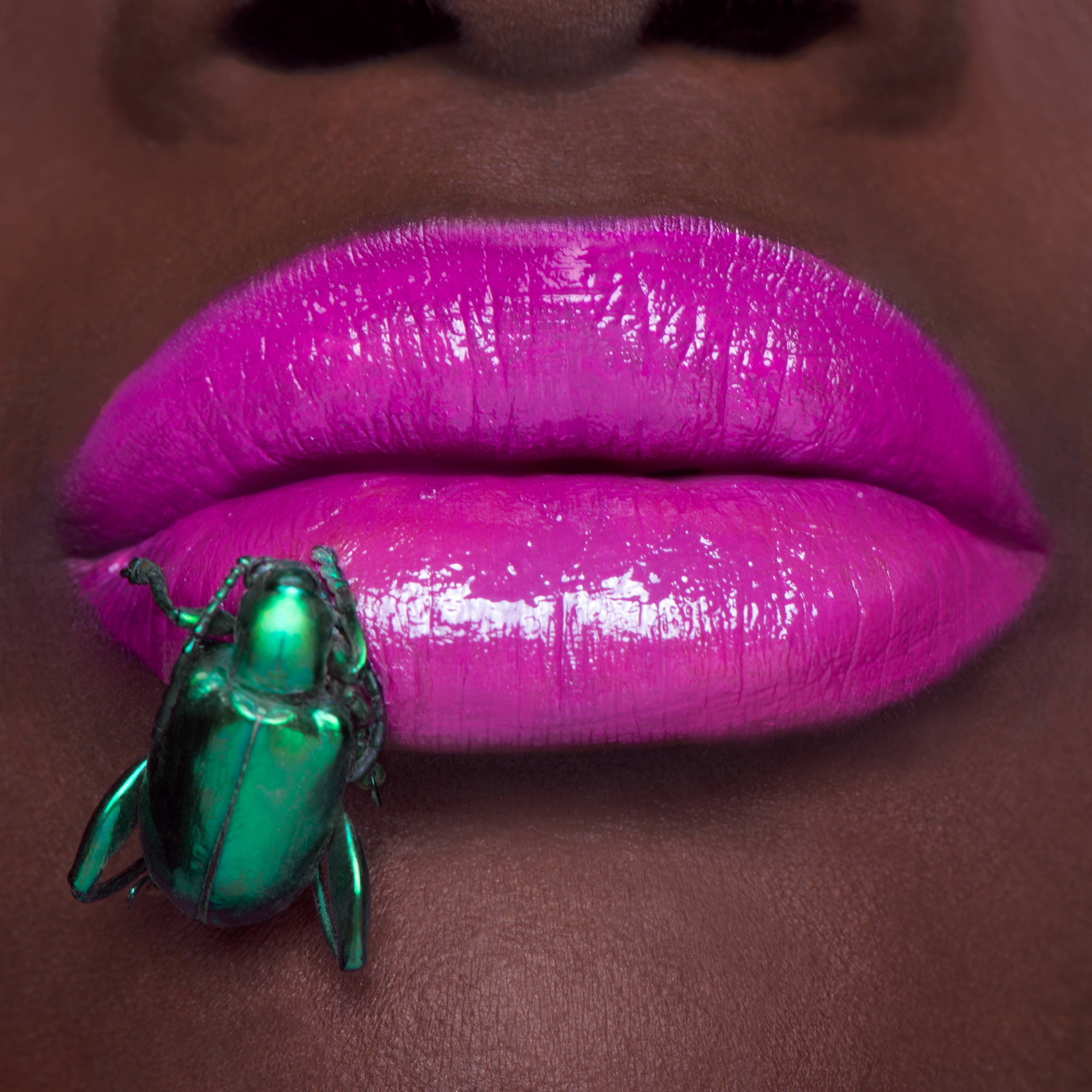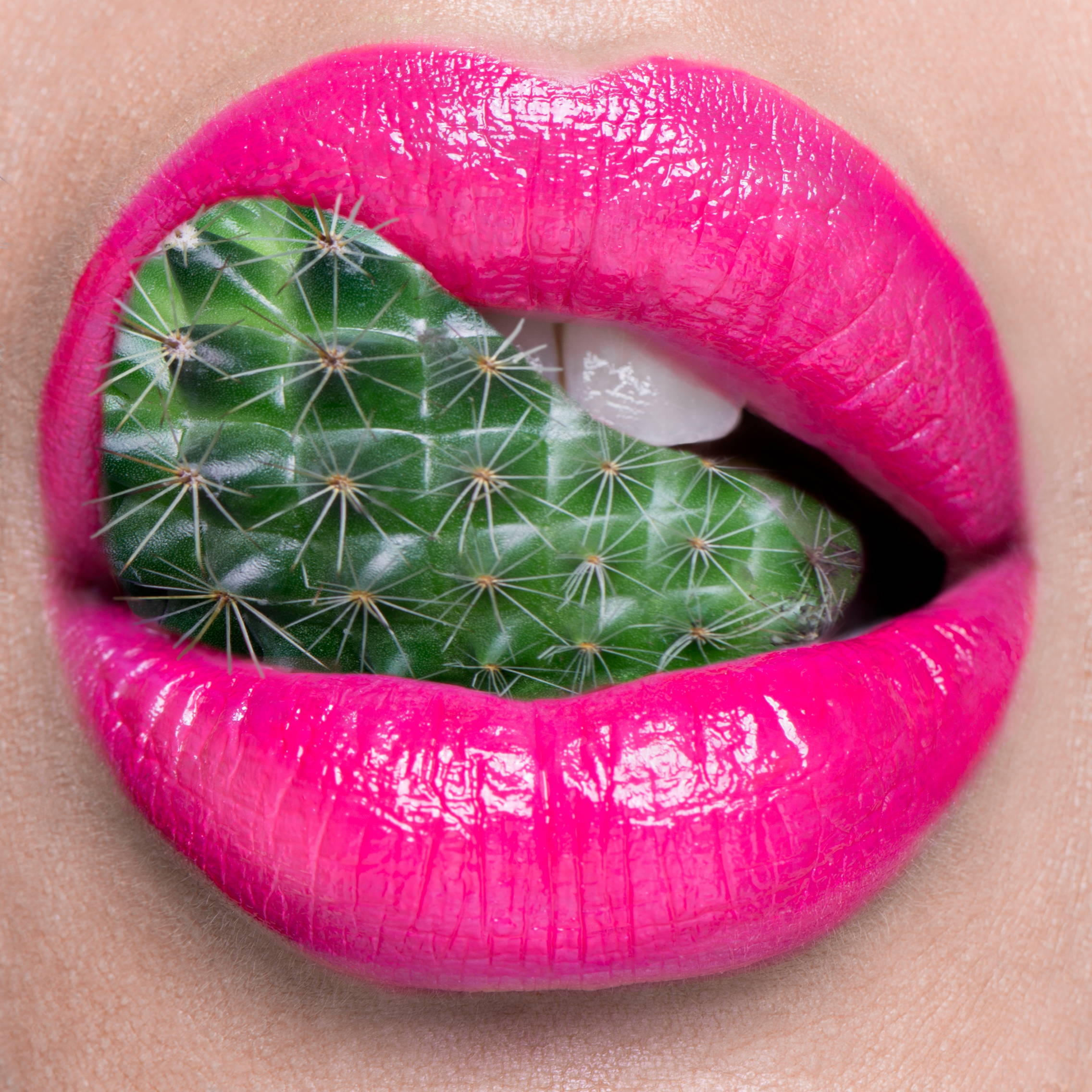 THE OUTRAGEOUS LIPSTICK
COLLECTION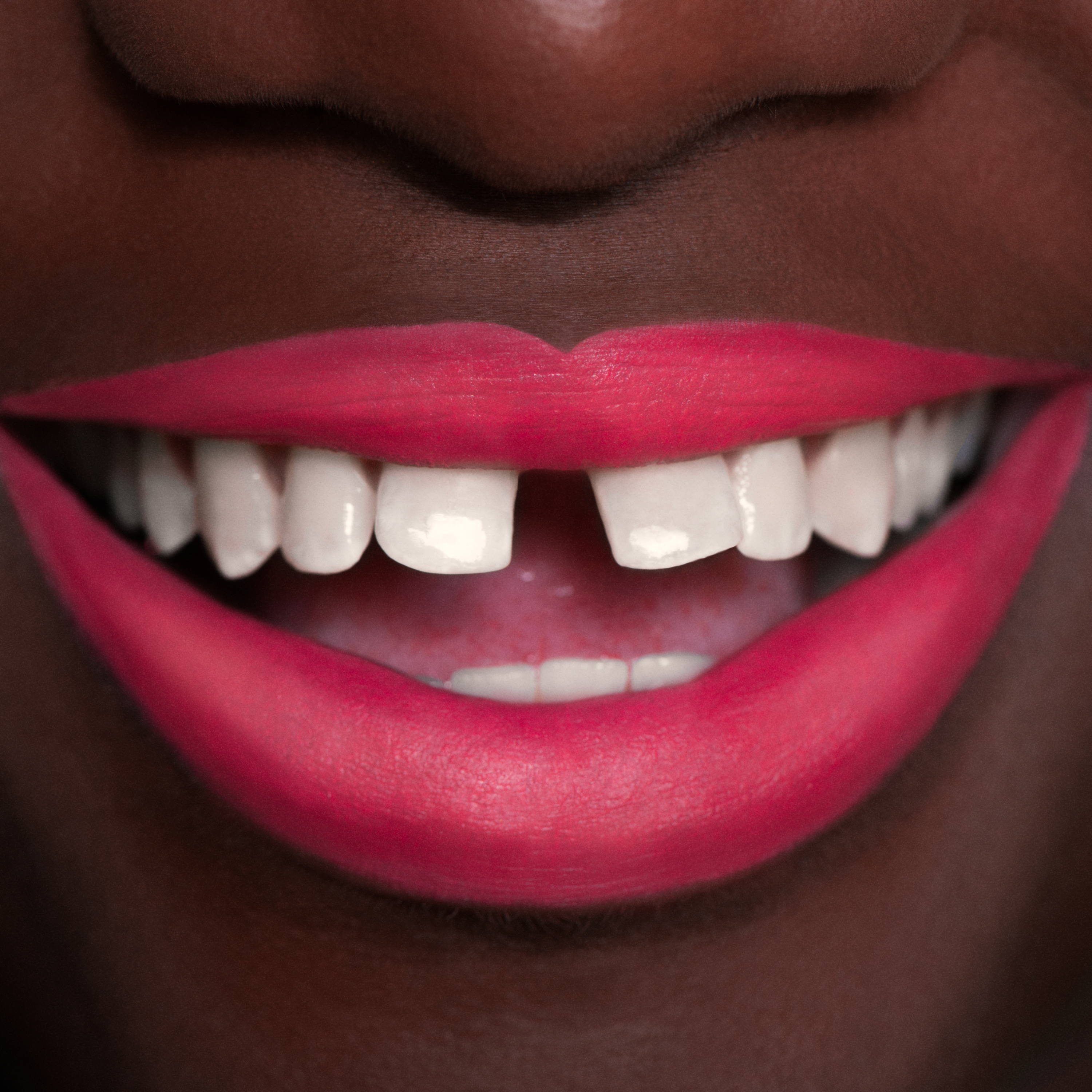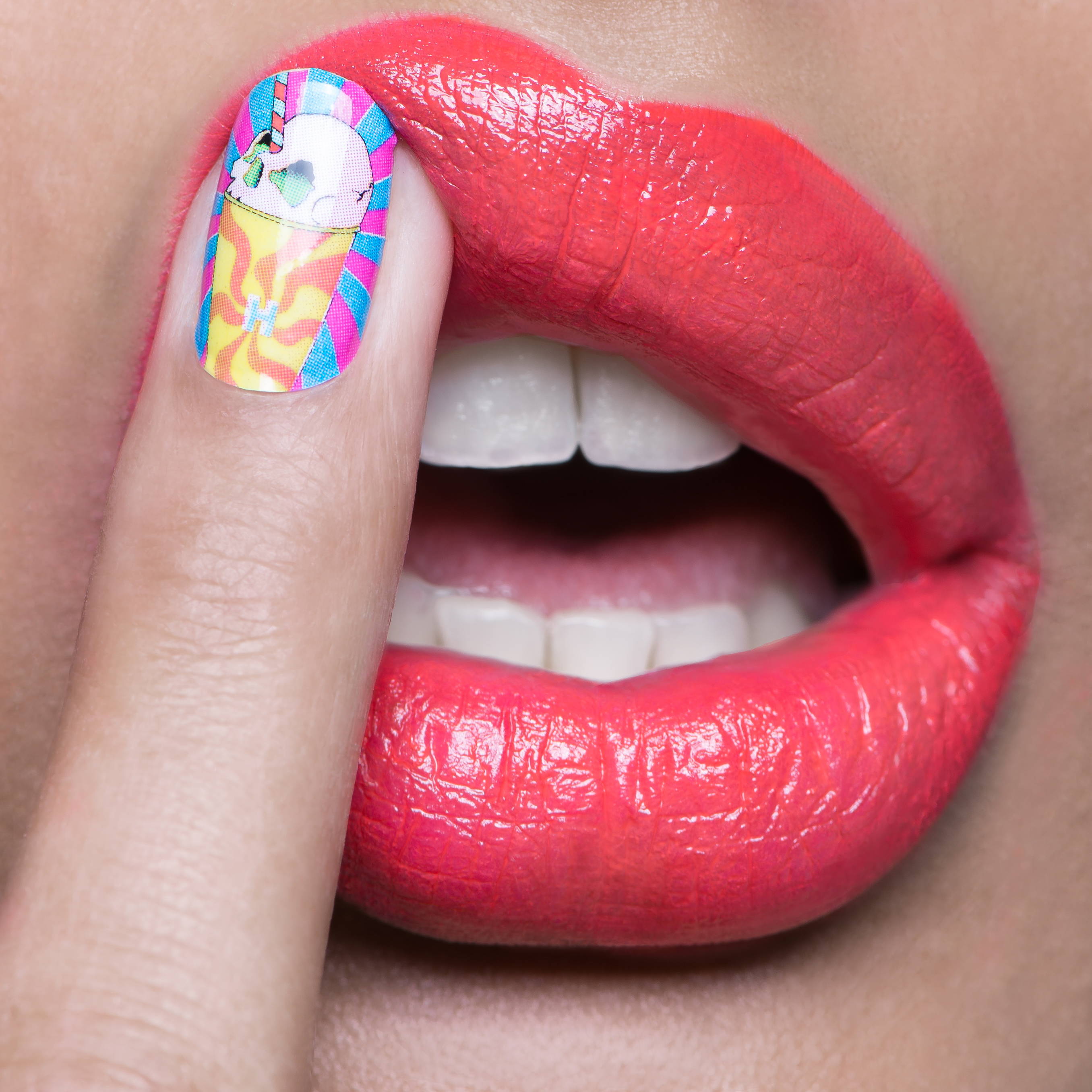 Partnering with Annabelle Cosmetics for a limited edition line of lipsticks, The Outrageous Collection by Hayley Elsaesser, is a harmonious blend of bright shades and fun packaging featuring some of the Hayley's most popular prints, like the signature lips that adorn many of her pieces. The Outrageous Collection is made up of 10 lipsticks total (four of which are web exclusives; the others are available in drugstores).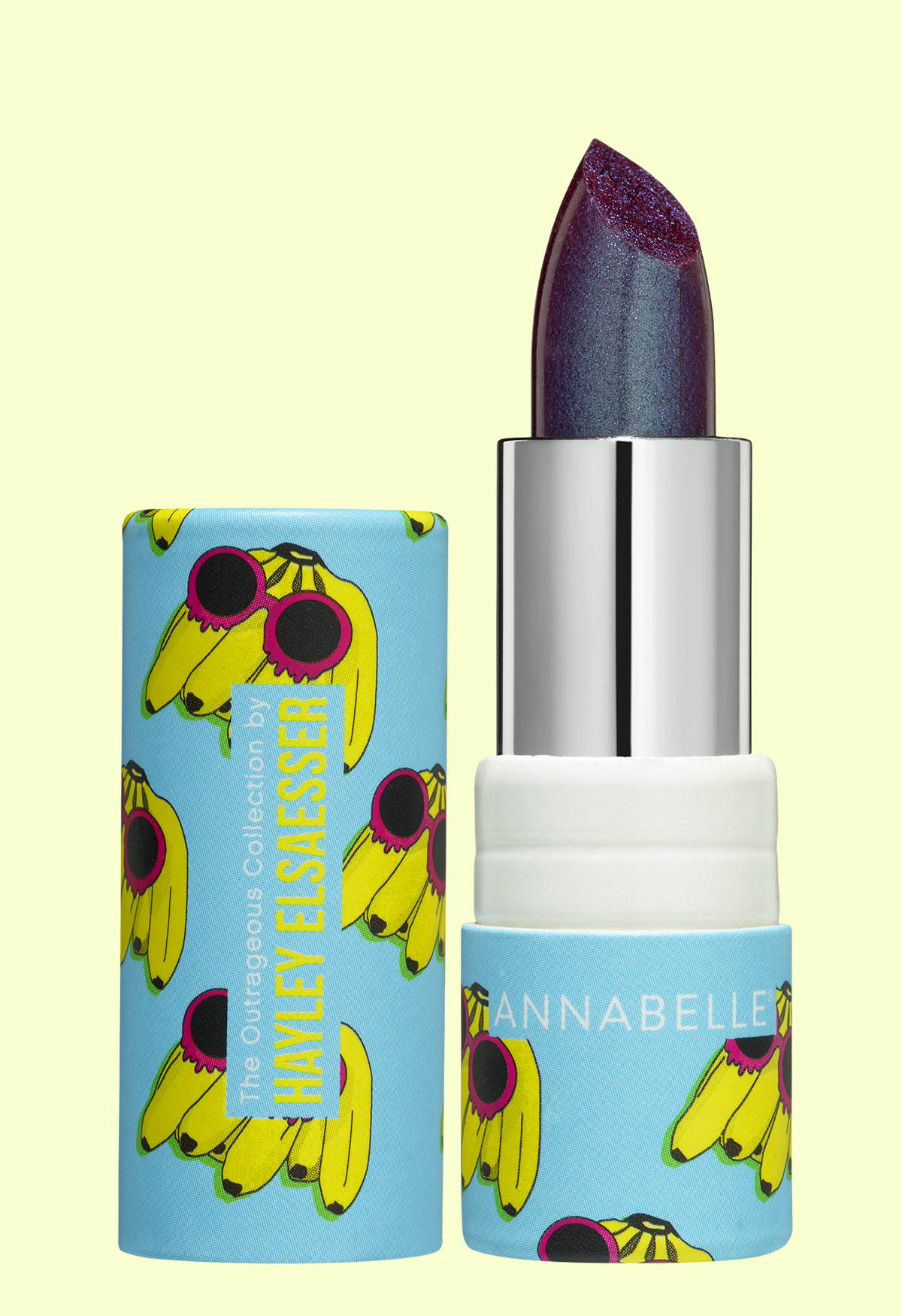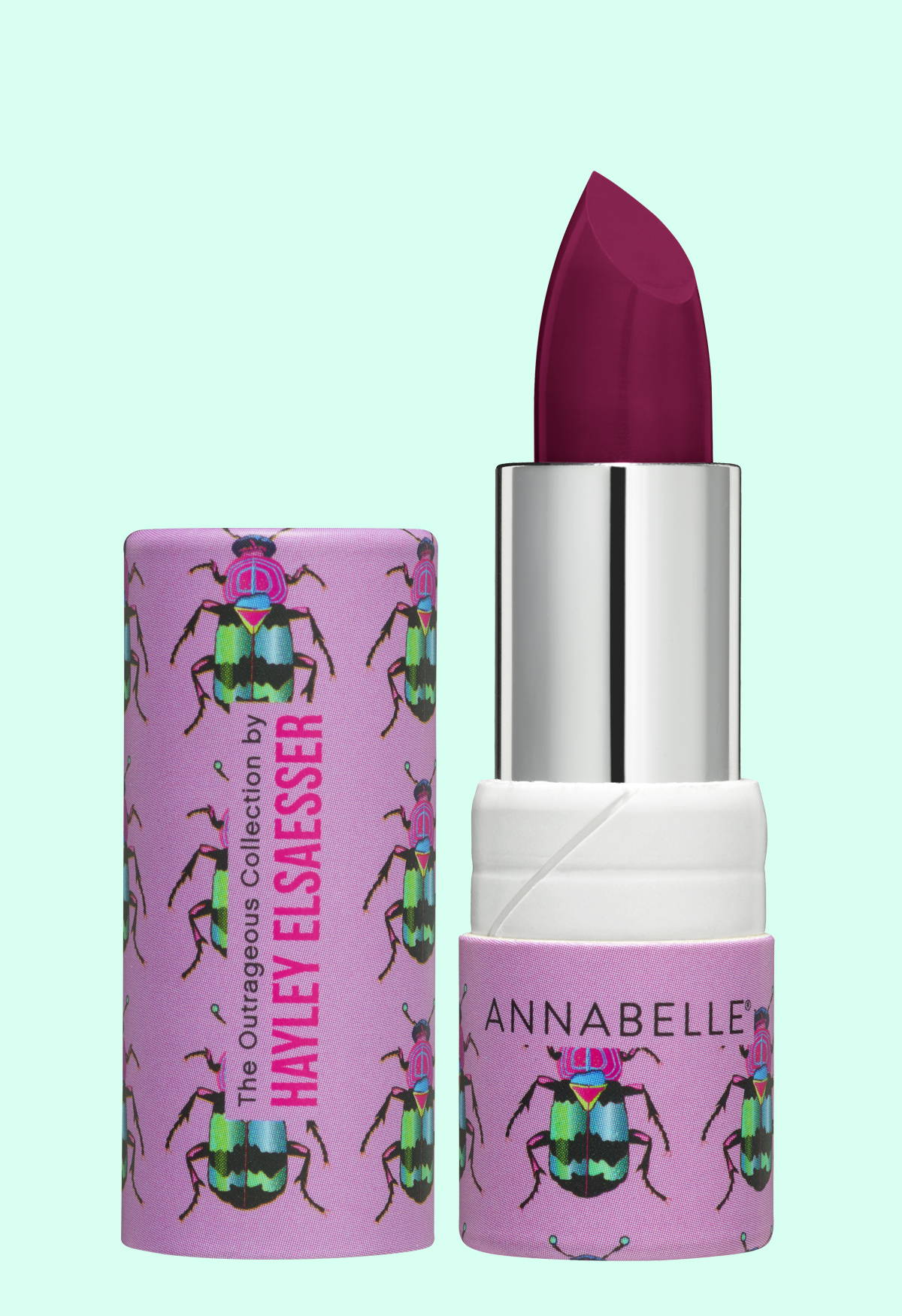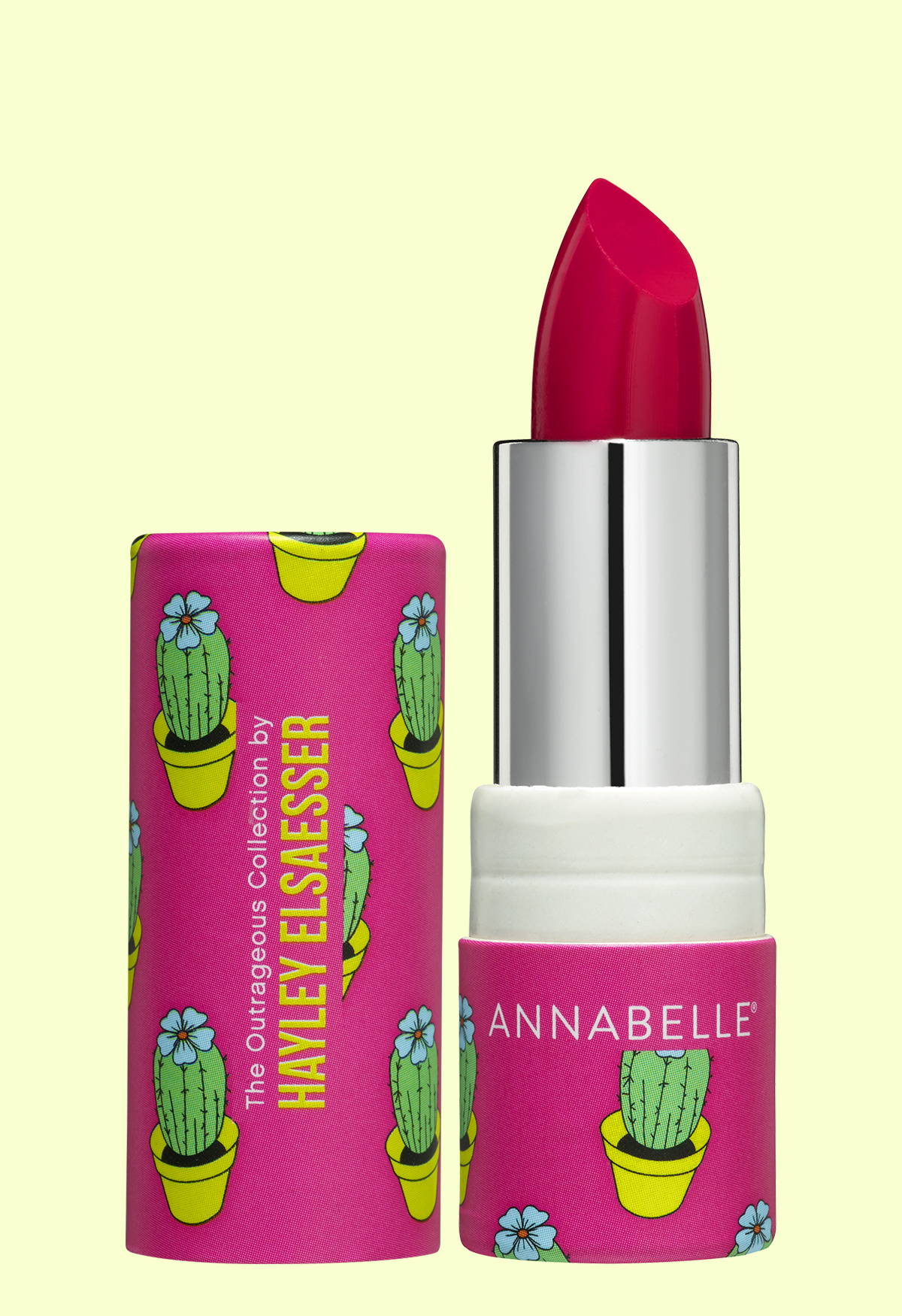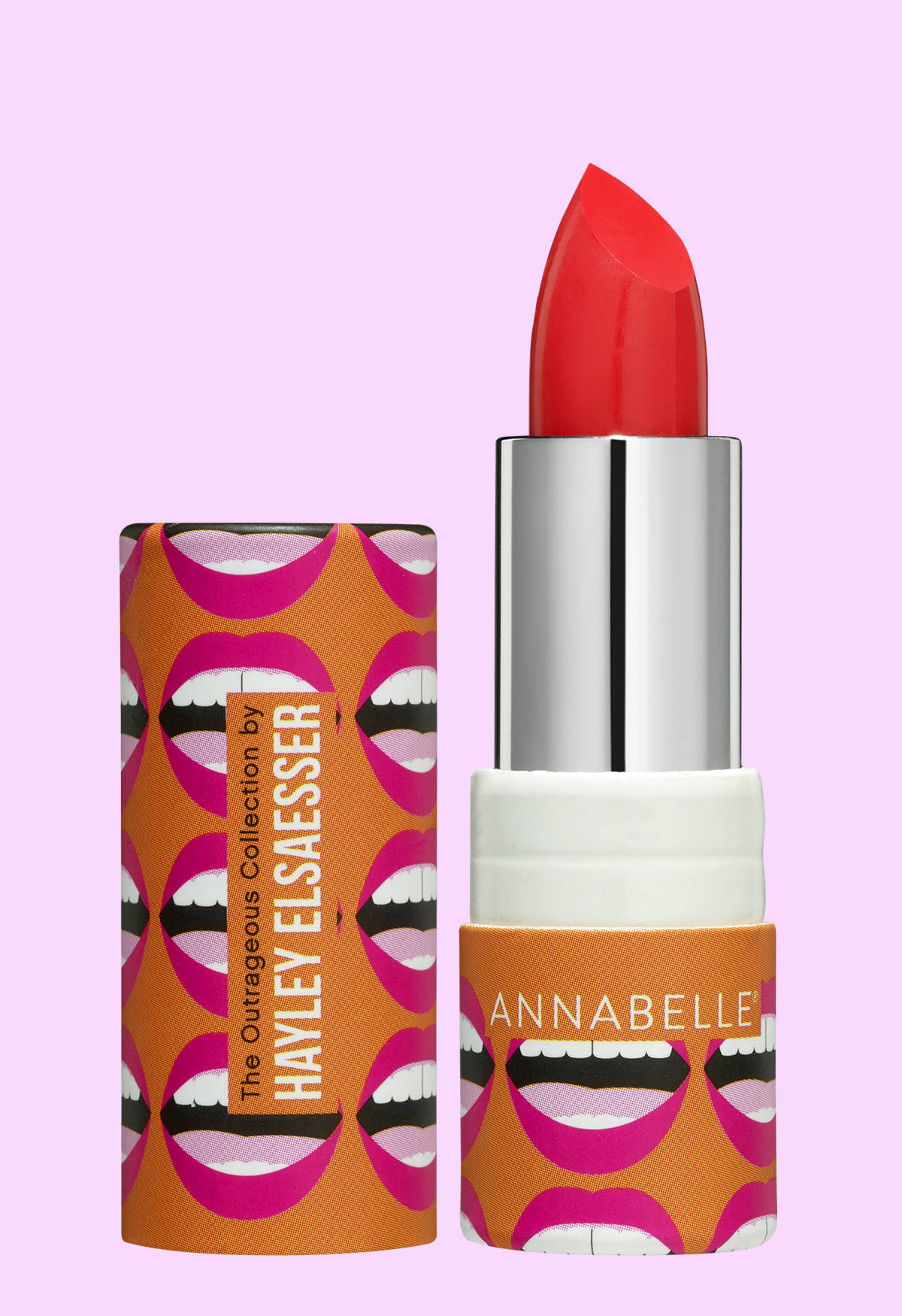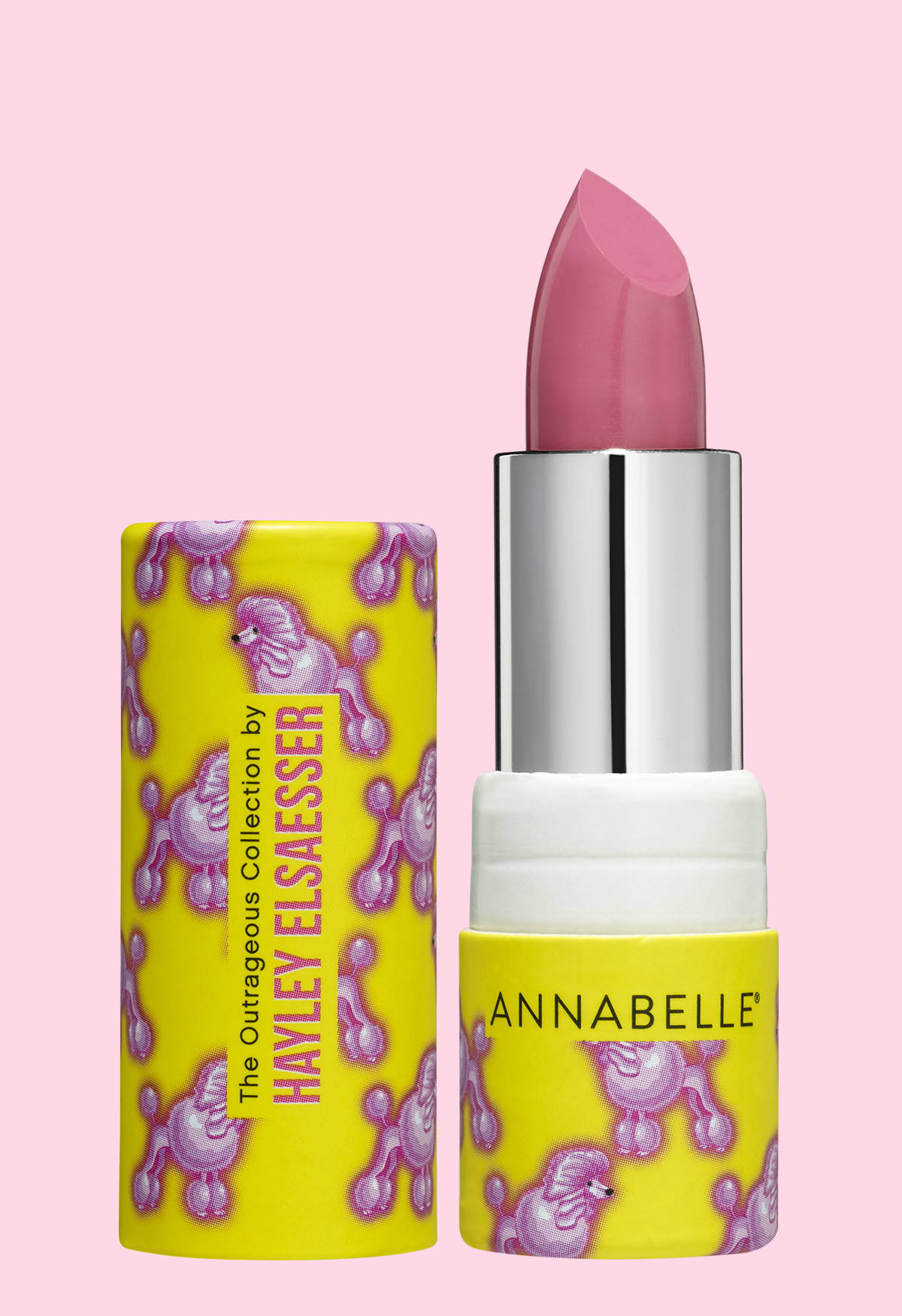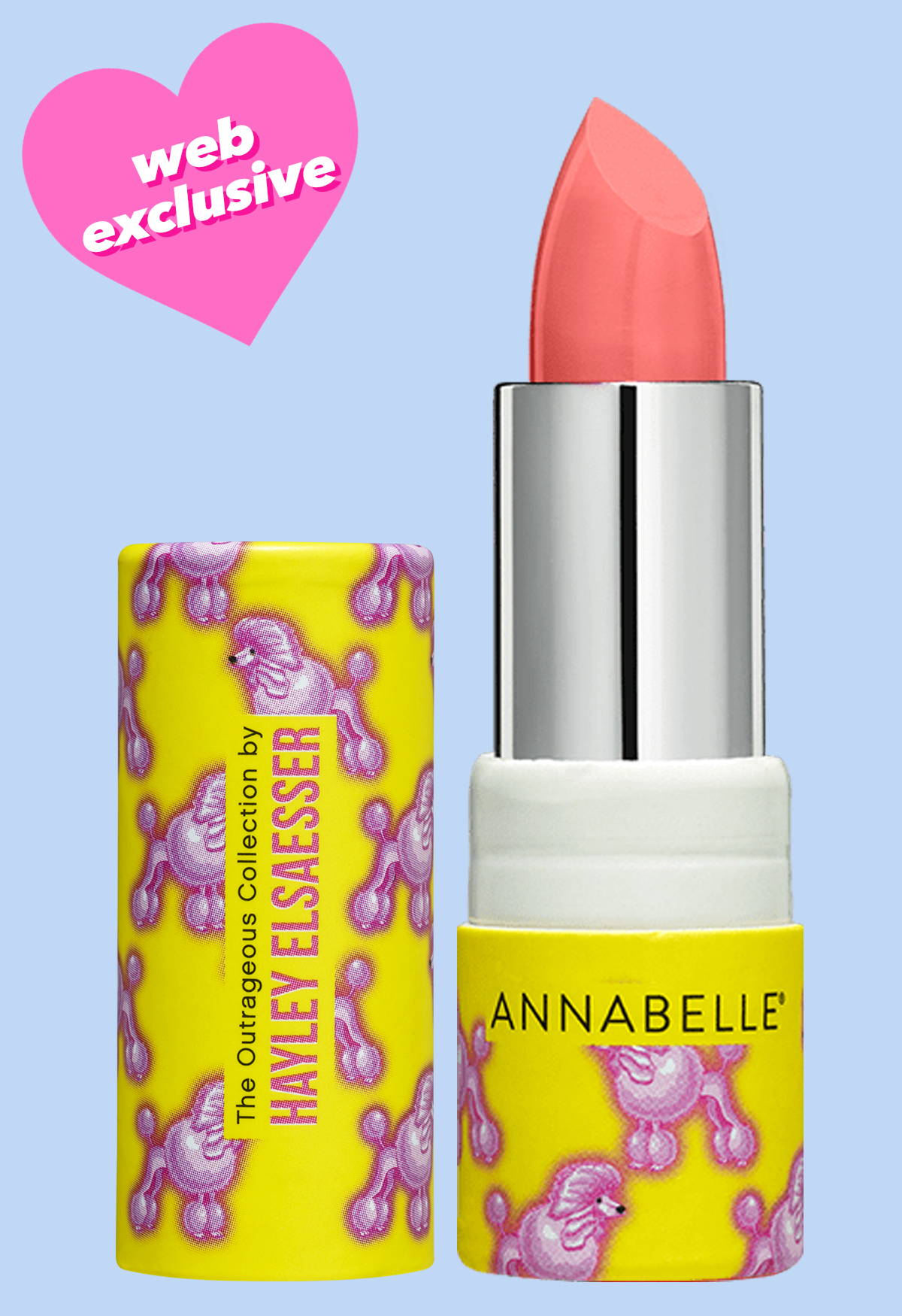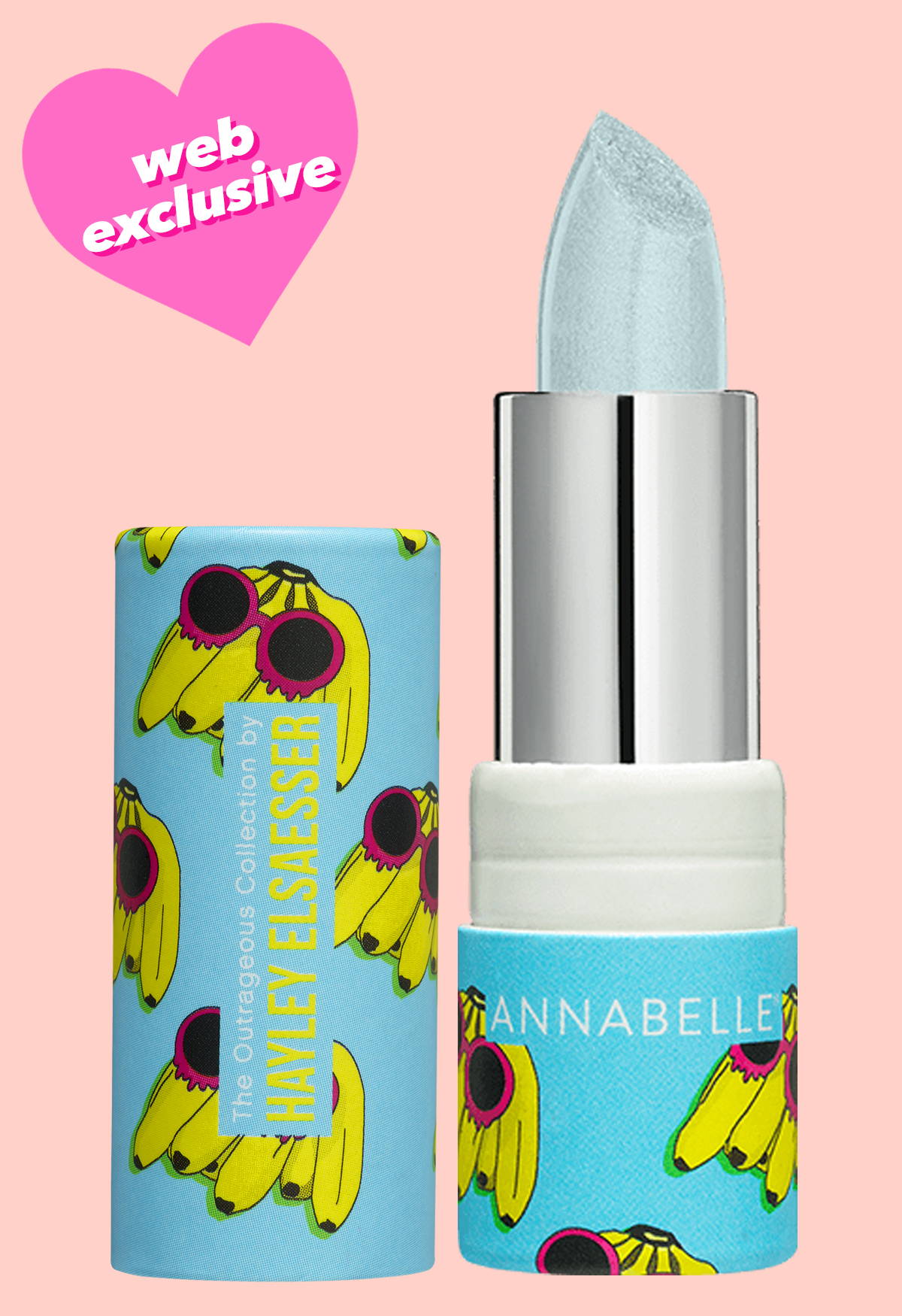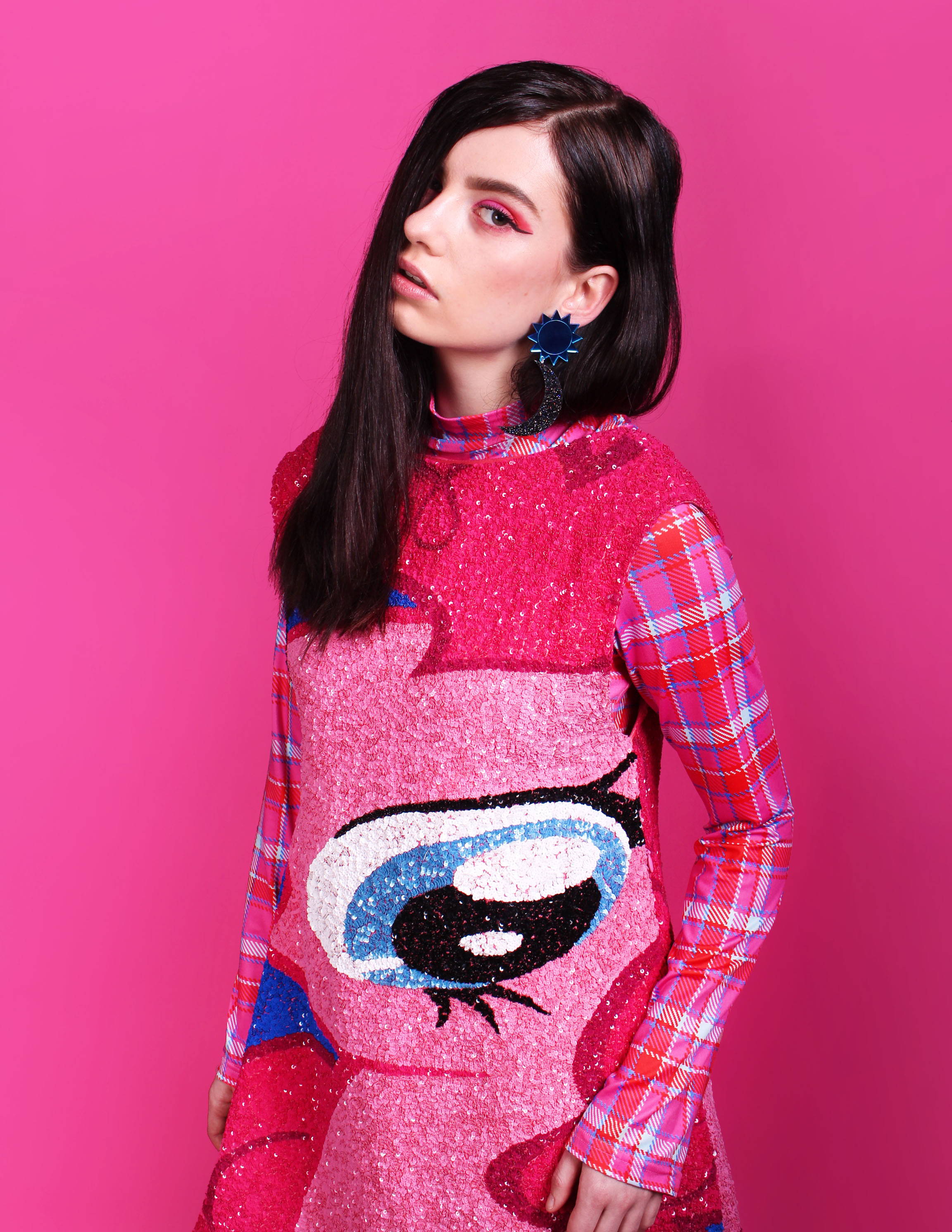 Hayley collaborated with Hasbro on her FW17 collection, Déjà Moon, taking inspiration from the iconic My Little Pony brand and utilizing classic Pony imagery in her designs. Incorporating a broader colour palette with splashes of red and gold, and designing through the lens of hazy nostalgia, Hayley imagined her childhood dreams had gained a life of their own and populated her prints. With allusions to first love, enduring friendship, and carefree youthfulness, Hayley paid homage to Rainbow Dash, Twilight Sparkle and Pinkie Pie and brought the spirt of My Little Pony to life.
Using the partnership with Hasbro as an opportunity to amplify the message of the collection, the HE team decided to produce a stand-alone show during New York Fashion Week at the famed Milk Studios. Artist Corey Moranis created a life-size Pony dreamscape as the backdrop with models surrounded by moons and stars in pastel hues. Choosing a presentation style showcase, Hayley partnered with Bumble&bumble on the hair and MAC Cosmetics for the ethereal makeup looks. Giving a nod to classic NYC street-style, Hayley also worked with Timberland who provided the perfect footwear anchor for her NYC debut.
The show was well attended with a line-up around the block, and the weather co-operated with unseasonably warm weather the day of the show, followed by the worst snowstorm of the season the very next day. In all, it was a dream come true for Hayley who got to debut in New York, and work with an amazing team of partners, models, and artists.